Night Court: Haws drops 48; ASU, OSU break slumps, Oregon doesn't
BYU and Portland go to three overtimes, Ohio State and Arizona State break out of their slumps, while Oregon continues to struggle.
• 6 min read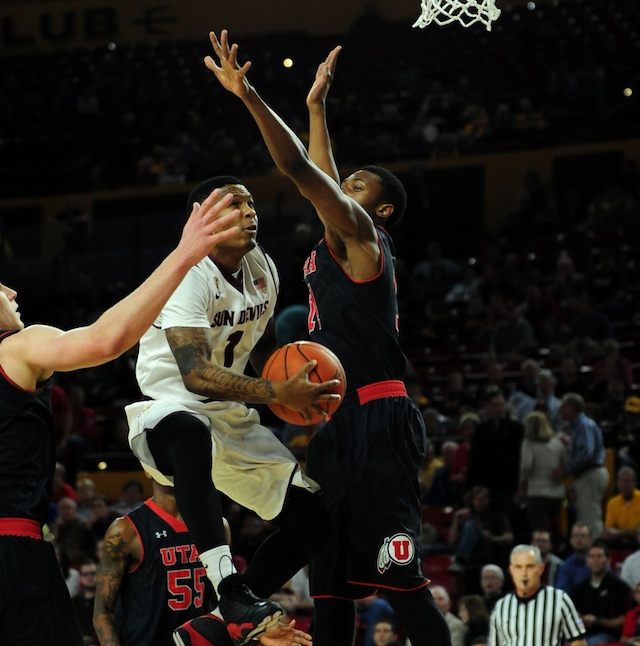 Here's everything you need to know from college basketball's Thursday …  
Game of the day: Tyler Haws drops 48 points, but BYU falls to Portland in triple overtime.
Didn't expect to be leading Night Court with this game, but three overtimes and a player nearly scoring 50 points lends itself to some headlines. It was back and forth in regulation, but Portland looked ready to wrap the game up in the first time. Then BYU went on an 8-1 run in 12 seconds to tie it up. The second overtime was the other way around, as BYU got up early before Portland went on a 10-3 run to tie it up. Nothing fell down the stretch of the third overtime for BYU, though, as Portland pulled out a 114-110 win. Haws was the big performer of the day, finishing with 48 points on 17-for-34 shooting. He was on the court for 50 minutes, yet didn't pick up a foul until the third overtime (he also didn't register a single assist). Thomas Van Der Mars and Bobby Sharp each had 27 for Portland, which has now knocked off Gonzaga and BYU in the last two weeks. 
What else we'll be talking about in the morning: Ohio State snapped its four-game losing streak with a win over Illinois – who extended its own losing streak to five games.
It wasn't a pretty game by any stretch, with both teams shooting below than 42 percent from the field – but Ohio State made enough plays down the stretch to pull out a 62-55 win. LaQuinton Ross was the top scorer for the Buckeyes, finishing with 18 points, while Lenzelle Smith broke out of his slump with 16 points. Joseph Bertrand paced Illinois with 19 points.
For Illinois, the big story was the continued struggles of leading scorer Rayvonte Rice. He was 0-for-8 on Thursday, bringing his four-game shooting totals to 10-for-43 shooting and 7.8 points per game. The Fighting Illini simply don't have enough scoring to overcome a poor game from Rice. They now head on the road to Indiana, before back-to-back home games against Iowa and Wisconsin. Could this losing streak extend to eight games?
That's a good win: Arizona State gets must-win victory over Utah, 79-75.
After getting blown out in back-to-back games by UCLA and Arizona, the Sun Devils couldn't afford to drop to 2-4 in the Pac-12. And Jahii Carson made sure that didn't happen, finishing with 23 points and eight rebounds, consistently getting into the lane and finishing at the rim. Jordan Bachynski also had 11 points, 12 rebounds and four blocks. Wright and Jordan Loveridge had uneven efforts, but both finished in double-figures, as did Dallin Bachynski (yes, Jordan's brother), who had 16 points and six rebounds.
Arizona State now gets Colorado at home before heading on the road to face California and Stanford. Meanwhile, Utah has its next two on the road: at Arizona and at Colorado. The Utes could be headed for a troublesome 3-6 in the Pac-12. 
But that's a bad loss: Oregon has now dropped five in a row after falling at Washington.
It was only three weeks ago when Oregon was 13-0 and one of the most entertaining teams in the country. Now, the Ducks are 1-5 in the Pac-12 and have dropped five games in a row. The latest setback was at Washington, which is now 4-3 in the league. Once again, it was Oregon's defense that struggled. Washington shot 58 percent from the field, 58 percent from 3-point land, and got 23 points from C.J. Wilcox. Oregon absolutely needs to bounce back with a road win at Washington State, and then it returns home for UCLA and USC. The Ducks need to turn it around quickly. 
Players with impact
Line of the night: 36 points, eight rebound, 20-for-20 from the free-throw line. That's what Eastern Washington's Tyler Harvey did on Thursday. 
Thirty-one points and seven 3-pointers for Jeffery Moss to lead Murray State to a win over Tennessee Tech.
Sean Obi had a monster stat line against Marshall despite Rice's loss, finishing with 22 points and 17 rebounds, while shooting 11-for-13 from the field.  
A couple of other big-time performances on losing teams: St. Francis (Pa.)'s Earl Brown had 30 points and eight rebounds, while Tennessee State's Patrick Miller dropped 33 points.
Numbers to figure
11-4: That's Thad Matta's record against his former assistant coaches after beating John Groce on Thursday.
84: That's how games Rayvonte Rice has played in college.
0: That's how many times Rayvonte Rice had been held scoreless before Thursday night.
Other outcomes of note:
19-0. That's Arizona's record as it cruised past Colorado in an easier-than-indicated 12-point win. The Wildcats jumped out to an early 18-4 lead and never looked back, getting 18 points from Nick Johnson. 
That's now 10 wins in a row for Florida. The Gators only shot 37.7 percent from the field, but they went into Alabama and came out with a road win, 68-62. Michael Frazier II had 18 points and five 3-pointers.
St. John's picked up its first Big East win of the season on Thursday, holding on to beat Seton Hall by one. The Red Storm blew a 17-point second half lead, and needed Sir'Dominic Pointer to make a huge defensive play in the final seconds to hang on.
UCLA made it look easy against Stanford on Thursday night, turning 19 turnovers into 22 points en route to a 91-74 win. Tony Parker was the surprise for the Bruins, finishing with 22 points and seven boards. Kyle Anderson had 13 points, seven rebounds and 10 assists.
Shaq Goodwin had 20 points and six rebounds to lead Memphis to an 82-59 win over Houston.
Cincinnati has won 11 in a row since a two-game losing streak back in December. The Bearcats overcame a slow start to beat UCF, 69-51. Sean Kilpatrick had another 19 points.
Gonzaga continues to lead the WCC despite not looking like it has hit its peak yet. The Bulldogs escaped against San Diego, 59-56, as Sam Dower finished with 18 points and 10 rebounds. Johnny Dee had 26 for the Toreros. 
Georgia State's R.J. Hunter won the showdown with Louisiana-Lafayette's Elfrid Payton, outscoring him 33-21. GSU also got the win to move to 6-0 in the Sun Belt, the Panthers' 10th in a row. 
Louisiana Tech bounced back from its loss to Southern Miss with a 20-point win over Charlotte. Alex Hamilton had 22 points.
CHAOS. Former VCU assistant Will Wade has Chattanooga at 7-0 in the Southern after smoking preseason favorite Elon, 84-63. Z. Mason had 27 points and 11 boards.
Mercer took first place in the Atlantic Sun on Thursday, beating Florida Gulf Coast by 13 and moving to 7-1.
Northern Colorado looked to take control of the Big Sky, easily beating Northern Arizona by 15. Quinton Upshur had 32 points in a losing effort for NAU. 
That's 14 wins in a row for Stephen F. Austin, which moved to 6-0 in the Southland after winning at Oral Roberts. Head coach Danny Kaspar has moved on to Texas State, but the story is the same at SFA under Brad Underwood. 
Notebook:
-- The USBWA selected 23 players for its Oscar Robertson Trophy midseason watch list.
-- Syracuse has all the pieces to cut down the nets, but the Orange aren't perfect. What are the keys to beating them? We asked a handful of opposing coaches.
-- More injuries for Michigan State: starting forward Branden Dawson is out four-to-five weeks with a broken bone in his right hand.
-- Minnesota leading scorer Andre Hollins could miss at least a week with a sprained ankle. 
Kentucky losing this game probably cost it a shot at earning a high NCAA Tournament seed

Freshman had 12 turnovers and 20 points; the Wildcats rattled him and kept OU on its heels

Kentucky and UNC are just behind the Blue Devils and Jayhawks
Cal's form wasn't pretty, but when it works, it works

Josh Nagel has his finger on the pulse of Purdue basketball and locked in a play for Tuesd...

Gary Parrish and Matt Norlander discuss the latest in college basketball