Night Court: Jordair Jett's layup; T.J. Warren ACC POY?; Badgers not a 1
Sunday was the final day of the regular season, while two NCAA Tournament bids were also handed out.
• 6 min read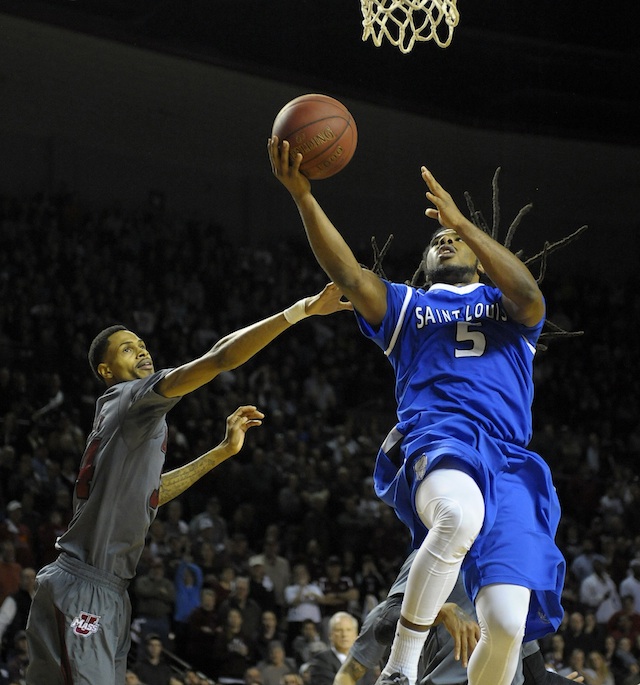 Latest in hoops: Top 25 (and one) | Bracketology | Bubble Watch
Here's everything you need to know from college basketball's final day of the regular season …  
For a complete breakdown of the bubble happenings, check out our daily Poppin' bubbles feature.
HEADLINES
PARRISH: Wichita State won the Missouri Valley conference tournament over Indiana State, giving the Shockers an unblemished 34-0 record heading into the NCAA Tournament. They are going to be a No. 1 seed on Selection Sunday.
BORZELLO: Virginia fell in the season finale at Maryland, meaning the Cavaliers' chances at a No. 1 seed are likely done. They still won the ACC regular-season title, but this was Virginia's first loss since Jan. 13.
NORLANDER: The Big Ten season finale between Michigan State and Ohio State was a terrific send-off for Aaron Craft, who finished with 12 points, seven assists and four steals in the Buckeyes' win. Michigan State could be a better bet in the NCAA Tournament, though.
Automatic bids
Atlantic Sun: Dunk City got stuffed. Mercer went into Florida Gulf Coast's home court and knocked off the Eagles, meaning we won't get a chance to see a repeat of FGCU's NCAA Tournament fun of a year ago. We profiled Mercer.
Big South: With top-seeded High Point falling in the quarterfinals, the road was paved for home team Coastal Carolina to win the automatic bid -- and the Chanticleers abided, taking down Winthrop in the championship game. We profiled Coastal Carolina. 
Tim Miles. Program changer. (And Wisconsin likely won't be a No. 1 seed.)
Nebraska wasn't expected to do much this season. The Cornhuskers were projected to finish toward the bottom of the Big Ten -- and an 0-4 start in conference play didn't do much to dissuade that thought. Less than two months later, Nebraska is the fourth seed in the Big Ten tournament and on the precipice of the NCAA Tournament after beating Wisconsin in Sunday's season finale.
We touched on the Cornhuskers' NCAA Tournament chances, but this was also big for the No. 1 seed sitaution. With Kansas, Syracuse, Duke and Virginia all falling this week, the two teams primed to take advantage were Villanova and Wisconsin. And now the Badgers might drop from the group, too. They have great RPI and SOS numbers, and 16 top-100 wins -- but Villanova's resume is simply cleaner right now. Had Wisconsin won out and been the Big Ten tournament champions, the Badgers could have been the fourth No. 1. Now, it's certainly Villanova's to lose.
Game of the Day: Saint Louis beats Massachusetts on Jordair Jett's late layup.
Saint Louis was moving toward a top-three seed a couple of weeks ago, sitting at 12-0 in the Atlantic 10 and on the verge of clinching it. Then the Billikens lost three in a row and were in danger of falling to a possible 8-9 game in the NCAA Tournament -- and having to share the A-10 regular-season title. A road trip to Massachusetts in the season finale seemed daunting. 
But Jordair Jett wouldn't let that happen, driving to the rim and finishing a layup with three seconds left to give Saint Louis a 64-62 win over the Minutemen, clinching the outright regular-season title in the Atlantic 10 and stabilizing their NCAA Tournament seed heading itno the conference tournament.
Jett finished with 17 points and zero turnovers, and came up big when it mattered most. Chaz Williams had 20 points and nine assists, but his game-winning 3-point attempt didn't fall at the buzzer.
Massachusetts will now finish in a tie for fifth-place in the standings, which makes the road to a conference tournament championship even harder.
What else we'll be talking about in the morning: North Carolina State's T.J. Warren hits the 40-point mark for the second straight game.
The buzz surrounding Warren's candidacy for ACC Player of the Year and All-American has been growing every week -- and he's ending it with a bang. After scoring 41 points against Pittsburgh earlier in the week, Warren topped it in against Boston College. He put up 42 points and 13 rebounds, shooting 14 of 23 from the field and 14 of 17 from the free-throw line. Warren is averaging 24.2 points and 6.9 rebounds on the season.
So what about Warren for ACC Player of the Year? Detractors would say that because the Wolfpack are likely not going to the NCAA Tournament, Warren shouldn't win the award. However, no player has been better in ACC play than Warren, regardless of his team's 9-9 conference record. He is the most game-planned-for player in the league, since he's clearly NC State's primary option. He doesn't have a Rodney Hood or a Tyler Ennis like Jabari Parker or C.J. Fair, and he doesn't have a smorgasbord of talented big men like Marcus Paige. He's got himself, and he's basically willed North Carolina State to nine ACC wins. Take Warren off the Wolfpack, and I'm not sure they're better than Boston College or Virginia Tech or Miami. It's not All-American honors, it's conference Player of the Year -- which I think should take into account value to team. And no one has been more valuable than Warren. He should be ACC Player of the Year.
Players of impact (non-T.J. Warren division)
Olivier Hanlan hasn't received much attention due to Boston College's struggles, but he had 29 points and five assists on Sunday.
Jarvis Threatt has been huge for Delaware since returning from suspension, and he went for 19 points, 11 rebounds and five assists in a win over Northeastern.
Western Carolina's James Sinclair had 26 points and six rebounds.
Not many people watched Northwestern beat Purdue, but Drew Crawford finished with 27 points and seven rebounds. 
Wichita State's Fred VanVleet was his usual terrific self: 22 points, five rebounds and five assists.
Conference tournaments
The CAA championship game is set, with No. 1 seed Delaware and No. 3 William & Mary facing off on Monday night. The Tribe took down Jerelle Benimon and second-seeded Towson, while Delaware cruised in the second half past Northeastern.
We got the MAAC championship game most people were looking for: No. 1 Iona vs. No. 2 Manhattan. It's unfortunate that Canisius guard Billy Baron's career ended with an airball in the semifinals against Iona, though.
The Southern Conference will feature a surprising title game. No. 1 seed Davidson lost just one regular-season game all year, winning 17 games by an average of 18.0 points. However, the Wildcats fell in overtime to Western Carolina. WCU will play Wofford or Georgia Southern in the title game.
Another top seed went down in the America East tournament. Vermont, playing on the homecourt of fourth seed Albany, fell in the semifinals. No. 2 seed Stony Brook will face the Great Danes in the championship game.
Denver beat South Dakota in the Summit League. 
Other outcomes of note
Florida State had a chance to boost its resume with a home game against Syracuse, but the Seminoles couldn't keep the Orange off the offensive glass and couldn't stop C.J. Fair (22 points). Syracuse pulled away for a 74-58 win.
Minnesota kept its NCAA Tournament hopes alive with a home win over Penn State -- something the Golden Gophers will have to repeat in the opening round of the Big Ten tournament. Dre Mathieu had 16 points and six assists.
Saint Joseph's will have work to do in the Atlantic 10 tournament. The Hawks dropped to the No. 4 seed in the table after losing at home to La Salle, as Tyreek Duren had 27 points and three assists for the Explorers. 
Notebook:
-- Nebraska senior Mike Peltz proposed to his girlfriend during Senior Day.
-- Indiana State won the Missouri Valley?
Kentucky losing this game probably cost it a shot at earning a high NCAA Tournament seed

Freshman had 12 turnovers and 20 points; the Wildcats rattled him and kept OU on its heels

Kentucky and UNC are just behind the Blue Devils and Jayhawks
Cal's form wasn't pretty, but when it works, it works

Josh Nagel has his finger on the pulse of Purdue basketball and locked in a play for Tuesd...

Gary Parrish and Matt Norlander discuss the latest in college basketball