Night Court: Kansas wins 10th straight Big 12 title
Bill Self has now won 10 straight Big 12 championships at Kansas.
• 3 min read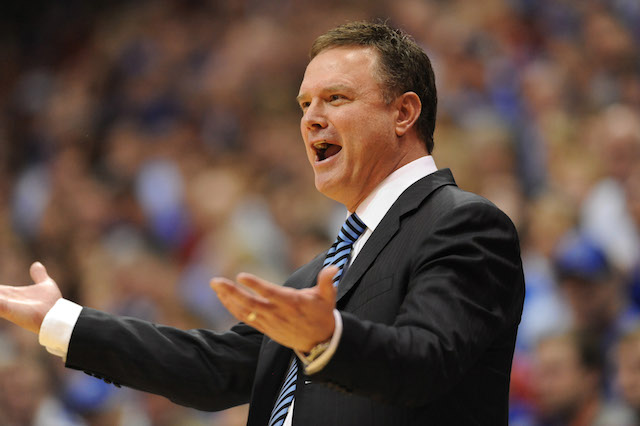 Kansas has the likely No. 1 pick in June's NBA Draft. Kansas has the likely No. 2 pick in June's NBA Draft.
But down the stretch on Monday night, neither of those players got the ball.
Naadir Tharpe hit two jumpers in the final two minutes to help the Jayhawks pull away from Oklahoma down the stretch for an 83-75 win. Tharpe, the much-maligned point guard, scored 12 of Kansas' final 18 points as the Jayhawks clinched a 10th straight Big 12 championship.
He finished with 19 points, five assists and just one turnover to lead the way for Kansas, which saw all five starters hit double figures. Freshman Wayne Selden went for 15 points, as did star Andrew Wiggins. Joel Embiid chipped in with 12 points, 13 rebounds, three assists and three blocks.
Oklahoma hung tough throughout the game, matching Kansas in the paint and in transition, but couldn't pull it out late. Cameron Clark proved to be a matchup problem at times, scoring 18 points. Buddy Hield knocked down three 3-pointers en route to 16 points.
Kansas' balance was on full display Monday night. Wiggins couldn't find his shot for most of the game, but the Jayhawks were able to overcome that because of the other options. Selden is capable of getting his own shot and knocking down jumpers from the perimeter; Perry Ellis a difficult matchup for most teams; Embiid is one of the best centers in the country; and then there's Tharpe.
Most people would say Tharpe being consistent is the biggest worry heading into the NCAA tournament, but he's been much improved this season. Before Monday, Tharpe had shot just 2-for-19 in his last three games, but he bounced back in a big way. And this isn't the first time he's come up big in a tight spot this season. He had 22 points at Baylor earlier this year, also going for 12 assists against Iowa State. Tharpe also went for back-to-back 20-point performances against Iowa State and Oklahoma State at the start of conference.
And he's the biggest personnel "concern" for Kansas in March. That's scary.
By the way, it's absolutely remarkable what Bill Self has done the past decade in Lawrence. Ten straight Big 12 titles is insane. As Jeff Eisenberg of Yahoo! Sports pointed out on Twitter, no other program in the country has a current streak longer than three. And it's not like the conference has been mediocre – at least one other Big 12 team has received a four-seed in the NCAA tournament in each season. There have been 14 top-four seeds given to Big 12 teams besides Kansas during the past 10 seasons. The Jayhawks have had stiff competition.
Yet Self continues to churn out conference championships. And it's going to be impossible to pick against the Jayhawks until they lose one. Whenever that happens.
Other results of note:
-- Southern clinched at least a share of the SWAC regular-season championship by beating second-place Alabama State by 23 on the road. Unfortunately for the Jaguars, they are currently banned from postseason play pending an NCAA investigation into the school's APR.
-- Syracuse bounced back from its two-game losing streak with a two-point win at Maryland. The game wasn't decided until Seth Allen's running 3 at the buzzer bounced off the rim. That's now five games in a row for the Orange that have been within one possession with 15 or fewer seconds remaining.
-- Oklahoma State has won two straight games since Marcus Smart returned from suspension. The Cowboys rolled past TCU, 76-54, as Smart finished with 17 points, eight rebounds, seven assists and five steals.
Duke's much-anticipated Allen-Duval connection is off to a hot start already

It'll be Miller vs. Miller if the Hoosiers and Wildcats can finalize the proposed series

Wisconsin's Ethan Happ has made only two jumpers in his career, but is adding a long-range...
The deal is part of long-awaited $2.64 billion contract; CBS' hoops-only commitment runs through...

If Wichita State guard Landry Shamet has a breakout season, he could leave early for the N...

Athletic big man finished 3-day trip to Durham, N.C., with trips to USC, Arizona coming up