Night Court: Marcus Paige outshines T.J. Warren with winning layup
Wednesday night was filled with tons of bubble battles -- but the biggest highlights were a pair of overtime winning shots.
• 6 min read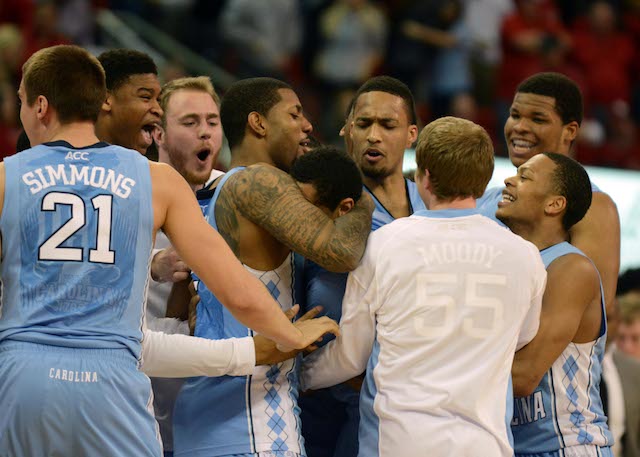 Here's everything you need to know from college basketball's Wednesday …  
For a complete breakdown of the bubble happenings, check out our daily Poppin' Bubbles feature.
Game of the Day: Marcus Paige outguns T.J. Warren, hitting a winning layup in overtime to give North Carolina the win over NC State. 
It was an old-fashioned duel. Marcus Paige vs. T.J. Warren. Both players have been outstanding this season, yet both continue to fly slightly under the radar. On Wednesday, they were both stars – but Paige will end up with the W. Paige finished with seven 3-pointers and 35 points, including a layup with 0.9 seconds left in overtime that gave North Carolina the 85-84 victory. Warren actually outscored Paige, finishing with 36 points, but he missed one of two free throws with less than 10 seconds left. That's now 10 straight wins for North Carolina, by the way.
Where do both of these players stack up in the ACC and nationally? The most-discussed players in the league are probably Jabari Parker and Tyler Ennis, with C.J. Fair's early-season pub waning lately. But it's going to be hard to avoid talking about Warren or Paige as the ACC Player of the Year. Warren has been one of the most dominant scorers in the country all season long, averaging 23.3 points on 52.3 percent shooting heading into Wednesday. Meanwhile, Paige is putting up around 18 points and five assists in his last 10 games.
Also, Roy Williams sat on the floor.
Roy Williams was not too pleased with a foul called against UNC with seven seconds left in OT. pic.twitter.com/USJJP35PnM

— SB Nation (@sbnation) February 27, 2014
What else we'll be talking about in the morning: Michigan's Glenn Robinson III hits a buzzer-beater to beat Purdue in overtime.
This would have been the game of the day and shot of the day if Marcus Paige and North Carolina didn't happen. Heck, it might still be the shot of the day. GR3 caught an inbounds pass in the corner, took one dribble into traffic and put up a difficult shot that bounced and rolled around the rim before falling. Michigan got the 77-76 win, as Robinson finished with 17 points and eight rebounds. Nik Stauskas and Caris LeVert combined to shoot 9-for-30 from the field, but Michigan's frontcourt stepped up.
The Wolverines were down by 13 at halftime, and Purdue looked to be in control. The Boilermakers' backcourt duo of Terone Johnson and Ronnie Johnson went for a combined 43 points and 10 assists, but it wasn't enough down the stretch. It was huge for Michigan to avoid a letdown after its big win over Michigan State, as the Wolverines are still in the driver's seat for the Big Ten regular-season title.
That's a good win: Arizona State prevails in Pac-12 bubble showdown against Stanford.
Heading into Wednesday night, neither Arizona State or Stanford was in danger of falling out of the field with a loss -- but after losing two in a row last week, Arizona State needed the win more for its resume. And the Sun Devils came out on top, getting a big game from star point guard Jahii Carson, who finished with 26 points and four assists in the 76-64 win. He had his way with Chasson Randle, especially in the second half. At times, it looked like Carson was just toying with the Cardinal, and that's when the future NBA player is at his best: comfortable and confident. Arizona State now gets a little breathing room going forward, while Stanford has to turn around for this weekend's matchup at Arizona. 
And that's a bad loss: Richmond's at-large hopes take a big hit at George Mason.
The Spiders were already in a tough spot after losing leading scorer Cedrick Lindsay to a season-ending injury a few weeks ago. The committee will have to view how they've played without Lindsay – and after losing to George Mason, the resume loses some luster. George Mason shot 56.3 percent from the field and constantly got inside the Richmond defense. The Spiders need to bounce back down the stretch.
We didn't forget about Nebraska: The Cornhuskers saw their feel-good ride come to a stall on Wednesday, losing at Illinois by 11. Terran Petteway shot just 5-for-18 from the field and Nebraska turned it over 15 times. Nebraska had won five in a row entering the week.
Players with impact
UNC-Asheville's Andrew Rowsey has been one the top-scoring freshman in the country, and he poured in 37 points and eight 3-pointers on Wednesday.
Western Michigan has now won eight in a row, and Shayne Whittington is a major reason. He had 28 points and 14 rebounds against Ball State.
John Brown helped High Point take a one-game lead and clinch at least a share of the Big South title by scoring 27 points and grabbing 10 rebounds against VMI.
Towson stayed within striking distance of Delaware behind 28 points and 16 rebounds from Jerrelle Benimon.
Numbers to figure
46:4: This is insane. Over the last seven games, Iowa State freshman Monte Morris has dished out 46 assists while turning it over just four times.
11.1: That was Boise State's 3-point percentage in its 76-56 loss to Fresno State on Wednesday. It's the Broncos' lowest percentage since Dec. 12, 2010.
12: That's the number of consecutive ACC wins for Virginia. That's their longest conference win streak since 1981-82.
1000: Boston College guard Olivier Hanlan scored reached the 1000-point mark on Wednesday, only the third sophomore in school history to achieve it.
That's the third league loss that NC State suffers while leading with under 10 seconds to go. Ouch.

— Pack Pride (@PackPride) February 27, 2014
Other outcomes of note:
Virginia improved to 15-1 in the ACC after cruising past Miami, 65-40. The Cavaliers host Syracuse this weekend.
Villanova didn't have much trouble dispatching of Butler on Wednesday night, winning 67-48.
Don't count out Arizona just yet. The Wildcats were dominant defensively and on the glass, while Nick Johnson scored 22 points in a win over California.
Connecticut was down early to South Florida, but Shabazz Napier finished with 17 points as the Huskies won by five.
Iowa State took care of West Virginia behind 24 points from Georges Niang, while freshman Monte Morris had 12 assists and zero turnovers.
Baylor had a chance to make some noise with a win over Texas on Wednesday, but Isaiah Austin went 1-for-10 from the field and the Bears came up short.
Massachusetts sneaked past Rhode Island, 70-67. Seven of the Rams' 11 Atlantic 10 losses this season have come by seven points or fewer.
Pitt broke its three-game losing streak by winning at Boston College. The Panthers are still a step ahead of the bubble.
Tennessee and LSU both stayed on the bubble after beating Mississippi State and Texas A&M, respectively.
Delaware will clinch the CAA outright this weekend with a win or a Towson loss. The Blue Hens beat UNCW in Jarvis Threatt's first game back from his month-long suspension. He had 24 points and six assists.
In its first season in the league, Boston University with take at least a share of the championship home. The Terriers are one game up with one game left after beating Army.
High Point clinched a share of the Big South crown by beating VMI, 70-67. The Panthers now sit one game up on VMI with one game remaining.
Notebook:
-- Ted Valentine found it necessary to throw a fan out of the game.
-- Ole Miss guard Derrick Millinghaus was suspended indefinitely for a violation of team rules.
-- Jim Boeheim admitted on Wednesday that his on-court tirade against Duke "went too far."
-- Kentucky picked up a commitment from top-15 junior Charles Matthews.
-- Our Scouting Title Contenders series continued on Wednesday with Duke.
-- Gary Parrish wrote about court storming. 
For the first time in years, the Shockers played a must-see game with national implications...

Gary Parrish and Matt Norlander discuss a wild weekend of college basketball

Andy Kennedy announced on Sunday he will no longer coach the Rebels
Grayson Allen has taken over with Marvin Bagley (knee) out of the lineup

The loss puts the Buckeyes out of the top 16 and it may lose the one-seed in the Big Ten t...

Austin Hatch has been part of the Wolverines program since 2014