Night Court: Michigan State's bandwagon about to get crowded
Michigan State beat Michigan by nearly 30, while Florida thumped Kentucky. The big story, though, was the injury to Nerlens Noel.
• 5 min read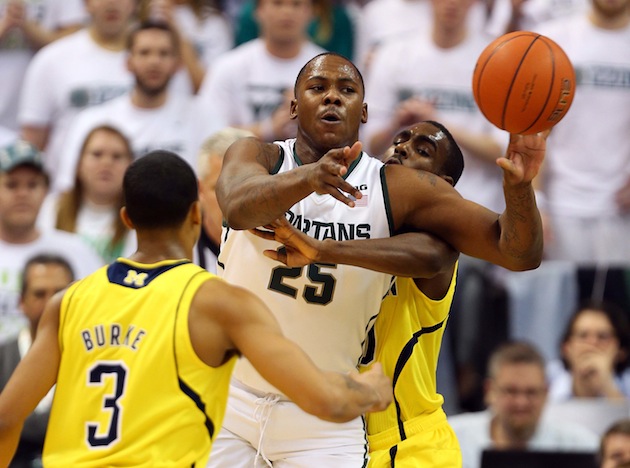 Michigan couldn't do anything to slow down Derrick Nix and Michigan State on Tuesday. (US Presswire)
Stop me if you've heard this before: it's mid-February, and Michigan State is hitting its stride at the right time.
Seemingly every year, Tom Izzo and the Spartans get off to a choppy start, with a couple of mediocre performances during non-conference play. They fly under the radar, which wasn't hard to do this season in an ultra-difficult Big Ten that has had Michigan and Indiana among the national top five the entire season. And then, suddenly, as we head into the stretch run of the season, Izzo has Michigan State among the title contenders.
The Spartans made a major statement on Tuesday night, absolutely hammering No. 4 Michigan by 23 points, 75-52. They held the Wolverines to their lowest point total of the season, with Tim Hardaway Jr. and Glenn Robinson III combining for four points on 2-for-15 shooting. Keith Appling did a great job on Trey Burke, who finished with a nice stat line but was hampered by foul trouble. Offensively, it's beginning to come together for the Spartans. Freshman Gary Harris (17 points) is providing consistent perimeter punch, while Appling (11 points, seven boards) is effective as a playmaker. Up front, Derrick Nix (14 and five) and Branden Dawson (10 points) controlled the paint and provided inside balance. Another freshman, Denzel Valentine, is starting to come around; he had seven points, nine boards and four assists on Tuesday.
In a year with no clear-cut national title favorite, what's not to like about Michigan State? The Spartans defend the perimeter, are very good on the glass and force turnovers that they change into opportunistic transition buckets. They can hurt you in a variety of ways on the offensive end, and Appling is really becoming a stud point guard. And we haven't even mentioned Adreian Payne and his ceiling. Injuries have been an issue this year (and Dawson did go to the locker room late), with Travis Trice not playing on Tuesday night. Outside of that, though, this is definitely a team that can make a run to Atlanta.  
And expect to see and hear that sentiment a lot in the coming weeks. 
___________________________________________________________________________
Like Monday, the slate was pretty top-heavy, plus colleague Jeff Goodman was on scene for one of the two big games. As a result, here's a look at the rest of the night.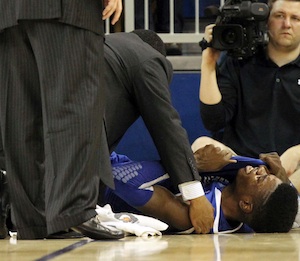 The extent of Noel's injury is unknown. (US Presswire)
-- Goodman was in Gainesville for the Florida vs. Kentucky game, and he has already written on the injury to Nerlens Noel. The Kentucky freshman suffered a knee injury midway through the second half of the Wildcats' loss, but the extent of the injury is unknown. He landed awkwardly after trying to block a shot, falling to the floor and screaming. Noel's teammates had to carry him off the court into the tunnel.
Goodman will also have more on the game, which Florida dominated for a 69-52 victory. The Gators are back to steamrolling SEC opponents, as five players scored in double figures and Kenny Boynton also scored nine points.
-- As it seemingly does every season, the Missouri Valley is starting to, in essence, eat its own.
Indiana State had forced its way into the Missouri Valley race and the at-large discussion by winning six of its last eight games, including victories over Wichita State and Creighton -- adding to non-league wins against Miami and Ole Miss. The fact the Sycamores had four sub-100 losses was diminished because of the collections of good wins.
On Tuesday, though, they fell at Missouri State, a team with six Division I wins, 67-65. RPI-wise, this is Indiana State's worst loss of the season -- and the sort of loss that could keep the Sycamores out of the NCAA tournament.
-- Cincinnati snapped a two-game losing streak by throttling Villanova in the second half en route to a 68-50 win. A loss would have dropped the Bearcats to .500 in the Big East --and 10th place in the standings. Instead, they are now just 2 1/2 games out of first place and back on the right track.
As for Villanova, the Wildcats need to be careful and start getting some more key wins. Those wins over Louisville and Syracuse were awesome, but three of the next five games are on the road, including trips to Connecticut and Pittsburgh and a home game against Marquette. 
-- Virginia continues to cruise along, taking care of Virginia Tech by 18 points on Tuesday night. The Cavaliers are 8-3 in the ACC and winners of seven of their last eight games. Moreover, they were able to avoid yet another bad loss -- which is what will plague Virginia over the next four weeks. It has six sub-100 losses; it can't afford anymore. Road contests against North Carolina and Miami in the next week will be key for the Cavaliers -- getting at least one of them is imperative.
-- Valparaiso extended its edge in the Horizon League, going on the road and picking up a key victory at Wright State 68-61. With four conference games left in the regular season, the Crusaders have a two-game lead in the loss column on Detroit. The Titans stayed within striking distance by defeating Cleveland State. 
-- With James Madison defeating Towson, it's getting awfully tough for anyone to catch Northeastern in the CAA. The Huskies are four games up in the loss column on both of those teams, as well as 3 1/2 games up on second-place Delaware.
-- Some interesting results from the America East. Stony Brook destroyed Binghamton, regaining first place because Boston University also went on the road and beat Vermont 64-59.
For more college basketball news, rumors and analysis, follow @EyeOnCBB on Twitter, subscribe to our RSS Feed and subscribe to our College Basketball Newsletter. You can follow Jeff Borzello on Twitter here: @jeffborzello
The university also maintains that Pitino was appropriately fired

Price only made it nine games into his third season

The Wildcats won't play another currently ranked team until Jan. 10
The BC fan has a ton of apparel and gear headed his way after this putt

Durant's made a habit of making sure his alma mater is set with the latest customized gear

Ball says UCLA told him to thank Trump for getting him back to the states after shoplifting...