Night Court: Minnesota, Michigan close gap in Big Ten pecking order
Minnesota and Michigan pulled out statement wins on Wednesday, while VCU and Saint Louis took a step up in the A-10 pecking order.
• 7 min read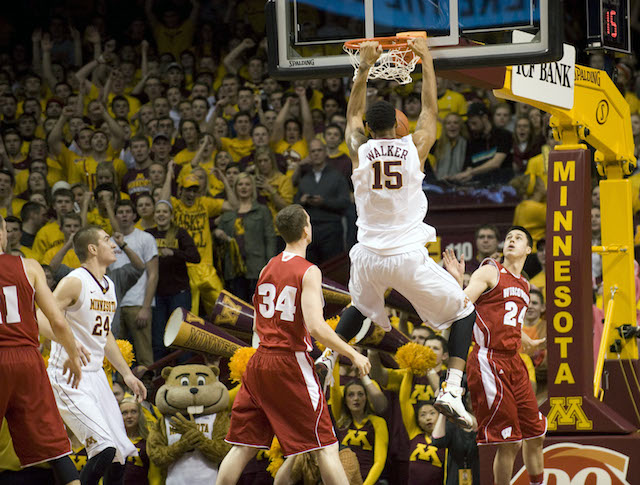 Here's everything you need to know from college basketball's Wednesday …  
Game of the Day: Michigan moves to 6-0 in the Big Ten with win over Iowa.
I wrote about this earlier tonight, so I won't really get into it too much here. But Michigan is playing some of the best basketball in the country, and its 75-67 win over Iowa proves the Wolverines are a threat in the Big Ten. That's now eight wins in a row for Michigan, and a 6-0 conference record heading into a road trip to Michigan State this weekend. Nik Stauskas has emerged as a viable All-American candidate, despite being left off the Wooden Award midseason list. He had 26 points on Wednesday and is averaging 23.3 points in his last three games.
Heading into Big Ten play, it looked like there were two four-team tiers among the top eight. After three weeks, the pecking order is unclear. What is clear, though, is that the gap between the top four and middle four doesn't exist. Michigan State is the likely favorite, but with Ohio State and Wisconsin sliding, and Michigan and Minnesota better than expected, we're in for a terrific final six weeks.
What else we'll be talking about in the morning: Minnesota hands Wisconsin its third-straight loss.
It wasn't a make-or-break stretch for Minnesota, but its four-game swing against Michigan State, Ohio State, Iowa and Wisconsin was a proving ground for the Gophers. They entered it with plenty of questions – and come out of it with a 2-2 record and wins over Ohio State and Wisconsin. And they did it on Wednesday after Andre Hollins went down in the opening minute with what appeared to be an ankle injury. Mo Walker and Deandre Mathieu stepped up in a major way, as Walker went for 18 points and nine rebounds and Mathieu had 18 points, five rebounds and three assists. Mathieu has been something of a bellwether for Minnesota; when he plays well, the Gophers play well. In four Big Ten wins, Mathieu is averaging 14.5 points. In three league losses, he's averaging 7.7 points.
As for Wisconsin, this is now three defeats in a row after starting the season 16-0. The Badgers got some assertive play from Sam Dekker (20 points), but the team shot just 25 percent from 3-point range and couldn't guard whatsoever. They were constantly taken off the bounce by Minnesota's perimeter players, and then got beat up inside by Walker and co. It's obviously not suddenly a lost season for Wisconsin, but the defense has now allowed more than 77 points per game in its last three outings. That's a problem.
Here's Hollins' injury:
That's a good win: VCU heads on the road and takes down Dayton.
Wednesday was an important game for both teams. VCU had to prove it could win away from home against a good team, while Dayton didn't want to drop 1-3 in the league. The Rams won out, forcing 18 turnovers and turning them into 28 points en route to an 80-66 win. Juvonte Reddic was huge in the second half for the Rams, finishing with 18 points and seven rebounds, while Briante Weber was fantastic, going for 18 points, five assists – and zero turnovers.
But that's a bad loss: California suffers first Pac-12 defeat at USC.
Over the first three weeks of Pac-12 play, Cal looked like perhaps the second-best team in the league, behind Arizona. And while they still might be, the Golden Bears certainly didn't look like it on Wednesday night. USC held a double-digit lead for most of the game, and the Trojans came away with a 77-69 win. Justin Cobbs did his best to keep Cal in the game, finishing with 22 points and six assists, but it wasn't enough. Freshman Nikola Jovanovic led USC with 23 points, although three other players finished in double-figures. Cal is now 5-1 in the conference and have a road game at UCLA this weekend; meanwhile, Andy Enfield finally has a Pac-12 win under his belt.
Not the most ideal loss: UMass loses ground in A-10 race with loss at Richmond.
This isn't necessarily a bad loss, especially considering Richmond was favored by three – but it's not exactly something I would write home about. People were waiting for this from Massachusetts, as the Minutemen were playing with fire in the A-10. They had won their first three league games by a total of 10 points – and Richmond made sure UMass didn't win another close call, pulling out a 58-55 win. Kendall Anthony finished with 21 points, as Chaz Williams struggled toward a 2-for-11 night. 
And with UMass losing, there are more undefeated teams (3) than one-loss teams (2). Michigan State and San Diego State are the lone one-loss teams left.
Players with impact
An efficient night for Miami (Ohio)'s Will Felder: 22 points, 13 rebounds, 10-for-13 shooting in a win over Central Michigan.
Toledo has fallen from the nation's focus since losing its first game, but Justin Drummond is still rolling, with 24 points and 11 rebounds against Northern Illinois.
We should just hold a spot for Keifer Sykes whenever Green Bay plays. On Wednesday, he had 27 points, eight rebounds and six assists. The Phoenix are 6-0 in the Horizon, by the way.
Thirty-one points for Canisius' Billy Baron.
High Point fell in overtime to VMI, but John Brown still managed 28 points, nine rebounds and four assists.
Numbers to figure
2-21: Mike Anderson's road record at Arkansas, after losing to Tennessee on Wednesday.
5-32: Jeff Bzdelik's road record at Wake Forest, after winning at Virginia Tech on Wednesday.
3: Hofstra shockingly moved to 3-1 in the CAA on Wednesday, after its third straight conference win – the Pride's longest CAA winning streak since 2010-11.
6: That's the number of points Towson's Jerrelle Benimon scored on Wednesday, tying a season-low as the Tigers suffered a surprising home loss to Northeastern.
2: That's the number of D-I wins Mississippi Valley State has this season – including Wednesday's victory over SWAC leader Southern. 
Other outcomes of note:
For much of the game, it looked like Arkansas was going to pull out a surprising road win at Tennessee. Instead, the Volunteers went on a 10-2 run in the final three minutes to get an 81-74 win. Jordan McRae was the star of the night, with 34 points and seven rebounds. The Razorbacks are just 1-4 in the SEC.
Wichita State had to overcome a halftime deficit, but the Shockers cruised to a 15-point win over Illinois State. They are now 20-0 on the season. And Tekele Cotton did something you need to go watch.
Duke and Miami have had some good battles over the years, but Wednesday wasn't one of those battles. Jabari Parker went for 17 points and 15 rebounds to lead the Blue Devils to a 67-46 win.
That's now 16 wins in a row for San Diego State, who rolled past San Jose State in the Mountain West. At Utah State could be a trouble spot this weekend. 
Louisville is rolling despite Chris Jones still out due to injury. The Cardinals handled South Florida by 39 points on Wednesday, getting five players in double-figures. Montrezl Harrell's 14 points and 10 rebounds were the highlight.
Saint Louis overcame an early deficit, but then held on to beat Duquesne and move to 5-0 in the Atlantic 10. Jordair Jett had 11 assists for the Billikens. 
No. 25 Oklahoma sleepwalked offensively through its 77-69 win over TCU, getting 13 points and 16 boards from Ryan Spangler and forcing 16 turnovers.
Nice win for Ole Miss, going into Memorial Gym and coming out with a 63-52 win over Vanderbilt. Jarvis Summers had 16 points and Marshall Henderson finished with 11.
Could Wednesday have been the start of a little run from UNLV? The Runnin' Rebels handled Utah State, and now three of the next five are at home -- with the two road games at Colorado State and San Jose State. A 5-1 or 6-0 record is achievable. 
Don't look now, but Georgia is tied for second in the SEC with a 4-1 record after its win over South Carolina.
American made an absolute statement in the Patriot League, dominating former unbeaten Boston University by 30. Guess the Eagles are the favorite.
Notebook:
-- Tekele Cotton's dunk will rightfully get most of the attention on Wednesday night, but don't overlook this gem from Minnesota's Austin Hollins:
Austin Hollins mega dunk https://t.co/50WrtWgOJR

— Troy Machir (@TroyMachir) January 23, 2014
-- "Khem Kong" is awesome:
OK. Now this is cool. "Khem Kong". Well done at UNLV #UNLVMBB pic.twitter.com/VUbqRV4O5I

— Chris Maathuis (@sports8) January 23, 2014
-- There were two division supremacy battles in the Big South: Campbell beat Radford, and UNC-Asheville took down Winthrop.
-- Wyoming beat Air Force on Wednesday, but head coach Larry Shyatt missed the game due to illness.
-- The Wooden Award midseason list of 25 players had some snubs; who were the biggest misses? 
-- A 360 dunk from Campbell's Reco McCarter definitely needs a mention:
A looming FBI investigation coupled with this losing streak could cast a long shadow on their...

OSU will battle Butler on Sunday just 170 days after Holtmann's coaching staff left Indian...

Bagley's performance on Friday invoked records with names like Redick and Laettner attached...
Bridges is a game-time decision for Friday night and has missed one game already with an ankle...

SportsLine's advanced computer model simulated UConn vs. Michigan State 10,000 times

It's not every day that a team gets to the line zero times and doesn't complain