Night Court: Naadir Tharpe saves Kansas at Oklahoma State
Wednesday was jam-packed, with Oklahoma State and Kansas needing two overtimes to find a winner -- and that was just the tip of the iceberg.
• 9 min read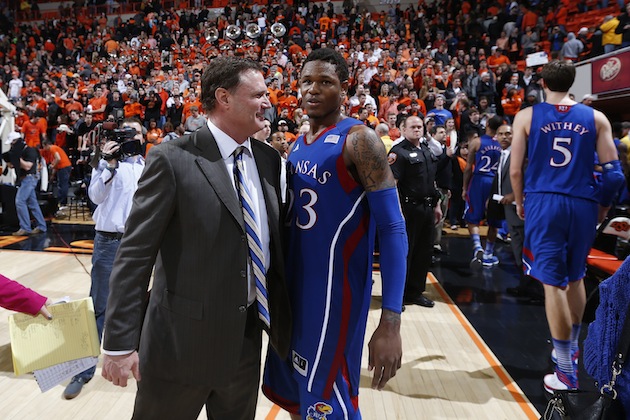 Despite a rough outing from Ben McLemore, Bill Self and Kansas eked out a win at Oklahoma State. (Getty Images)
Here's everything you need to know from college basketball's Wednesday night …
Game of the Night: Kansas and Oklahoma State need two overtimes to decide the winner.
After Oklahoma State won at Kansas in late January, the Jayhawks proceeded to lose two more games and fall out of the nation's collective focus. Well, it looks like Kansas is back on track. The Jayhawks went into Stillwater on Wednesday and came out with a hard-fought, double-overtime victory over Oklahoma State 68-67. The hero for the Jayhawks was -- seriously -- Naadir Tharpe, who hit a shot in the lane late in the second overtime to provide the difference. It was the only field goal that Kansas made in the two overtime periods and was also only the second shot that Tharpe made all night. The referees played a major factor late in the game, with Marcus Smart, Elijah Johnson and Michael Cobbins all fouling out and the teams combining to shoot 58 free throws.
For Kansas, Jeff Withey had 17 points and 14 rebounds, although most of his production came from the foul line. Johnson seems to be getting some of his confidence back, although Ben McLemore really struggled against the Cowboys. More concerning, though, was his lack of aggressiveness down the stretch. When Kansas needed a basket, McLemore didn't seem to want the ball in a big situation. Fortunately for the Jayhawks, Tharpe had no problem with confidence. On the other side, Oklahoma State needs more from Le'Bryan Nash. He made some key plays early in the game but didn't make a field goal after halftime. For someone so talented, Travis Ford needs more consistent production. Marcus Smart also only shot 2-for-14 and made some poor decisions late. Both teams should be fine and can win multiple games in March.
Oh, and Bill Self dancing (via @BubbaProg). To music, if you want that, too. 
What else we'll be talking about in the morning: Ohio State ran Minnesota off the floor in the second half. What's up with the Gophers?
Both Ohio State and Minnesota needed wins on Wednesday, but only the Buckeyes played with any sort of desperation. It was a slow-developing first half, but Ohio State went on a 16-0 run in the second half en route to a 71-45 win over the Gophers. Deshaun Thomas overcame a rough start to finish with 19 points, while Minnesota's trio of Rodney Williams, Austin Hollins and Joe Coleman combined for zero field goals. Ohio State is 9-5 in the Big Ten heading into a monster matchup on Sunday against Michigan State.
Meanwhile, Twitter was blowing up on Wednesday night with people saying Minnesota doesn't deserve a bid. The Gophers have lost eight of their last 11 games and are only 6-8 in the Big Ten. With that said, they have wins over Illinois, Wisconsin, Memphis and Michigan State. Compared to many bubble teams, that's more than enough. As long as they win two more games the rest of the season, they'll make the field.
That's a good win: UNLV pulls out win over Colorado State.
UNLV has had trouble winning on the road this season, but the Runnin' Rebels are beginning to pick up some momentum at home. They beat San Diego State over the weekend and then knocked off Colorado State in a nailbiter on Wednesday, 61-59 on Anthony Marshall's pull-up jumper with under 10 seconds remaining. Colorado State got a good look at the buzzer, but Daniel Bejarano's 3-pointer didn't fall. The Rams missed a chance to move into a tie for first place in the Mountain West, but they have to turn around and host New Mexico this weekend. UNLV is finally showing some toughness the past two games, pulling out close wins, but also handling Colorado State -- arguably the nation's best rebounding team -- on the glass and in the post. Anthony Bennett and Khem Birch couldn't get their offense going, but they combined for nine blocks. 
But that's a bad loss: Ole Miss falls further from tournament with loss at South Carolina. 
Heading into the week, I had just two SEC teams in my projected bracket, Florida and Missouri. Ole Miss was one of the last teams out, while Kentucky was also among that group. The Rebels did themselves no favors on Wednesday, falling at South Carolina in the final seconds. That's now five losses in their last seven games. And while the record might look good, there's not much meat to the resume. There's a win over Missouri, and well, that's pretty much it. Moreover, the loss to South Carolina means the Rebels now have a sub-200 loss on the profile. They need to right the ship quickly.
Players with impact
Numbers to figure:
1: That was the number of field goals that Kansas made in the two overtime periods against Oklahoma State. And the Jayhawks won.
3: Wednesday's game was the third time that Oklahoma State and Kansas have gone to multiple overtimes in their series history. It hadn't previously happened since 1981.
431: Despite the loss, Providence guard Vincent Council set the Big East record for assists, passing Sherman Douglas at 426. Council dished out seven on Wednesday.
17: Memphis has won 17 games in a row, handling Houston 81-74. The Tigers could clinch the Conference USA regular-season title against Southern Miss on Saturday.
47: Georgetown scored 47 points in the second half on Wednesday. Four times this season, the Hoyas have held opponents to 47 or fewer for an entire game.
Other outcomes of note:
Notebook:
-- We had our first two regular-season titles clinched on Wednesday. Well, at least shares of the regular-season title. Northeastern's late win over James Madison gave the Huskies a share of the CAA championship, while Davidson's dominant win over Furman did the same in the Southern.
-- Boise State hasn't been able to win away from home in conference play, but it continues to take care of business at home. On Wednesday, the Broncos went on a run in the early stages of the second half to beat Air Force. Beating Fresno State and Nevada in the next two games would help.
-- Alabama is now 10-3 in the SEC after beating Mississippi State and its six scholarship players. The Crimson Tide need to handle LSU and Auburn before heading on the road to face Florida and Ole Miss in March.
-- Massachusetts and Xavier both needed road wins to stay near the bubble on Wednesday, and only the Musketeers could pull out a victory, at Rhode Island. I still think they're too far from the pack, though. Meanwhile, UMass dropped one to St. Bonaventure for its third loss in a row.
-- Stephen F. Austin's win at Sam Houston State set up a battle for first place next Saturday against Northwestern State. Should be fun. Northwestern State won the first meeting.
-- Ohio stayed within striking distance of Akron with an easy win over Eastern Michigan. The Bobcats are now a 20-win team and 11-1 in the MAC.
-- Don't look now, but Eastern Kentucky is only one game behind Belmont in the Ohio Valley. Every game the rest of the season is on the road, though, and they were swept by Belmont during the season. Meanwhile, the Bruins beat Eastern Illinois by 31 on Wednesday.
-- Southern Miss still has an outside chance at an at-large bid, and the Golden Eagles held off a late charge from UTEP to beat the Miners.
-- Long Beach State improved to 13-2 in the Big West with a win over UC Davis. The 49ers host Stephen F. Austin on Friday night. 
For more college basketball news, rumors and analysis, follow @EyeOnCBB on Twitter, subscribe to our RSS Feed and subscribe to our College Basketball Newsletter. You can follow Jeff Borzello on Twitter here: @jeffborzello
The university also maintains that Pitino was appropriately fired

Price only made it nine games into his third season

The Wildcats won't play another currently ranked team until Jan. 10
The BC fan has a ton of apparel and gear headed his way after this putt

Durant's made a habit of making sure his alma mater is set with the latest customized gear

Ball says UCLA told him to thank Trump for getting him back to the states after shoplifting...