Night Court: No more No. 1 seed for Michigan or Arizona
Another busy Wednesday is in the books, and losses by Michigan and Arizona highlighted the action.
• 6 min read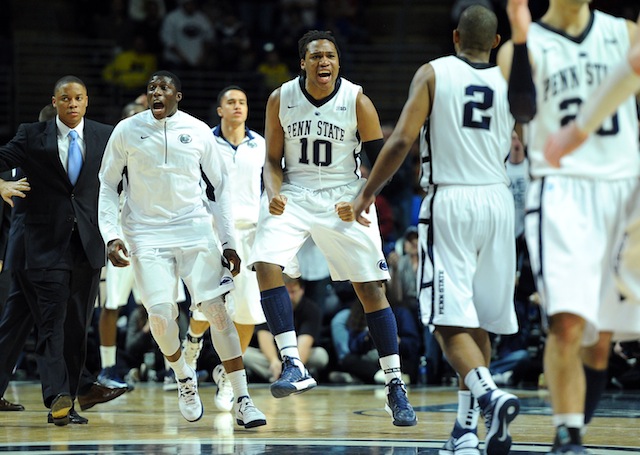 Here's everything you need to know from college basketball's Wednesday night.
Game of the Night: Is anyone playing better than Georgetown? Hoyas get double-OT win at Connecticut.
Georgetown was quietly playing itself up the Big East standings, and then it went into Syracuse and beat the Orange by double-digits over the weekend. Suddenly, the Hoyas were getting No. 1 seed talk and Otto Porter was in the Player of the Year discussion. How did they respond? By going into Storrs and knocking off Connecticut in double overtime, with Porter going for 22 points and the game-winning layup in the final seconds.
Georgetown blew a 12-point lead in the final 4:36 of regulation, but then returned the favor by overcoming a seven-point deficit in the final two minutes of overtime. Georgetown has now won 10 in a row and is one game ahead of Marquette and Louisville in the title race.
What else we'll be talking about in the morning: Potential No. 1 seeds Michigan and Arizona both losing.
Michigan had played itself back into really solid consideration for a No. 1 seed, but losing at Penn State likely ends that hope. They have now lost four straight road games, and the defense is slipping into worrisome territory. The Wolverines shot just 5-for-20 from 3-point range and turned it over 15 times, allowing Penn State to knock down 10 3s and get its first Big Ten win of the season. With so many teams fighting for No. 1 seeds, anything short of beating Indiana in the finale and then winning the Big Ten tournament won't get it done. 
Arizona was in that same boat. Heading into the week, it looked like there were 11 or 12 teams in contention for No. 1 seeds come Selection Sunday. Arizona was among that group – until Wednesday, when the Wildcats fell 89-78 at USC. They allowed USC to shoot 61 percent from the field and 60 percent from 3-point range, and couldn't make plays down the stretch. Arizona now has to make up ground in order to win the Pac-12 title. 
Shot of the Night: Myck Kabongo's prayer at the end of regulation to help beat Oklahoma.
Texas was down by 22 to Oklahoma with just 7:54 remaining. However, the Longhorns stormed all the way back to tie the game on the above Kabongo fadeaway at the buzzer. With all the momentum in overtime, Texas made the plays in the extra session to get the six-point victory. Kabongo finished with 31 points, eight rebounds, six assists and four steals. Wonder where the Longhorns would be if they had him all season. As for Oklahoma, check out Poppin' Bubbles for more.
That's a good win: New Mexico knocks off San Diego State.
New Mexico was expected to beat San Diego State at home on Wednesday night, and the Lobos obliged, getting out to a 15-point lead early in the second half and holding off a San Diego State run down the stretch. The Lobos are getting closer to clinching a Mountain West title, and they have a better shot at a No. 2 seed than most people think. They have eight top-50 wins and 15 top-100 wins, along with a 10-3 road/neutral record and a top-five RPI and SOS. If they win the Mountain West tournament, could a No. 1 seed be a possibility?
Another good win: Akron goes into Ohio and gets a win.
The Mid-American Conference featured one of the better games of the night, with undefeated in conference Akron heading into one-loss Ohio to take control of the league. After Ohio went on a big run in the first half, Akron fought back and took the lead late in the game. Although the Bobcats forced overtime with a last-second putback, it was all Zips in the extra session -- and now Akron has won 19 in a row and is playing itself into a potential at-large bid.
Players with impact
After a bit of a slump, Creighton's Doug McDermott went for 32 points and 11 rebounds.
Ball State's Jauwan Scaife dropped 34 points and six 3-pointers to help beat Central Michigan.
It was in a loss, but it's impossible to overlook Buffalo forward Javon McCrea and his 32 points, 15 rebounds and eight blocks. By the way, that game ended like this:
Numbers to figure:
85: Penn State's 84 points were its most against a conference opponent since scoring 85 against Michigan State back in 2008.
2001: Evansville completed its first season sweep of Wichita State since 2001.
21: This is Akron's longest winning streak since the Zips won 21 in a row back in 1958-59. And it's the second-longest in MAC history, as Kent State won 21 in 2001-02.
Other outcomes of note:
Miami (Fla.) struggled early on, but went on a late first-half run en route to a 76-58 win over Virginia Tech. Kenny Kadji had 20; Shane Larkin went for 22. The Hurricanes face Duke on Saturday.
Louisville stayed one game back of Georgetown in the Big East after handling DePaul on the road. And Chane Behanan threw this down. 
Notebook:
-- Bucknell (Patriot) and Northeastern (CAA) clinched outright regular-season titles on Wednesday night.
-- Both High Point and Charleston Southern lost, meaning four teams – throw in UNC-Asheville and Gardner-Webb – are within one game of first place heading into the final weekend.
-- Charlotte has now lost four of its last five, and seven of its last 10, after getting steamrolled at home by Dayton. At-large is on life support.
-- Arkansas and Indiana State are basically done, with the Razorbacks losing to LSU and Indiana State falling to Drake.
-- Davidson improved to 16-1 in the Southern. 
For more college basketball news, rumors and analysis, follow @EyeOnCBB on Twitter, subscribe to our RSS Feed and subscribe to our College Basketball Newsletter. You can follow Jeff Borzello on Twitter here: @jeffborzello
Simons, 18, is a former Louisville pledge who is suddenly eligible for the upcoming draft

The Blue Devils improved to 4-0 in an easy win vs. Southern.

If LiAngelo Ball didn't come from a famous family, we might think differently of him
Ball significantly downplayed President Trump's role in helping get his son back to the U....

Discussing the one-and-done rule -- plus Michael Porter Jr.'s injury and Billy Preston's c...

Even though he's scheduled to graduate in December, the NCAA still won't let Hayes play