Night Court: Notre Dame downs Duke; Dayton does it at the buzzer
Notre Dame was without Jerian Grant (and will be the entire season), but the Irish came together and knocked off Duke by two.
by

Eye on Col Basket staff

• 9 min read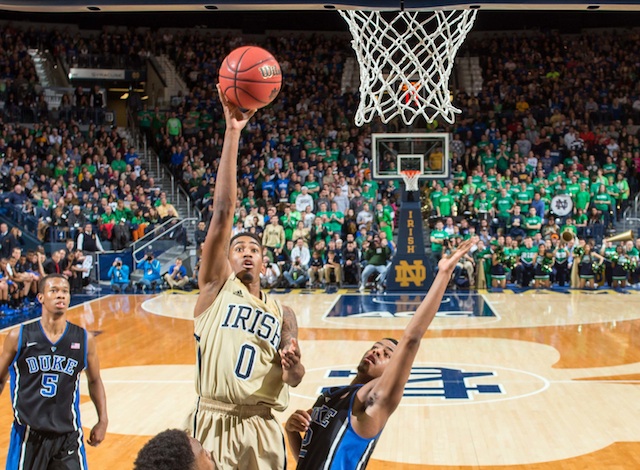 Here's everything you need to know from college basketball's Saturday …  
Game of the Day: Notre Dame knocks off Duke for huge ACC-opening win.
Mike Brey has excelled with player absences in the past, and he might be doing it again without Jerian Grant. The team's leading scorer is not enrolled for the rest of the season, but the Fighting Irish still managed to take down No. 7 Duke, 79-77. Eric Atkins stepped up with 19 points and 10 assists, while Pat Connaughton had 16 points, eight rebounds and five assists. Garrick Sherman also had 14 points and eight rebounds. Duke was paced by Rodney Hood and Quinn Cook, who combined for 49 points.
The name you didn't see in that opening paragraph was Jabari Parker. Parker was just 2-for-10 from the field on Saturday, finishing with seven points and four rebounds. More importantly, he wasn't even on the court for the final 3:35 – and it had nothing to do with foul trouble.
Game of the day, Vol. 2: Kansas State upsets No. 6 Oklahoma State.
Kansas State opened the season with a home loss to Northern Colorado, then proceeded to lost two of its next four. Since then, though, the Wildcats have won nine in a row -- capped by Saturday's upset win over Oklahoma State, 74-71. Marcus Smart had a chance to tie the game at the buzzer, but his shot fell short. The Cowboys shot just 21.4 percent from 3-point range. Meanwhile, Kansas State got 17 points and eight rebounds from freshman Marcus Foster, who continues to surprise people across the country. With Jevon Thomas now eligible, Bruce Weber has a team that can win some games in the Big 12 -- and a team that is hot as January heats up.
What else we'll be talking about in the morning: Numbers one and two escape with close wins.
For a time on Saturday afternoon, it looked like both No. 1 Arizona and No. 2 Syracuse would suffer their first losses. Arizona was down at halftime to Washington, but the Wildcats went on a stretch in the second half when they scored nine straight field goals on dunks or layups. Moreover, Washington went completely cold and Arizona ended up pulling away for a 71-62 win. Nick Johnson finished with 24 points. 
Meanwhile, Syracuse went down in the second half as Miami came out of halftime on a 14-4 run and the Orange missed their first nine shots. However, C.J. Fair had 15 points, and Syracuse ended up coming out with a 49-44 win. It wasn't pretty, but the Orange forced 15 turnovers and managed to take advantage of 12 offensive rebounds. 
For the win!!: Dayton does away with Ole Miss thanks to a 3 just before the buzzer.
Devin Oliver used the glass to help the Flyers win 83-80 on the road against Ole Miss. Some shot. Rushed, from 27 feet out, and bang. He wouldn't have had the chance if not for a charge on Ole Miss. If you want to see the shot, head to the :35 mark. Oliver finished with 26 points.
That's a good win: Cincinnati goes into Memphis and rolls by 16.
We had Gary Parrish at the game, so I won't go too deep into it – but what a win for the Bearcats. They hadn't looked impressive in the non-conference season, and even in the wins, they looked ugly. But after two games in the AAC, Cincinnati is 2-0 with wins over SMU and Memphis. The Bearcats struggled with turnovers early, but packed in the defense in the second half and forced Memphis to make shots; the Tigers couldn't. Justin Jackson showed himself as one of the most improved players in the country, with 13 points, eight boards and seven blocks. 
Sneaky good win of the day: Rhode Island wins in the swamp.
The Rams went down to LSU and got a 74-70 victory, handing the Bayou Bengals only their third loss of the season. I think the Tigers make this year's NCAA tournament, but have to believe this one will cost them a seed line. As for URI and Danny Hurley, a confidence-boosting win. Random game and really big for that program, even if LSU isn't a juggernaut.

But that's a bad loss: Florida State gives it up at home to Virginia.

Hey, a very nice win for the Hoos, who needed a redeeming victory after some poor play in recent weeks. But Florida State, which has shown flashes of being quite good this year, can't lose 62-50 on your home court. The Seminoles -- we're forecasting -- will have a tough time stealing road wins, simply by the nature of how they play and the league they're in. Getting home victories when favored is paramount. A stinging loss here. FSU was 31 percent from the floor.
And a very bad loss: UNLV can't help itself in home L to Air Force.
We haven't considered Vegas an NCAA tourney team for a few weeks now, but this is really bad business. Having Air Force -- which has losses to VMI, Jackson State and UC Davis -- come into your gym and get a 75-68 win is smearing. Bryce Dejean-Jones put up a career-best 28 points (and six assists) in the losing effort. AFA's Tre' Coggins led his team with 20. Dave Rice HAS A TALENTED TEAM. Yet it's now 10-5 and is staring at the wreckage of a seven-game winning streak burning in embers. 

What's happening with Connecticut? The Huskies have now lost three of their last five games after falling to SMU on Saturday. They opened AAC play with a loss to Houston on New Year's Eve, and then the Mustangs beat them 74-65. Shabazz Napier was just 2-for-9 from the field, and Connecticut was 5-for-16 from 3-point range. Nic Moore dominated the vaunted UConn backcourt with 20 points and six assists. The Huskies have a tough non-conference tilt with Harvard on Wednesday, then UCF at home before playing Memphis and Louisville. It's a rough stretch.
Players with impact
Your high scorers from Saturday? Elfrid Payton (possible NBA pick) from Louisiana-Lafayette and Anthony Ireland (of LMU) each had 34. Payton also had 11 dimes.
It's hard to include Doug McDermott in this category, since every game is worthy. But he had 30 points, 10 points and five assists against Seton Hall.
Twenty-four points and 16 rebounds for Quinnipiac's Ike Azotam.
New Mexico big man Cameron Bairstow went for 29 and 14.
Terrific all-around game from Green Bay's Keifer Sykes: 24 points, eight rebounds and nine assists.
In a losing effort, St. Francis (Pa.)'s Earl Brown had 31 points and 11 rebounds against NJIT.
Zikiteran Woodley had 30 points on 15 shots for Northwestern State.
Houston's TaShawn Thomas yet another player so close to the five-for-five! Had 13 points, six steals, six blocks, five assists ... and four rebounds in the Cougars' 67-58 win over South Florida.
Numbers to figure
118: Iona scored 118 points against Niagara, setting a school record for most points in a regulation game.
126: Louisiana Tech is not impressesd by Iona, as it laid 126 on Longwood. Yes, Longwood is a D-I program.
62: The number of fouls in Louisville's 83-76 win at Rutgers. Game took more than 150 minutes to complete. Russ Smith had 22 in the win.
1993: Before Saturday, SMU hadn't beaten a ranked team at home since knocking off No. 25 Houston on Jan. 30, 1993.
27: Prior to the Cincinnati loss, Memphis had 27 straight games against league opponents, dating back to February 2012.
45: Doug McDermott had made 45 straight free throws before missing one with 5:46 left against Seton Hall.
Other outcomes of note:
Borzello wrote about Michigan State earlier today, as Gary Harris went for 26 points to lead the Spartans to a 73-56 win at Indiana. Branden Dawson was fantastic in transition, and Indiana couldn't keep up in the second half.
<span data-shortcode= State" data-canon="Ohio Bobcats" data-type="SPORTS_OBJECT_TEAM" id="shortcode0"> will be 15-0 heading into Tuesday's game with Michigan State, as the Buckeyes cruised past Nebraska, 84-53. The leading scorer on Saturday was sophomore Amedeo Della Valle, who had 15 points in 17 minutes.
Iowa State remained unbeaten on the season, beating Texas Tech by 11. Georges Niang led the way with 17 points.
Pittsburgh was down 17-2 early against North Carolina State, but the Panthers outscored NC State by 20 in the second half for a 74-62 win. Lamar Patterson had 22 points, eight rebounds and six assists.
Oklahoma had an 88-85 rally of a win at Texas. Credit the Sooners' Jordan Woodard, who had OU's final 10 points and one of five Sooners who hit double figures. Buddy Hield had a team-high 22 points. It was Oklahoma's first win in nine years in Austin. Sooners are now 12-2; Horns are 11-3.
D'Vauntes Smith-Rivera had 31 points as Georgetown blew out St. John's 77-60. It wasn't even that close, either. The Red Storm were down 26 at halftime, and now face Villanova next week.
Richmond hung with No. 12 Florida for a while, but the Gators pulled away late behind 18 points from Michael Frazier.
Semaj Christon has established himself as one of the best playmakers in the country, going for 20 points and eight assists as Xavier beat Butler, 79-68.
In order for Indiana State to have a chance at an at-large it's probably going to only be able to lose one Missour Valley game. Won 81-62 at Evansville, an encouraging outcome for Sycs fans.
Utah now a 12-2 team after beating Oregon State 80-69 at Utah. 
Big-time win tonight for 4-11 SIU-Edwardsville, which knocked off Ohio Valley favorite, 10-5 Eastern Kentucky, 85-79.
Notebook:
-- Remember all the hubbub over Southern poleaxing that Champion Baptist CCD school by 112 points earlier in the week? Southern played Prairie View A&M Saturday. Won just 60-57. Back to the big leagues of the SWAC, baby.
-- Former <span data-shortcode= State" data-canon="Oklahoma Sooners" data-type="SPORTS_OBJECT_TEAM" id="shortcode0"> and San Diego basketball player Jason Keep is being held in connection with an armed robbery in Phoenix. Back in the day, he broke a backboard against Arkansas-Little Rock (and Doug Gottlieb makes an appearance in the video).
-- Illinois pulled away in the second half against Penn State, but the game was marred in the second half by a skirmish that resulted in D.J. Newbill getting ejected.
-- Maryland starting to get some consistency at the point guard spot: Roddy Peters and Seth Allen combined for 15 points and seven assists to beat <span data-shortcode= Tech" data-canon="Georgia Bulldogs" data-type="SPORTS_OBJECT_TEAM" id="shortcode0">.
-- Boston College is now 4-11 on the season after losing to Clemson at home. Brutal year for Steve Donahue.
-- Can't believe Temple isn't a good team this year. Fell by two at Central Florida, is now a 5-7 team.
-- On Friday, <span data-shortcode= State" data-canon="Utah Utes" data-type="SPORTS_OBJECT_TEAM" id="shortcode0"> announced it had reinstated suspended big man Jarred Shaw. Shaw missed five games.
-- Also on Friday, South Carolina announced that Bruce Ellington wouldn't be suiting up for the basketball team this season; he was entering the NFL draft.
-- This is one for the transfer list: Providence freshman Brandon Austin is leaving the school. 
Gary Parrish and Matt Norlander discuss the latest in college basketball

The university also maintains that Pitino was appropriately fired

Price only made it nine games into his third season
The Wildcats won't play another currently ranked team until Jan. 10

The BC fan has a ton of apparel and gear headed his way after this putt

Durant's made a habit of making sure his alma mater is set with the latest customized gear