Night Court: Opening night has no shortage of excitement
Close finishes between Providence and Boston College, and Connecticut and Maryland, highlighted the first part of opening night.
• 9 min read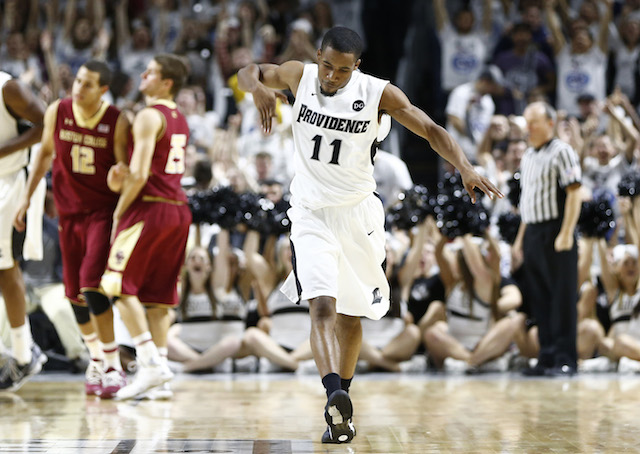 If you've read the blog the past couple of seasons, you're going to be familiar with this nightly staple. If not, you'll get used to it pretty quickly. Every night, we're going to recap the night that was – giving you everything you need to know. On bigger nights, we're going to get a quick version up early, and then constantly update it through the day/night. Friday is one of those days.
Here's everything you need to know from college basketball's opening night …
Game of the Night: Dominic Artis-less Oregon goes to South Korea and beats Georgetown.
If I had told you earlier this week that Oregon would have to play Georgetown in South Korea without Dominic Artis, without Ben Carter, and with Josh Smith scoring 25 points for the Hoyas, I'm guessing you would have thought the Ducks got rolled by Georgetown.
Well, that wasn't exactly the case.
Houston transfer Joseph Young scored 24 points to lead Oregon to an 82-75 win over Georgetown. Mike Moser had 15 points and did a little bit of everything, while Jonathan Loyd filled in admirably as Artis' replacement, dishing out seven assists. Detroit transfer Jason Calliste also contributed 16 points off the bench. When Artis and Carter return after nine games, this team has the potential to be one of the most talented in the country. 
As for Georgetown, there were certainly bright spots. As mentioned, Smith dominated inside, scoring 25 points in 27 minutes, proving to be basically unguardable inside. Markel Starks also played well, but D'Vauntes Smith-Rivera was only 2-for-10 and the Hoyas shot 1-for-15 as a team from 3-point range. Going forward, though, if Smith can be consistent inside, Georgetown has the pieces to win the Big East. 
Game of the Night, Vol. 2: Providence beats Boston College in a battle of rising New England programs.
Providence and Boston College are both teams hoping to make a jump in their respective conferences this season – and they both showed signs of improvement on Friday. Although people will talk about the six players fouling out, Bryce Cotton was the story – his 28 points led Providence to an 82-78 overtime win.
Boston College's inside-outside duo of Ryan Anderson and Olivier Hanlan was somewhat inconsistent, but ended up combining for 44 points. The Eagles will need more from their supporting cast, though, as Joe Rahon was the only other player with more than five points. Providence was without point guard Kris Dunn (shoulder) as well as freshmen Brandon Austin and Rodney Bullock (suspension), but the Friars showed how explosive they can be at full-strength. Expect to hear more from both these teams as the season progresses.
What else we'll be talking about in the morning: Connecticut outlasts Maryland in Brooklyn.
Some of the excitement heading into Connecticut's opener with Maryland was lost when Seth Allen, the Terrapins' starting point guard, broke his foot and was ruled out for more than two months. However, after some early struggles by Maryland, the game ended up coming down to the final minute. Back-to-back misses by Dez Wells on the final two possessions enabled Connecticut to escape with a 78-77 win, though.
The Wells-as-point-guard experiment had its ups and downs, as he went for 13 points, seven boards and six assists – to go with six turnovers. Connecticut's guards controlled most of the early stretches, as Shabazz Napier finished with 18 points and seven assists. The key for the Huskies going forward will be the performance of their big men – freshman Amida Brimah gave some quality minutes late, blocking shots and rebounding. Maryland had five goals in double-figures.
The debut of Andrew Wiggins: The superstar freshman started his career with 16 points in Kansas' 17-point win over Louisiana-Monroe. He wasn't hyper-aggressive, taking just nine shots from the field, but he led the Jayhawks in scoring and was solid overall. He knocked down two 3-pointers, too. 
That's a good win: Wisconsin outruns (yes, outruns) St. John's, 86-75.
Last season, Wisconsin scored 85 or more points on four occasions. Those games came against Samford, SE Louisiana, Presbyterian and Nebraska-Omaha. This season, the Badgers have already done it once -- against perhaps the Big East's most talented team in St. John's. The Red Storm were longer and more athletic than Wisconsin, but the Badgers used that to their advantage, moving the ball quickly in the half-court and forcing the Red Storm to rotate constantly. The Badgers attacked the rim effectively and also shot nearly 48 percent from 3-point range. Five players scored in double-figures, led by Josh Gasser's 19 points. 
And that's a bad loss: Kansas State suffers the first upset of the season.
Kansas State was expected to compete for the middle of the pack of the Big 12, and while the Wildcats still might, the season didn't get off to a very good start on Friday. Northern Colorado, which went 11-18 against Division-I competition last season, went into Manhattan and defeated Bruce Weber's troops, 60-58. The Wildcats shot less than 35 percent from the field and made just two 3-pointers. 
Kansas State wasn't alone in terms of power-conference teams surprisingly losing. Miami (Fl.) dropped one in overtime to St. Francis Brooklyn. Matt Norlander has more on that one.
Players with impact
If Trevor Cooney can do what he did Friday on a consistent basis, Syracuse won't miss a beat from last season. He knocked down seven 3-pointers en route to a 27-point night.
We pegged Rutgers forward Kadeem Jack as a potential breakout player this season, and he didn't disappoint against Florida A&M, going for 30 points and 12 boards in the win.
I guarantee Friday isn't the last time we see Kentucky's Julius Randle go for 23 points and 15 rebounds. Freshman Marcus Lee had 17 points off the bench in the 32-point win over UNC-Asheville. 
Some people thought Weber State could give BYU a run -- but the Cougars got 28 points and 13 boards from Tyler Haws in a nine-point win. 
Marquette's Davante Gardner took just seven shots from the field -- and scored 25 points. The big man went 15-for-20 from the free-throw line. 
Doug McDermott went for 20 points and five rebounds, while Jahii Carson had 19 points and five assists. Ho hum.
Arizona frosh Aaron Gordon opened his college career with a double-double, scoring 15 and grabbing 10 boards in Arizona's 73-62 win over Cal Poly. Gordon, who's been compared to Blake Griffin, also had four blocks.
Numbers to figure:
33-7: VCU used a dominant first-half run to cruise past Illinois State in the season opener, 96-58.
45: Indiana set a school record for free throws made, against Chicago State. 
24: Xavier hasn't lost a season opener since dropping one to Southern Utah State in 1989. That's 24 in a row. 
Other outcomes of note:
UCLA had a scare in its home debut against Drexel. The Bruins got out of Pauley in Steve Alford's first game as Bruins coach with a 72-67 win after Drexel's Damion Lee airballed a very long 3-point attempt with the game at 70-67 with less than 10 seconds to go. That's the mostly good news for UCLA. The bad? Attendance remains a problem for UCLA fans. Check this out.
Wow RT @DanWolken: RT @bethharrisap: Lots of empty seats for debut of @UCLACoachAlford pic.twitter.com/f1djsL27cd

— Seth Davis (@SethDavisHoops) November 9, 2013
Duke is going to be an absolute nuisance to defend this season. The Blue Devils scored 111 points to beat Davidson by 34 – and four players had at least 20 points apiece, led by Rodney Hood's 22 points and nine rebounds. Jabari Parker went for 22 as well.
Normally, Marcus Smart needs to play well in order for Oklahoma State to win. Not so much on Friday. Smart only scored 11 points -- and the Cowboys beat Mississippi Valley State by 55. 
Syracuse is going to need one of its big men to step up this season – and Rakeem Christmas did in the second half against Cornell. The Orange overcame a double-digit first half deficit to win, 82-60. Christmas had 12 points and four boards, while Cooney and C.J. Fair combined for 46 points.
Florida was without a few players due to suspensions or ineligibility, but Casey Prather went for 28 points and eight rebounds to help lead the Gators to a 77-69 win over North Florida.
After some early struggles, No. 7 Michigan pulled away to beat UMass-Lowell, 69-42.
Michigan State had no such trouble, as the second-ranked Spartans scored 52 first-half points en route to an easy 98-46 win over McNeese State.
It's going to be a critical year for Stanford and Johnny Dawkins. The Cardinal outlasted Bucknell at home, winning 72-68.
If James Michael McAdoo can put up 21 points and nine rebounds consistently, North Carolina will be in good shape. The Tar Heels cruised past Oakland despite playing without P.J. Hairston and Leslie McDonald.
Indiana had 13 players score in its 100-72 win over Chicago State. Playing the five, freshman Noah Vonleh had 11 points and 14 rebounds. 
The key for No. 21 Notre Dame in the early going will be replacing Jack Cooley -- and Tom Knight did an admirable job on Friday, going for 13 points in a 74-62 win over Miami (Ohio). Jerian Grant had 26 points for the Irish.
Virginia is just so deep down low. The Cavaliers' post quartet of Akil Mitchell, Anthony Gill, Mike Tobey and Darion Atkins combined for 39 points and 19 boards in a win over James Madison. 
Jayvaughn Pinkston and James Bell combined for 46 points and 13 rebounds as Villanova pulled away in the second half to beat Lafayette, 75-59. 
Notebook:
-- Syracuse's Jerami Grant sat out Friday's game against Colgate after being suspended for "violating the NCAA's rules regarding summer league play," according to Mike Waters of the Post-Standard.
-- Talib Zanna missed Pittsburgh's opener to serve his one-game suspension for a violation of team rules. Derrick Randall started in his place, notching 12 points and 12 boards in a 33-point win over Savannah State. 
-- Keep an eye on T.J. Warren in the national scoring race. The NC State forward scored 27 points to help lead the Wolfpack over Appalachian State. He can score at all three levels and will get a ton of touches. 
-- Alabama led Oklahoma by 16 in the first half, but the Crimson Tide's offense disappeared once Trevor Releford got into foul trouble. The Sooners came back to win, 82-73. Gonzaga transfer Ryan Spangler had 15 and 12 from Oklahoma, while Alabama's junior college transfer Algie Key dropped 20.
-- Minnesota's frontcourt could struggle this season, but that certainly wasn't the case on Friday in a win over Lehigh. Joey King had 20 points, and Elliott Eliason had 11 points and 17 rebounds.
-- "Dunk City" got stuffed. Florida Gulf Coast went to Nebraska and lost by 23 on Friday. Shavon Shields had 28 and six for the Cornhuskers. 
-- Purdue almost suffered a brutal season-opening loss, but Northern Kentucky missed two close shots in the final seconds as the Boilermakers won by one.
-- Texas eked out a win against Mercer -- and that's actually not a bad win. Mercer could contend for an NCAA tournament bid out of the Atlantic Sun. 
-- Belmont took down Lipscomb in the Battle of the Boulevard rivalry game, 87-83.
-- The first game of the season was won by Eastern Michigan, which took down Albion, 77-45.
After a close game against Michigan, Air Force is playing San Diego State with some moment...

Quickley played for John Calipari this summer with USA Basketball

A revamped Erwin Center is part of a $4.25 million upgrade to the Longhorns' hoops facilit...
Nov. 10 will be here before you know it so here's what you need to know

The league would be wise to treat that series like the ACC treats Duke-North Carolina

Pacific is penalized after the NCAA found academic rules were broken