Night Court: Providence-URI continue Ocean State rivalry
Providence held on to beat Rhode Island, while Missouri was impressive in its win over West Virginia.
• 3 min read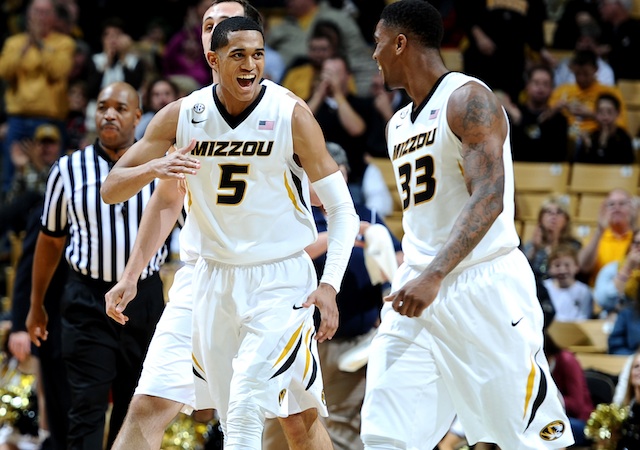 Here's everything you need to know from college basketball's Thursday …
Game of the Day: Providence holds off Rhode Island in an intrastate battle.
Both Providence and Rhode Island are going to be better in a couple months. But Thursday brought a terrific battle between the two sides, with Providence pulling out a 50-49 win after E.C. Matthews airballed a buzzer attempt. Kadeem Batts' free throw with 22.1 seconds left ended up being the winning point. Bryce Cotton led Providence with 15 points, while Gilvydas Biruta had 13 points and seven boards.
Needless to say, though, there's certainly a rivalry in the Ocean State. Heading into the final media timeout, head coach Dan Hurley and Ed Cooley were out on the court yelling at each other, each earning a technical foul. Both programs are on the rise, and I think we'll see more of this intensity in the coming years.
What else we'll be talking about in the morning: Missouri's perimeter group makes it a factor in the SEC.
Missouri has done well with transfers in the past, and Frank Haith hit the jackpot this season with Tulsa transfer Jordan Clarkson. He led the way on Thursday with 25 points, six rebounds and four assists as the Tigers handled West Virginia, 80-71. It wasn't all Clarkson, though. Oregon transfer Jabari Brown went for 18 points and five rebounds, while former Auburn transfer Earnest Ross finished with 16 points and seven boards. Freshman Wes Clark came off the bench to dish out five assists in 21 minutes. Missouri might not have the inside play to be an SEC title threat, but the Tigers' guard group will ensure they're not an easy out in conference play.
Players with impact
Freshman guard Reggie Dillard continued his stellar start for Presbyterian, going for 19 points, six boards and nine assists in a win over Montreat.
Seventeen points and 16 boards for Seton Hall's

Gene Teague

. That will certainly get a note every time.
Notebook:
-- It didn't end until 1:13 a.m. Eastern, but those who stayed up for it were rewarded. San Diego State escaped with a 65-64 win over San Diego, as the Aztecs pulled out their sixth win in a row. But it wasn't easy. San Diego stayed in the game early on with 3-pointers, and Johnny Dee and Christopher Anderson combined for 43 points. The Toreros had chances to win it, too, turning it over with 17 seconds left and then missing an open 3 at the buzzer after forcing a jump-ball with 3.2 seconds left. For San Diego State, Josh Davis had 10 points and 14 boards for San Diego State, while Xavier Thames finished with 17.
-- Ole Miss dropped its first game of the season as Marshall Henderson shot just 4-for-18 from the field (2-for-13 from 3) in a 61-58 loss to Kansas State. Henderson also airballed the potential game-winning shot. 
-- Georgetown had no issues pushing aside High Point, getting 35 points from Markel Starks and D'Vauntes Smith-Rivera en route to an 80-45 win.
-- I said this morning that Eastern Kentucky at VCU was an under-the-radar matchup to watch. It lived up to the hype. The Rams eked out a 71-68 overtime win, holding Eastern Kentucky to just two points in the extra session.
-- According to Brendan Prunty, Seton Hall star swingman Fuquan Edwin could miss at least a week or two with a sprained ankle.
-- Oklahoma's game was moved up a few hours due to weather concerns, but it didn't matter, as the Sooners cruised past Texas A&M-Corpus Christi, 78-56.
-- Boise State continued to roll to the best start in school history, moving to 8-0 after beating Carroll Montana.
-- Vanderbilt led by as many as 13 points in the second half, but the Commodores needed a 3-pointer by Dai-Jon Parker with just over a minute left to hold off Marshall, 69-67.
-- Big 12-SEC Challenge matchup: TCU 71, Mississippi State 61.
The selection committee will again reveal what it is thinking ahead of Selection Sunday

Teams not in major conferences with a shot at an at-large NCAA Tournament bids

The nation's No. 3 player will commit Saturday and here's his impact on each of his finali...
Gary Parrish and Matt Norlander also preview the weekend and Zion Williamson's announcemen...

The Sun Devils started 12-0, but since then are 2-4 after Wednesday's loss to Stanford

Andrew Jones is Texas' second leading scorer