Night Court: Recapping all the action from Saturday
A couple of marquee games and several big-time individual efforts. Catch up on all of Saturday's action.
by

Eye on Col Basket staff

• 8 min read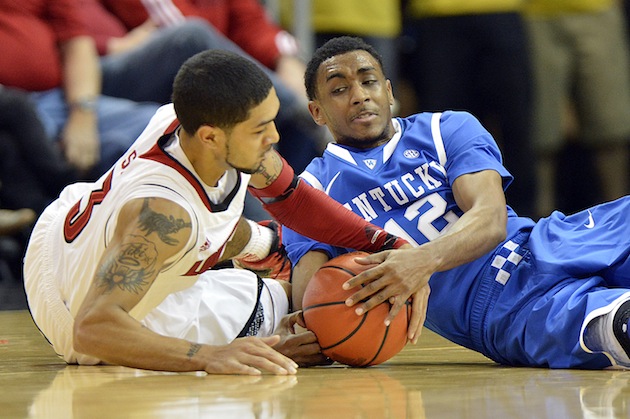 Peyton Siva fouled out, but he also had 19 points as Louisville held off Kentucky. (US Presswire)
What started as Afternoon Delight has now become Night Court. Think of it like a He-Man transformation. "By the power of Night Court ... I! ... Have! ... The Recaps!"
Jeff Borzello and Matt Norlander have compiled all you saw -- or didn't -- from Saturday around college basketball.
Game of the Day: Louisville holds off Kentucky to get always-important rivalry win.
Louisville had everything going for it heading into Saturday's game against Kentucky. The Cardinals were playing at home, had veteran leadership -- and finally had the talent to battle Kentucky. It all equaled an 80-77 win for No. 3 Louisville. Kentucky did a good job of taking care of the ball early on, but once Louisville was able to force turnovers and start running, the Wildcats couldn't keep up. Second-half mistakes, though, enabled Kentucky to stay in the game. Russ Smith made several of those mistakes, but he still had 21 points and seven boards. To be honest, both teams came out of this one looking better. Louisville is certainly a national title contender, and Kentucky could be the same come March.
The second-best we saw: North Carolina knocks off UNLV, extends its home non-conference winning streak to 63 games.
Considering North Carolina had been blown out by Butler, Indiana and Texas, looking confident against UNLV from start-to-finish wasn't expected. However, the Tar Heels got off to a very good start at the opening tip and then held off multiple UNLV runs in the final 20 minutes. Throw in the fact Reggie Bullock was out with a concussion, and this was an impressive win for Carolina. Five guys scored in double-figures, including Brice Johnson coming off the bench for 12 points and four boards. As for UNLV, the Rebs need to all get on the same page. They have the talent and depth to overwhelm teams, but they need to get some cohesiveness in order to beat NCAA Tournament-caliber opponents.
What we'll talk about Sunday morning: Huskies over Huskies makes for a great day for Kevin Ollie.
UConn hosted Washington a mere few hours after Ollie's five-year deal was announced. And then UConn went out and won 61-53 to add even more validation -- not that he or they needed it.
Deserving of a free dinner at the restaurant of his choice: Tyler Haws leads BYU to a blowout victory with 42 points.
Haws did his best Jimmer Fredette impression, going for 29 points in the first half and 42 overall in the Cougars' win over Virginia Tech. He went 14-for-25 from the field, knocking down six 3-pointers. The 29 points in the first half were the most by a BYU play since Jimmer went for 33 back in 2011. Haws had double-digits in the first 5:55 of the game. Simply put, Haws was on fire from the get-go and never really slowed down.
No soup for you: Is Murray State still the favorite in the Ohio Valley?
Everyone knew Murray State would take a step back from last season, but the Racers have now dropped two in a row after losing at home to Valparaiso on Saturday. Valpo might be the Horizon favorite, but it's also a team whose best win was over Kent State and had losses to Oakland and Nebraska. Even more disconcerting is the fact Murray State was up by 11 in the first half, and led for most of the early parts of the second half. With Belmont playing better (though it lost 66-63 to UCF on Saturday), Murray State could have some competition for the OVC title.
No Soup, Bowl Two: Towson won one game last season. The Tigers might have been the worst team in the country. On Saturday, they went across the country and knocked off Oregon State in overtime. They're not going to be an easy out in the CAA. As for the Beavers, that's a brutal loss. They had shown plenty of signs of optimism, with a couple of close losses to Alabama and Kansas on the ledger. Which was a fluke? The hot start or the loss to Towson? We'll find out in Pac-12 play.
Scary news: South Florida's Anthony Collins took a knee to the head and it caused him to need a stretcher to get off the floor. The good news: Collins had movement in his extremities, per USF Athletics.
Saturday's best
We mentioned Haws above, so how about Campbell's Darren White? The 6-foot-4 guard had 32 points and 11 rebounds, also nabbing four steals.
Duke got production from a variety of sources, but Seth Curry was impressive. He had 31 points, knocking down four 3-pointers. His offensive game continues to expand.
Kevin Foster single-handedly kept Santa Clara in the game in the first half. He dropped 18 in the first half, hitting tough shot after tough shot. Finished with 29.
Jordan Aaron of Milwaukee had 34 points on 15 shots. Efficient.
Stephen F. Austin moved to 10-1 on the season, as Taylor Smith went for 25 points and 14 rebounds in a win over Texas A&M-Corpus Christi.
Illinois' Tracy Abrams is a name to now keep track of. The Illini barely got by Auburn at the United Center, and they wouldn't have if Abrams didn't go for 27, eight rebounds, five assists and four steals.
Other action worth your attention
Whoa -- Cal's really not all that good, we guess. The Bears are now an 8-4 team after dropping a home game to Cal. Transitively, this doesn't look good for UNLV, which boasts Cal as its best win.  
Lehigh's not likely to be in Monday's Power Pyramid after losing at home, 80-79, to Bryant. Is it C.J. McCollum's health or the overall defensive issues? Either way, bad look.
Duke struggled with Santa Clara for about 28 minutes, but the Blue Devils pulled away down the stretch for a 90-77 win. The top-ranked team in the land stays undefeated.
No. 23 NC State has now won six in a row after the Wolfpack dropped Western Michigan, 84-68. Richard Howell and C.J. Leslie combined for 37 points and 16 rebounds.
Illinois shot 18 free throws in the final 4:29, but hit 13 of them to hold off Auburn down the stretch, 81-79. Despite the Illini's gaudy 13-1 record, are they even a top-five team in the Big Ten? Could make a case they're only sixth or seventh.
VCU has been forcing turnovers at an unbelievable clip this season -- and Fairleigh Dickinson coughed it up 33 times against the Rams on Saturday. A couple of good performances, though: FDU's Kinu Rochford had 30 and 16, while VCU's Troy Daniels had 27 points.
Colorado jumped out to an early lead on Hartford and didn't look back en route to an 80-52 win. Josh Scott and Andre Roberson had 35 points and 24 rebounds.
Still not sure what to think about Florida State. It was down early in the second half to Tulsa, but the Seminoles went on an 18-5 run and cruised to an 82-63 win. Michael Snaer had 19.
Marquette shot 60 percent from the field, took 27 free throws -- yet needed a late run to hold off North Carolina-Central in the final few minutes. Twenty turnovers will do that to you.
And now it's time for a video. Seth Davis and Doug Gottlieb debated over the one-and-done rule on Saturday's halftime show of Kentucky vs. Louisville.
Notebook
-- Tennessee is so ugly. Yeah, the Vols beat Xavier 51-47, but it was as rough a watch you could expect for a game that ended with a four-point margin. Xavier's now a 7-5 team and will need an unforeseeable campaign of good in the A-10 to stand a chance at getting an at-large.
-- Vandy is down, but it speaks to the no-nonsense legitimacy of Butler when it can go into Nashville and whoop the Commodores in their place by 19.
-- South Dakota State (10-5) has been irregular this season. The Jackrabbits followed up a nice road win against New Mexico by losing a league game to a North Dakota State team that a lot of Summit League coaches were high on in the prseason. NDSU 65, SDSU 62.
-- At 6 feet 7, Charles Mitchell isn't the biggest of post players, nor is he the most athletic. But he is simply a great rebounder, using his length and positioning to dominate the glass. He had 19 points and 14 boards against Delaware State in Maryland's 79-50 win.
-- Wisconsin is starting to get a little momentum. After beating Samford on Saturday, in which five guys scored in double-figures, the Badgers have now won five of six. They start Big Ten play with Penn State and Nebraska, and could be 11-4 heading into a brutal stretch.
-- Oklahoma's a team under the radar, mostly, but the Sooners won at home 74-63 against Ohio and are now 8-3. Sleeper team in the Big 12?
-- More props for Loyola (Ill.) coach Porter Moser. After winning just seven games last season, the Ramblers are now 9-3 after a road win at DePaul. That's the first time Loyola has beaten DePaul since 1989.
-- Where will Arizona State end up in the Pac-12? The Sun Devils start conference play on Wednesday, but Jahii Carson led them to a win over Coppin State on Saturday.
-- Texas forward Jaylen Bond played just 12 minutes in his first game back from injury, but he grabbed six rebounds in the Longhorns' win over Rice.
---
For more college basketball news, rumors and analysis, follow @EyeOnCBB on Twitter, subscribe to our RSS Feed and subscribe to our College Basketball Newsletter.
Young is leading the NCAA in both scoring and assists per game

Our advanced computer model simulated Tuesday's UNLV vs. Fresno State game 10,000 times

Our advanced computer model simulated Tuesday's Kansas-Oklahoma game 10,000 times
Our advanced computer model simulated Tuesday's Virginia vs. Clemson game 10,000 times

The Sooners and freshman Trae Young try to snap a two-game skid when they face the Jayhawk...

Howard scoring sensation R.J. Cole is our Freshman of the Week