Night Court: San Diego State, Wichita State impress
A month into the season, we can start to take stock of a few teams. And it's clear Wichita State and San Diego State are going to be good.
• 5 min read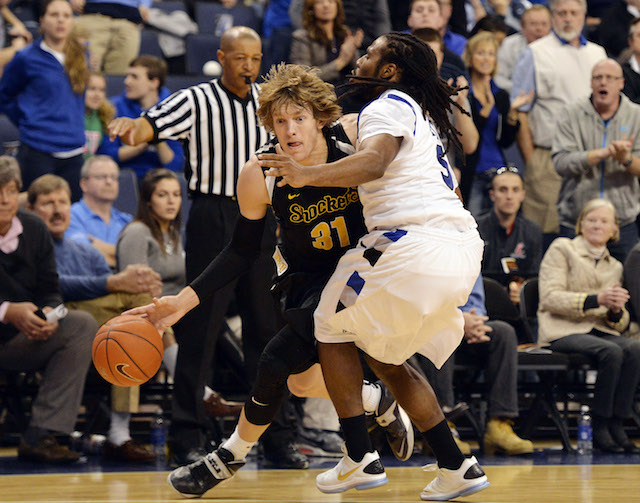 Here's everything you need to know from college basketball's Sunday …
Game of the Day: Memphis gets revenge against <span data-shortcode= State" data-canon="Oklahoma Sooners" data-type="SPORTS_OBJECT_TEAM" id="shortcode0">, winning the Old Spice Classic.
Only 12 days ago, Memphis went into Stillwater was throttled by Oklahoma State, 101-80. After that game, it looked like Memphis was going to be Memphis. Beating up on bad teams, losing to good ones. That was the story of Josh Pastner's career with the Tigers: 0-13 against teams ranked in the top 25. Sunday night might have changed all that, as Memphis won the Old Spice Classic with a 73-68 win over Oklahoma State. Gary Parrish has more.
Game of the Day, Vol. II: San Diego State wins the Wooden Legacy over Marquette.
Heading into the season, no one was really sure how good San Diego State was going to be. After the Aztecs' loss in mid-November to Arizona, it was still very unclear. Well, after winning the Wooden Legacy, it's clear San Diego State is going to be pretty good once again. The Aztecs knocked off Marquette on Sunday, which followed a very good win over Creighton on Friday. <span data-shortcode= Thames" data-canon="Xavier Thames" data-type="SPORTS_OBJECT_PLAYER" id="shortcode0"> had 29 points for San Diego State, which went on a 14-4 run in the final three and a half minutes to get the 67-59 victory.
What else we'll be talking about in the morning: North Carolina. In general.
What's the deal with the Tar Heels? They lose at home to Belmont two weeks ago, then beat Richmond and Louisville – then go to UAB and drop one. That's not the best way to prepare for a road trip to Michigan State on Wednesday. Colleague Matt Norlander went more in-depth on why the Tar Heels are so inconsistent, so go take a look.
That's a good win: Wichita State goes on the road and knocks off Saint Louis.
The Shockers made a surprising to the Final Four last season as a No. 9 seed, but this year's version could be a better, more talented team. They are now 8-0 this season, including wins over BYU and now at Saint Louis. The latter is extremely impressive, given how good the Billikens usually are on their homecourt. Ron Baker continued his stellar start to the season with 22 points, six rebounds and four assists, while the defense held Saint Louis to below 40 percent shooting. Back-to-back games against Tennessee and at Alabama later this month will be interesting.
Another good win: George <span data-shortcode=" data-canon="Washington Huskies" data-type="SPORTS_OBJECT_TEAM" id="shortcode0"> holds Doug McDermott to seven points and beats Creighton. Could the Colonials be a factor in the Atlantic 10? They improved to 6-1 on the season, and Isaiah Armwood's performance on McDermott was a message to the rest of the conference. The All-American shot just 2-for-12 from the field, with Armwood doing most of the work on him. At the other end, Armwood was one of four players in double-figures, with 12 points.
But that's a bad loss: Is Fairleigh Dickinson the king of New Jersey? Probably not, but the Knights have now beaten Rutgers and Seton Hall in consecutive games. Prior to this week, Fairleigh Dickinson hadn't won a Division-I game since January 12 of last season. Greg Herenda has a long way to go with FDU, but the Knights are certainly on the upswing the past couple of games. With that said, it wasn't a good loss for Rutgers and it's definitely not one for Seton Hall.
It's certainly not a good loss: Arizona State falls to Miami. The Sun Devils had plenty of good vibes after starting 6-0, including a win at UNLV and a victory over Marquette. But they got blitzed by Creighton on Thanksgiving, and also lost to Miami on Sunday night. Jahii Carson shot 2-for-14 from the field and finished with eight points, and Jordan Bachynski's 20 points and 15 boards weren't enough to pick up the slack.
Players with impact
Numbers to figure:
1904-05: That's the last time Cornell started a season 0-9. The Big Red were 0-10 to begin that season.
15: That's the current losing streak of Cornell, which was extended in a 101-67 loss to Notre Dame on Sunday.
1: Six Big East teams played Sunday. One of them came out with a win, in DePaul.
Other outcomes of note:
Notebook:
-- Not only did Florida Gulf Coast lose to Iona, but the Eagles also received some more bad news on Eric McKnight: what was a six-game suspension is now an indefinite suspension.
-- DePaul had just been blown out by Wichita State and Texas in the CBE Classic, but the Blue Demons got 23 points from Cleveland Melvin and beat Oregon State.  
-- Sort of randomly surprisingly score of the night: UNC-Wilmington 70, East Carolina 68. At East Carolina.
Josh Nagel is a Reno-based handicapper who has his finger on the pulse of Nevada basketbal...

Zack Cimini is a contrarian thinker who's tailed throughout the handicapping industry

The Seahawks could be back in the NCAA Tournament next year if Cacok returns for his senior...
Kenny White used to set lines for the biggest casinos. Now, he's locked in a Syracuse vs. UNC...

Rhode Island also secured at least a share of the Atlantic 10 and is No. 20 in the Top 25 (and...

Stephen Oh has his finger on the pulse of South Carolina basketball and released a play for...