Night Court: Syracuse, Kentucky get top-10 home wins
It was a big afternoon for Syracuse and Kentucky, which got huge wins on their home court.
by

Eye on Col Basket staff

• 8 min read
Here's everything you need to know from college basketball's Saturday so far … 
Game of the night: Kentucky gets a huge win and beats Louisville.
Even with a cramping Julius Randle, Kentucky was able to get its first respectable win of the season -- and did it against its hated rival, winning out 73-66. This was very big for UK, which is now heading into 2014 with that ever-desired "momentum."
It was nice to see flashes of really good from the Harrison twins (28 points, eight rebounds total), James Young (18 points) as well as the defense in the paint from Willie Caulie-Stein. It wasn't a superb Kentucky performance, but at this point the fans and the coach probably just wanted enough effort in a tight spot to prove they had the grit for a victory. A good sign in the short-term.
For Louisville, Chris Jones had a big turnaround game -- at least in the first half. The freshman point guard will probably be the second-biggest factor (to Russ Smith) come March. But now Louisville will have to make the most of its one year in the American Athletic Conference by getting the few really good win options (Memphis, UConn, maybe Cincinnati) available to it. As of now, Louisville's best win of the season is against <span data-shortcode= Miss" data-canon="Southern Jaguars" data-type="SPORTS_OBJECT_TEAM" id="shortcode0">.
Chane Behanan's lack of impact today was probably the most disconcerting aspect of the loss for U of L.

What else we'll be talking about tomorrow: Syracuse rolls back and wins comfortably to remain undefeated.
Villanova's a solid defense team, and it began this game with a 25-7 lead. But a 20-0 helped SU get back in the game. (You can read the Tyler Ennis-slanted take here.) Syracuse going 29-35 from the charity stripe was huge. Villanova relied too much on the 3, and in general the Wildcats don't have as much firepower or depth as Syracuse.
Quite a game in front of a reported 28,135 fans inside the big bubble, all told. If Syracuse had been run out of the place by Nova, then I think we'd have quite a story. But for the Orange to rally and win so definitively, it was impressive considering Nova's no-loss mark coming in. Have to mention Trevor Cooney's 21 points, by the way. He was big as well. In general, when you look at Syracuse's weapons, it absolutely looks like a team that can win a national title. Can and will are two very different things, but nonetheless this team is superb through a third of its games.
It came in a loss, but James Bell's 25 points are to be noted. Bell is a guy we've debated putting on our Player of the Year watch. He'll probably still not be on the next one, but if Villanova can streak into January and let the Syracuse loss be an aberration, he could make an appearance in a couple of weeks.
That's a good win: Missouri bounces back and wins on the road at NC State.
Missouri lost its first game of the season last weekend to Illinois, while North Carolina State entered on a seven-game winning streak. And for most of the game, it looked like the Tigers would fall to a surprising Wolfpack squad -- until Jordan Clarkson scored six straight points and Jabari Brown buried a 3-pointer to help give Missouri a 68-64 win. The Tigers have the pieces to compete for a top-three spot in the SEC, while NC State seems like a tougher team than last season. Not more talented, but tougher.
But that's a bad loss: It's going to be another long season for Virginia Tech.
A 55-52 home loss to UNC Greensboro is a tough pill to swallow, but these Hokies aren't a contender in the ACC this year. Still, any time a major-conference program can't get out of the 50s in its home gym against a small school like Greensboro, it's really bad.
Players with impact
Your high scorer for the day so far: Idaho's Stephen Madison, who went for 35 and 10 boards in the Vandals' 70-66 win over Montana.
A pair of standout performances in a loss: Fordham's Branden Frazier and Jon Severe each had 29 points. Last time a pair of teammates scored that many in a losing effort, anyone?
You get 18 rebounds in a win, you get a mention. Daniel Bejarano snagged that many in Colorado State's 86-71 win over Lamar. Teammate J.J. Avila scored 33.
Keith Appling had himself a day, going for 27 points and eight rebounds in MSU's 101-48 win over New Orleans.
Central Arkansas' LaQuentin Miles had 28 points and 16 rebounds in just 33 minutes.
The nine turnovers are alarming, but LIU Brooklyn's Jason Brickman scored 26 points and dished out 13 assists.
Numbers to figure
23-17: That was Boston College's turnover-to-field goal ratio against VCU on Saturday. The Eagles couldn't take care of the ball and couldn't make shots. Not surprisingly, they dropped to 4-9 with a 69-50 loss.
10: The number of 3-pointers made by Duke Saturday in the team's 82-59 W over Eastern Michigan. The Blue Devils have won their past 21 games when hitting 10 or more treys.
4,683: Distant in air miles, approximately, between Columbia, S.C., and Honolulu. Why bring this up? Akron and South Carolina just played each other Wednesday at the Diamond Head Classic, in Honolulu. The teams had a game scheduled for Saturday afternoon, back in Columbia. The Gamecocks won on Wednesday, and won again today, 78-45.
101-7: Wisconsin's all-time record at home under Bo Ryan after winning 80-43 against Prairie View A&M on Saturday.
6: Number of consecutive games Belmont played against teams that made the NCAA tournament. The Bruins fell to Indiana State Saturday, going 1-5 in that stretch, which included five straight road games.
Other outcomes of note:
Toledo: Still undefeated. Rockets won 85-66 over Coppin State, meaning they'll get to go up against Kansas on Monday in a pretty huge game for that program. No one expects this team to win, but keeping it within single digits at Phog Allen could do some good things. A double-digit loss will probably make most forget about this team for the next two months. 
UCLA didn't pull away from Alabama until the final minute, but the Bruins hit their free throws down the stretch for the win. Trevor Releford had a monster day for Alabama with 34 points, but it wasn't enough for the Tide.
Colorado cruised past Georgia, 84-70. Askia Booker had 19 points, while Josh Scott went for 14 points and 13 boards.
Massachusetts beat Providence in a battle of New England squads, but it wasn't easy for the Minutemen. Chaz Williams fouled out with under two minutes remaining, and UMass needed a Derrick Gordon putback with 1.4 seconds left in overtime to get the win. UMass is 11-1 entering 2014. 
Since it came on the road we can't qualify it as a "bad loss," but BYU dropping an 87-76 decision to Loyola Marymount now means the Cougars are 8-6 and will almost definitely have to win the WCC in order to make this year's NCAA tournament.
Gonzaga, meamwhile, pulled away in the second half to beat Santa Clara by 14.
Arizona State cruised past UC Irvine 74-61 to improve to 11-2, but Jahii Carson's five-turnover/zero-assist effort isn't good for business.
Memphis and Michigan State took care of business, beating Jackson State and New Orleans, respectively.
Remember, UConn's still just a one-loss team. The Huskies, for the first time ever, played a game in Bridgeport, Conn. It was an 82-65 win over Eastern <span data-shortcode=" data-canon="Washington Huskies" data-type="SPORTS_OBJECT_TEAM" id="shortcode0">. Shabazz Napier had 15 points and nine assists. 
After three losses in the Bahamas, Xavier has now won five in a row, including Saturday's victory over Wake Forest. Matt Stainbrook had 21 points and 10 boards in the victory.
Southern Miss, which got to 18-4 at one point last season, is now 12-2 after winning at Rhode Island Saturday. 
Cincinnati handled Nebraska, 74-59. Not sure how well-rounded the Bearcats are just yet, but on the defensive side it's obviously looking as good as ever. Consider:


Cincinnati has now held its opponents under 70 points in 20 consecutive games. Bearcats head into conference play at 11-2.

Cincinnati has now held its opponents under 70 points in 20 consecutive games. Bearcats head into conference play at 11-2.

— Jon Rothstein (@JonRothstein) December 28, 2013
Notebook:
-- Via CBT, a terrific slam here via Marquette's Deonte Burton. MU won 71-48 over Samford. Still not sure how good/not good Marquette is this season.
-- Grambling State's only win so far this season came to Central Baptist, a non-Division I team. Grambling State fell to Evansville Saturday, meaning GSU will head to 2014 winless in the games that matter.
-- Illinois failed to grab one offensive rebound in the first half of its win 74-60 win over UIC. Illini are now 11-2.
-- Another dunk -- this one from Fairfield's Marcus Gilbert, who has been balling for the Stags this season:
-- Big, big for Maryland: Point guard Seth Allen is possibly healthy enough to play tomorrow.
-- Bad news for a team new to the Mountain West. "<span data-shortcode= State" data-canon="Utah Utes" data-type="SPORTS_OBJECT_TEAM" id="shortcode0"> center Jarred Shaw was charged Friday with second-degree felony distribution of a controlled substance."
-- Clemson announced Saturday that sophomore Devin Coleman will transfer. Northwestern also had transfer news; forward Mike Turner will be looking for a new school for next season.
-- What's it like to see a 7-foot-2 guy block a 7-foot-6 guy? Here's Arizona State's Jordan Bachynski blocking UC-Irvine's Mamadou Ndiaye from behind: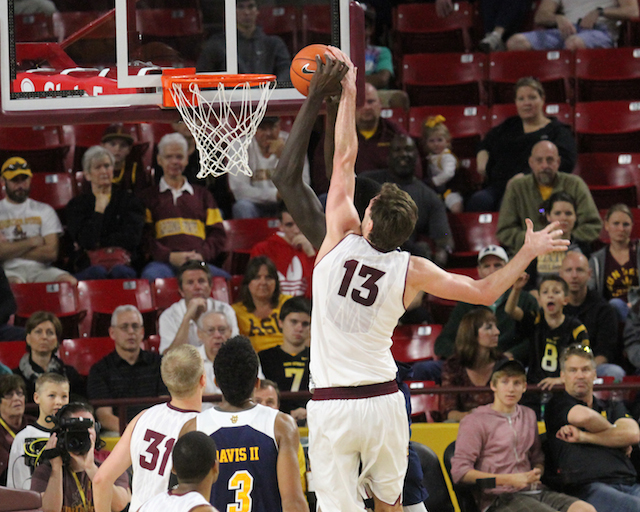 Photo credit: Steve Rodriguez/Arizona State University
Missouri freshman will miss the season and likely never play another minute of college bal...

College basketball fans, especially those at Missouri, are robbed of the excitement Porter...

School officials expect the five-star freshman to miss the rest of the season
Cincinnati and Iowa highlight an impressive inaugural field for the Cayman lslands Classic

The Bluejays are 4-0 with some impressive victories, including a win vs. the Bruins on Mon...

The world's most prominent Basketball Dad responded to Donald Trump calling him 'very ungr...