Night Court: Syracuse loses for the fourth time in five games
Syracuse's struggles continued on Tuesday, losing at home to Georgia Tech.
• 6 min read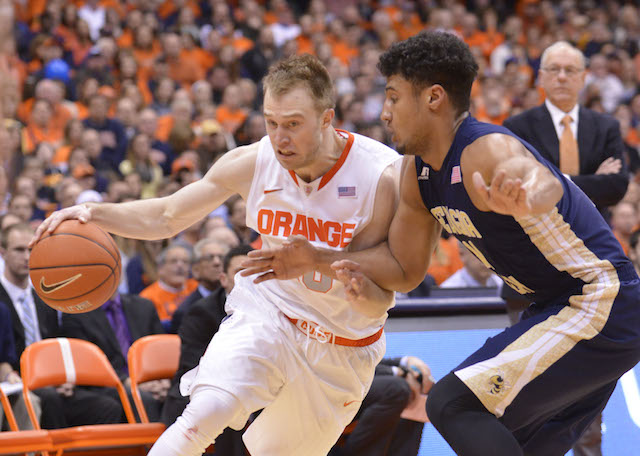 Bracketology: Latest projected bracket | Compare teams | Bubble Watch
Here's everything you need to know from college basketball's Tuesday …  
For a complete breakdown of the bubble happenings, check out our daily Poppin' Bubbles feature.
What we'll be talking about in the morning: Syracuse falls for the fourth time in five games, likely drops from No. 1 seed consideration.
It's been quite a month for Syracuse. Playing with fire against inferior opponents was one thing, losing to Boston College at home something completely different. Losing at Duke and Virginia one thing, losing at home to Georgia Tech something completely different.
And after Tuesday's 67-62 loss to Georgia Tech, Syracuse has basically lost its argument for a No. 1 seed – and Jerry Palm's bracketology replaced the Orange on the top line with Villanova.
What's wrong with Syracuse? The Orange are struggling immensely on the offensive end, and with Jerami Grant missing time with a sore back, they are down one of their key options. And here's an eye-opening stat for Syracuse: Tuesday's 62 points was the most the Orange have scored in over a month. Even for the pace at which they play, it's a struggle.
C.J. Fair had 28 points against Georgia Tech, but it took him 25 shots to get there. With Grant not taking away attention along the baseline, defenses can focus more on Fair, making him work harder for his points. Ennis is not seeing as many openings off the bounce, with defenses collapsing on him when he penetrates off the dribble.
The biggest key might be Trevor Cooney's shooting struggles, though. He's maybe the only consistent outside shooter on the Orange, and he was 1-for-8 from 3-point range against Georgia Tech. In the past five games, Cooney has shot 7-for-37 from behind the arc – which again has enabled defenses to collapse inside the 3-point line.
If Syracuse falls at Florida State this weekend in the season finale, the Orange could drop to a 3-line – and maybe even further if they suffer another loss in the ACC tournament. Things are getting worrisome in upstate New York.
Game of the night: Providence and Marquette battle for two overtimes.
And it wasn't one of those overtime games where no one is scoring and the extra time is filled with timeouts, bad decisions and bad possessions. This was two teams going back and forth with big shots and clutch performances. Bryce Cotton's two free throws late in the second overtime ended up being the difference, as Providence escaped with an 81-80 win.
Just 20 seconds earlier, the Friars were down by three, but LaDontae Henton made a leaner and then Marquette's Jake Thomas was tied up on the inbounds pass. Derrick Wilson put Cotton on the line with a silly foul behind the 3-point line (that was a trend late in the game, as Josh Fortune and Todd Mayo were both fouled in the final minute of regulation while shooting from behind the arc).
Davante Gardner also hit this shot at the end of regulation, but it didn't count.
Didn't count but amazing none the less https://t.co/zQ0TWTkoFS

— Luke Zimmermann (@lukezim) March 5, 2014
Cotton finished with 25 points, seven rebounds and nine assists -- while not sitting for a minute of the 50 played. Mayo carried Marquette at times, finishing with 26 points and 11 rebounds. Providence is still in the at-large hunt, while Marquette needs the automatic bid.
Those are good wins: Baylor likely punched its ticket to the NCAA Tournament, while Georgetown beat Creighton and strengthened its resume. Oregon also solidified its status.
We discussed all of these at length in Poppin' Bubbles, but we'll give them each a brief look here too.
Baylor has won six of its last seven, but beating Iowa State, 74-61, probably gave the Bears what they needed to make the dance. Brady Heslip hit five 3-pointers in the second half en route to 18 points, while Cory Jefferson had 21 points and seven rebounds. More importantly, Kenny Chery held his own against Iowa State's backcourt, notching 16 points and six assists. The Cyclones weren't hitting on all cylinders, as Melvin Ejim and Georges Niang combined to shoot 5-for-25 from the field, finishing with 10 points.
Oregon and Baylor have been in similar positions. On Jan. 3, they were 25-1 overall. On Feb. 8, they were 5-16 in conference play. Since then, they are 12-1. The Ducks have won six in a row after beating Arizona State, 85-78, on Tuesday night, and could really lock things up with Arizona coming to town this weekend. Mike Moser was excellent up front for the Ducks, finishing with 22 points and 17 rebounds, while Damyean Dotson, Jason Calliste and Joseph Young produced on the perimeter. Arizona State was led by Jahii Carson, who finished with 28 points.
Georgetown absolutely needed a win this week, considering the two games were against Creighton and Villanova -- and the Hoyas got it on Tuesday, 75-63. Doug McDermott struggled early for Creighton, needing 23 shots to score 22. Georgetown got an absolutely fantastic performance from its backcourt duo of D'Vauntes Smith-Rivera and Markel Starks, who combined for 35 points, 12 rebounds and 13 assists. 
Players with impact
Florida's Michael Frazier was the absolute star of Wednesday. The Gators rolled South Carolina in the second half to win by 26, and Frazier was the catalyst. He knocked down an SEC-record (for a conference) game 11 3-pointers and scored 37 points. 
Travis Bader of Oakland is known for his shooting, and he hit seven 3-pointers on Tuesday night, while also going 18-for-18 from the free-throw line. Bader finished with 39 points.
Georgia State went to overtime, and Manny Atkins played all 45 minutes. He also had 30 points and 11 rebounds.
Youngstown State's Kendrick Perry saw his career likely come to a close on Tuesday night, but he went out with a bang: 35 points, seven assists.
Numbers to figure
1981: That's the last time an SEC team (LSU) started 17-0 in conference play. Florida reached that milestone on Tuesday. The Gators would be the only SEC team to go 18-0.
40.2: After playing 50 minutes on Tuesday, Providence's Bryce Cotton is now averaging more than 40 minutes per game on the season.
1986: That was the last time Michigan won an outright Big Ten regular-season championship.
Other outcomes of note
Michigan clinched the outright Big Ten regular-season championship by hammering Illinois on the road, 84-53. Nik Stauskas had seven 3-pointers and 24 points. The Wolverines have won four in a row heading into the season finale.
Kentucky got back on the right track against Alabama, but the Wildcats needed to erase a halftime deficit in order to win. Julius Randle led the way with 12 points and 11 rebounds, although he was the only Kentucky player in double figures.
Florida State kept its at-large hopes alive with a late road win at Boston College. The game was too close for comfort, but the Seminoles now face Syracuse at home this weekend. 
Clemson is still some ways from the bubble, but the Tigers are now 10-7 in the ACC after beating Miami. K.J. McDaniels had 12 points and nine rebounds. 
Notebook:
-- Sad news: the career of Purdue redshirt freshman Jay Simpson is over. He suffers from a heart condition, hypertrophic cardiomyopathy (HCM). That is the same condition that caused the deaths of Hank Gathers, Reggie Lewis, Kevin Duckworth and Jason Collier. 
-- Xavier big man Matt Stainbrook suffered a strained MCL on Monday night, and will miss Thursday's game against Xavier. He is day-to-day beyond that game.
-- Conference tournament updates! In the Atlantic Sun, all four higher seeds advanced, although East Tennessee State needed double overtime to beat Lipscomb. Over in the Horizon, the three higher seeded teams won -- with Oakland's win over Youngstown State the headliner.
Duke, which held the previous record of 32 set in 1950, took to Twitter to congratulate the...

Without Trier, Arizona's Final Four chances are clearly in jeopardy

Porter Jr. is a projected top 10 pick but has played just two minutes all season
Our advanced computer model simulated Friday's IUPUI vs. Wright State game 10,000 times

Dawn Staley was accused of promoting an atmosphere that induced racial slurs toward Mizzou...

KU can clinch at least a share of its 14th straight Big 12 title with a win Saturday over Texas...