Night Court: Tuesday was all about the veterans
Frank Kaminsky, Jahii Carson and Marcus Smart all stole the show on Tuesday night, putting up big-time individual performances.
• 6 min read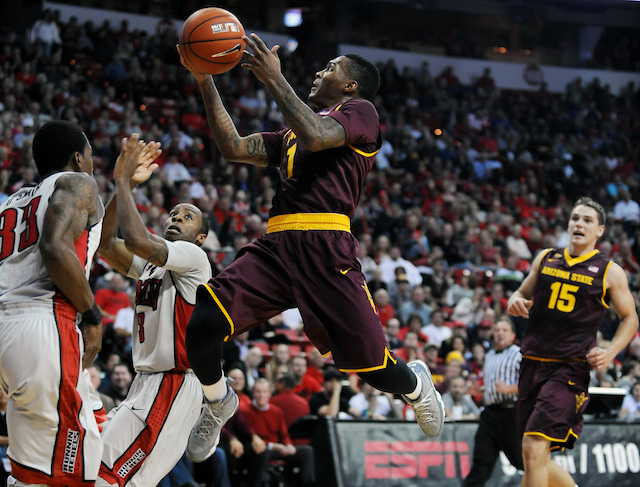 Here's everything you need to know from college basketball's Tuesday …
Game of the Day: Jahii Carson drops 40 as Arizona State goes on the road and beats UNLV Rebels .
Arizona State Sun Devils and UNLV had both gotten off to completely different starts this season, with the Sun Devils cruising to three straight wins and UNLV struggling despite its 2-1 record. Tuesday night was a good barometer for each team – and Arizona State came out on top, making a second half run en route to an 86-80 win. The star of the night was clearly guard Jahii Carson, who finished with 40 points and seven assists – and was absolutely unguardable for most of the game. He got into the lane at will, finishing through contact at the rim or kicking it out to a teammate for a wide-open shot.
Carson is throwing himself into the conversation as one of the best guards in the country. He was in the mix heading into the season, but he's cementing it with his early-season performance. I don't think it's a stretch to say that Carson might be the most difficult guard in the country to keep out of the lane. You can't stay in front of him. If Penn State Nittany Lions transfer Jermaine Marshall can be a consistent sidekick, Arizona State is going to win a lot of games. As for UNLV, the Runnin' Rebels might need to beat Illinois next week – unless it wants to win at Arizona in December.  
What else we'll be talking about in the morning: The top four freshmen in the country were in action on Tuesday – but the veterans stole the show.
And that's not to say the youngsters were bad. Duke Blue Devils 's Jabari Parker had 21 points and nine rebounds against East Carolina Pirates ; Kentucky Wildcats 's Julius Randle went for 22 points and 10 boards; Kansas Jayhawks ' Andrew Wiggins was quiet with his 13 points and seven rebounds; and Arizona Wildcats 's Aaron Gordon finished with 12 points and seven rebounds.
The veterans were just so good. We already mentioned Carson above, as the Arizona State guard finished with 40 points – but he wasn't even the high scorer for the night. Oklahoma State Cowboys State" data-canon="Oklahoma Sooners" data-type="SPORTS_OBJECT_TEAM" id="shortcode0">'s Marcus Smart was absolutely sensational against Memphis Tigers , finishing with 39 points in a blowout win. Gary Parrish wrote about him. Oh, and neither Carson nor Smart was the high-scorer for the night. That would go to Wisconsin Badgers junior big man Frank Kaminsky , who scored a school-record 43 points in a win over North Dakota Fighting Hawks . I posted on him Tuesday night.
The freshmen will get most of the attention this season, but Tuesday was all about the veterans.   
That's a good win: Oklahoma State obliterates Memphis from the opening tip.
It was supposed to be the marquee matchup of the week. Oklahoma State and its talented backcourt duo against Memphis' deep and versatile crop of guards. Well, it ended up being an interesting game for about 10 minutes. That's when Marcus Smart decided to score 12 points in 68 seconds – giving Oklahoma State a nine-point lead that would only grow from there. It was an 18-point gap at halftime, and the lead was as big as 33 in the second half. The 101-80 final score doesn't demonstrate how thoroughly Oklahoma State handled the Tigers. As we've mentioned, Smart finished with 39 points – but Markel Brown had 20 points, while Brian Williams went for 15 points and eight boards. Memphis' offense wasn't cohesive for the most part, and the Tigers made just two 3-pointers and zero of their top four guards scored in double-figures.
But that's a bad loss: Rutgers Scarlet Knights doesn't get to go to MSG for the NIT Season Tip-Off semifinals.
This isn't even that much of a bad loss, as Drexel Dragons is probably a better team on paper than Rutgers. However, the Scarlet Knights not getting to Madison Square Garden for the semifinals of the NIT Season Tip-Off is a tough hit for them. They would have had a chance to play Arizona, and then either Duke or Alabama Crimson Tide . Moreover, getting a marquee game in New York City wouldn't be a bad a thing for their recruiting in the area. Rutgers wanted to win on Tuesday, but Tavon Allen 's 21-point effort ensured Drexel was the team heading to the Garden next week.
Players with impact
Last mention of these guys. Frank Kaminsky: 43 points. Jahii Carson: 40 points. Marcus Smart: 39 points.
Lost in the greatness of Kaminsky's game was

Troy Huff

's performance in a losing effort. The North Dakota guard had 37 points and nine rebounds.
Not sure how many times

Incarnate Word Cardinals

will make this space, so let's go with

Denzel Livingston

and his 31 points, 10 rebounds and six assists.

Eastern Washington Eagles

beat something called Walla Walla on Tuesday, and

Martin Seiferth

had 24 points and 18 rebounds.
That's now three straight double-doubles for

Murray State Racers

's

Jarvis Williams

. He had 25 points and 13 boards on Tuesday.
Numbers to figure:
43: UNLV forward Roscoe Smith has 43 rebounds in his past two games, to go with 35 points.
100: Hofstra Pride forward Zeke Upshaw scored 100 total points in his 62 games with Illinois State. He scored 37 points on Tuesday in a loss to Richmond Spiders .
38: Heading into Tuesday, 38 points was the season-high for scoring this year. Three players had reached it. On Tuesday, three players surpassed that number.
2: Only two 7-footers in the past 15 seasons had scored 40 points in a game. Chris Kaman and now Frank Kaminsky. (via @ESPNStatsInfo)
Other outcomes of note:
Rodney Hood

picked up the slack for Duke in a closer-than-expected game against East Carolina, scoring 30 points on 10 shots in the nine-point win. Mike Krzyzewski was not happy after the game – but it had nothing to do with his team.
Julius Randle did his thing on Tuesday (22 points, 10 boards), but it was

James Young

who had his chance to break out. He nailed five 3-pointers en route to 26 points. Kentucky beat UT-Arlington by 31.

Joel Embiid

received rave reviews all preseason about his performance in Kansas practices. It looked like it on Tuesday, as the freshman big man had 16 points and 13 boards as the Jayhawks controlled the second half against

Iona Gaels

.

Montrezl Harrell

had the type of performance that everyone knew he could have when they projected him for a breakout season. He went for 20 points and nine boards in a win over

Hartford Hawks

.
No. 5 Arizona hasn't slowed down all season. The Wildcats jumped out to an early lead on

Rhode Island Rams

, and cruised to an 87-59 win.

Nick Johnson

went for 20 points, 10 rebounds and six assists.

Virginia Cavaliers

's crew of big men inside is just impressive. On Tuesday, it was

Mike Tobey

and

Anthony Gill

that carried the load, combining for 31 points and 13 boards in a blowout of

Navy Midshipmen

.

Oregon Ducks

is getting just what they asked for from Houston transfer

Joseph Young

. He had another 20 points on Tuesday, bringing his season total to 80 in three games. The Ducks beat Utah Valley.
Three straight double-doubles for

LSU Tigers

freshman

Jordan Mickey

. He went for 16 and 11 to help the Tigers beat

New Orleans Privateers

.

Bucknell Bison

has been a threat all season, taking Stanford to the wire and beating Penn State. The Bison gave St. John's a run on Tuesday, but the Red Storm got 16 points from Phil Greene and pulled away late in the game, 67-63.

Boise State Broncos

got a combined 46 points from

Anthony Drmic

and

Jeff Elorriaga

in its win over

Seattle Redhawks

. 
Notebook:
-- A few GIFs for your viewing pleasure. Bryce Dejean-Jones dunking, Jabari Parker going coast-to-coast for a dunk. (via BubbaProg, DieHard Sport)
--Billy Baron hit a 3-pointer as time expired to give Canisius Golden Griffins a one-point win over Elon Phoenix in the NIT Season Tip Off.
-- Georgia Bulldogs State has had two chances to pick up key road wins in non-conference play over SEC teams. They have now struck out both times, falling to Alabama by 17 on Tuesday. Trevor Releford outplayed Ryan Harrow at the point.
-- Tim Frazier continues to make his case as one of the best guards in the country. The Penn State senior had 15 points and 11 assists in a 79-72 win over La Salle Explorers .
-- For most of Tuesday, it looked like Butler Bulldogs was going to cruise past Vanderbilt Commodores . However, the Commodores made a run to send it into overtime – before Butler pulled away for an 85-77 win.
-- Minnesota Golden Gophers is now 4-0 after beating Coastal Carolina Chanticleers , while Mississippi State Bulldogs moved to 3-0 and Texas A&M went to 4-0. 
The best basketball player in the world showed up too late to the biggest game in Las Vegas...

Thousands of fans were turned away (even LeBron!) from the LaMelo Ball-Zion Williamson sho...

"Four Sides of the Story" also takes a look at Tiger Woods' first PGA tournament and the role...
Indiana's Archie Miller and Mizzou's Cuonzo Martin have been killing it on the recruiting...

Duke's much-anticipated Allen-Duval connection is off to a hot start already

It'll be Miller vs. Miller if the Hoosiers and Wildcats can finalize the proposed series