Night Court: UConn gets needed win, UNC loses again
Connecticut, Kansas and Wisconsin were among the big winners on Wednesday night, while North Carolina continues to confuse everyone.
• 8 min read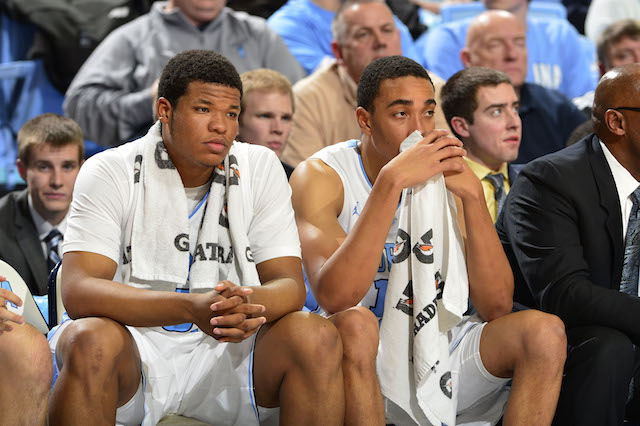 Here's everything you need to know from college basketball's Wednesday …  
Game of the Day: Connecticut gets much-needed win over Harvard.
Coming off back-to-back road losses, Connecticut needed to get a win over a Harvard team that was missing Wesley Saunders. After the first 20 minutes, it didn't look likely – but the Huskies rebounded better in the second half, clamped down at key times, and started getting better ball movement en route to a 61-56 win. Shabazz Napier had 18 points, including two clutch 3-pointers in the final two minutes to extend the Huskies' lead to eight points.
For Harvard, what does this mean for its at-large chances come Selection Sunday? The Crimson's best non-conference win is over Green Bay, which isn't very impressive. But if they go 13-1 in the Ivy League, splitting with Princeton, and then lose in a one-game playoff to the Tigers, Harvard will be 27-4 on the season. Can the Crimson get into the NCAA tournament without the automatic bid? The margin for error is very thin.
What else we'll be talking about in the morning: North Carolina, as always.
There won't be a week that goes by this season where North Carolina won't make some sort of headline. The Tar Heels are certain to be discussed yet again this week, after losing at home to Miami on Wednesday night, 63-57. That's now two losses in a row, as North Carolina also lost at Wake Forest on Sunday. I'm not going to sit here and even ask "What's wrong with North Carolina?" -- because nobody knows. The Tar Heels play at Syracuse this weekend, and one can only assume they win that game and hand the Orange their first loss.
On Wednesday, Miami's Rion Brown and Erik Swoope were the most productive players on the court. Brown had 19 points and 10 rebounds, while Swoope and 14 points and four boards. Marcus Paige shot just 2-for-15 from the field for North Carolina, while Leslie McDonald was 3-for-12 off the bench. As a team, the Tar Heels shot 30.8 percent from the field and 23.8 percent from 3-point range. 
That's a good win: Kansas bounces back from weekend loss with road win at Oklahoma.
Wednesday's trip to Oklahoma was dangerous for Kansas – the Jayhawks were coming off a home loss to San Diego State on Sunday, and their next four games are against Kansas State, Iowa State, Oklahoma State and Baylor. A win was important. And despite slow nights from Andrew Wiggins and Joel Embiid, Kansas emerged with a 90-83 win. Wayne Selden had 24 points, while Perry Ellis went for 22 points and 11 boards. For Oklahoma, Cameron Clark was fantastic, scoring 32 points.
Another good win: Wisconsin leaves no doubt on Wednesday, going on an early 20-0 run to blow out Illinois.
The Badgers moved to 16-0 on the season, absolutely dominating Illinois for the easy win. Ben Brust's 18 points led five Wisconsin players in double-figures, while Sam Dekker had 17 points. The emergence of freshman Nigel Hayes has been impressive, averaging 13 points in his last five games. Wisconsin shot 56 percent from the field, 42 percent from 3-point range, and completely carved up the Fighting Illini. You can have your March doubts about Wisconsin if you want, but this team is dangerous. The Badgers can play at multiple tempos and have plenty of ways of beating you. 
But that's a bad loss: Missouri falls at home to Georgia. 
Georgia was coming off back-to-back road losses, and the Bulldogs had also lost all three neutral-site games they played this season. All in all, they had lost their last 10 games away from home. Yet they found a way to go into Missouri and knock off the Tigers, 70-64. That ends Missouri's nation-leading home-winning streak, and drops the Tigers to 12-2. For Georgia head coach Mark Fox, though, it was more than just a win:
Mark Fox, whose father died last week, is crying on the bench as his team knocks off No. 21 Missouri.

— Seth Emerson (@SethEmerson) January 9, 2014
Players with impact
1. Two of the more productive players in the Atlantic 10 went head-to-head when Fordham played Duquesne. The Dukes won behind 29 points and nine boards from Ovie Soko, while Jon Severe had 35 points for Fordham. Here's Soko with a monster dunk:
2. Columbia had a nice win over Stony Brook on Wednesday, and Maodo Lo went for 29 points, six rebounds and seven 3-pointers.
3. Versatile performance from Southern Illinois' Desmar Jackson: 31 points, four boards, six assists, four steals.
4. Utah lost to Washington on Wednesday night, but Delon Wright had another big-time effort for the Utes, with 27 points and 11 rebounds. He's a pro. 
Numbers to figure
26: That's how many consecutive games Stephen F. Austin has won at home. With Missouri losing on Wednesday, the Lumberjacks now have the longest active home winning streak.
2-19: That's Arkansas' road record under Mike Anderson. Both wins came over Auburn. The 19th loss came against Texas A&M on Wednesday.
9:24: That's how long it took for South Carolina to make its first field goal against Florida.
2005: That's the last time Providence beat Georgetown, prior to Wednesday.
Worth noting that, during its 16-0 start to the season, UW has now won games while scoring in the 40s, 50s, 60s, 70s, 80s, 90s and 100s.

— Jim Polzin (@JimPolzinWSJ) January 9, 2014
Other outcomes of note:
San Diego State got out to an 18-point first-half lead on Boise State, but the Broncos stayed within striking distance -- before going on a 18-6 run in the final five minutes to cut the SDSU lead to one. However, a Derrick Marks jumper with time running down didn't fall and San Diego State escaped with a 69-66 win. Marks finished with 21 points for Boise State, while Winston Shepard led the way for San Diego State with 16 points. 
Massachusetts got down early to Saint Joseph's, but the Minutemen came back to get a 66-62 home win to start Atlantic 10 play. Chaz Williams had 22 points for UMass, and his defense on Langston Galloway in the final minute helped UMass seal the deal.
Marcus Smart snapped out of his mini-funk, going for 24 points, 11 rebounds, five assists and six steals, combining with Markel Brown for 51 points. Oklahoma State rolled past Texas, 87-74.
Wichita State remained unbeaten, moving to 16-0 with a 66-47 win over Illinois State. Fred VanVleet had 10 assists for the Shockers.
Florida got out to a 16-4 lead on South Carolina before cruising the rest of the way to a 74-58 victory. Scottie Wilbekin had 17 points, but more on him in a bit.
Darrun Hilliard has become a key offensive weapon for Villanova, scoring at least 15 points in each of his last three games. He had 19 against Seton Hall on Wednesday, in an 83-67 win.
Kentucky was down three to Mississippi State at the half, but the Wildcats outscored the Bulldogs by 25 in the second half en route to an 85-63 win. James Young was the star on Wednesday, going for 26 points, 10 rebounds and five assists.
Colorado celebrated its big win over Oregon on Sunday by needing overtime to get by Washington State, 71-70. Josh Scott had 19 points and nine boards for the Buffaloes.
Another team that needed overtime to get a win was New Mexico, which survived at Wyoming, 72-69. Kendall Williams shot just 4-for-16 from the field. 
Georgetown is struggling on the road. The Hoyas lost by 18 at Providence on Wednesday, and have been outscored by a combined 40 points in their two road games. Up next? Two road contests at Butler and Xavier.
Virginia might be turning it around. After getting obliterated by Tennessee by 35 last week, the Cavaliers went on the road and beat Florida State – and then destroyed Wake Forest on Wednesday, 74-51. That's the most points the Cavaliers have scored since November.
Minnesota needed to beat Penn State on Wednesday, and the Gophers got the victory. The next four games for Minnesota: Michigan State, Ohio State, Iowa, Wisconsin. Brutal.
Toledo was unbeaten heading into last week, but the Rockets were dropped by Kansas and then lost by double-digits to Western Michigan on Wednesday. 
Nevada is now 3-0 in the Mountain West after going into UNLV and knocking off the Runnin' Rebels. Deonte Burton had 29 points. For UNLV, that likely means auto-bid or bust. 
Eastern Kentucky came into the season as the Ohio Valley favorite, but Wednesday's 77-64 home loss to Murray State means the Colonels are just 1-2 to start league play.
Notebook:
-- A couple of injury concerns from tonight:
Scottie Wilbekin diagnosed w right ankle sprain, severity unknown at this point

— Kevin Brockway (@gatorhoops) January 9, 2014
UPDATE: Senior forward Ronald Roberts, Jr. is not expected to return to tonight's game due to back spasms. #THWND

— SJU Hawks MBB (@SJUHawks_MBB) January 9, 2014
-- Southern Miss head coach Donnie Tyndall signed a four-year contract extension that runs through the 2017-18 season.
-- Kind of out of nowhere: Damontre Harris is re-enrolling at Florida. He was dismissed before Christmas and hasn't played this season for the Gators. Harris has to work his way back in order to practice.
-- Vanderbilt's Eric McClellan, the team's leading scorer, is done for the season due to a violation of university academic policy. He is expected to be reinstated after the semester.
-- Two key players missed action on Wednesday. Harvard's Wesley Saunders was out with a knee injury, while Georgetown's Joshua Smith was back at school due to academics.
-- Creighton senior Grant Gibbs will miss a month with a dislocated kneecap.
-- Cincinnati will be without Jermaine Lawrence, who sprained his toe over the weekend.
-- Stevie Clark was charged with possession on New Year's Day, but he returned to play for Oklahoma State on Wednesday. Clark came off the bench against Texas.
Young is leading the NCAA in both scoring and assists per game

Our advanced computer model simulated Tuesday's UNLV vs. Fresno State game 10,000 times

Our advanced computer model simulated Tuesday's Kansas-Oklahoma game 10,000 times
Our advanced computer model simulated Tuesday's Virginia vs. Clemson game 10,000 times

The Sooners and freshman Trae Young try to snap a two-game skid when they face the Jayhawk...

Howard scoring sensation R.J. Cole is our Freshman of the Week