Night Court: Wichita, Cuse remain unbeaten; records set everywhere
There was plenty of tight action on Saturday afternoon -- find out how several big games ended.
by

Eye on Col Basket staff

• 12 min read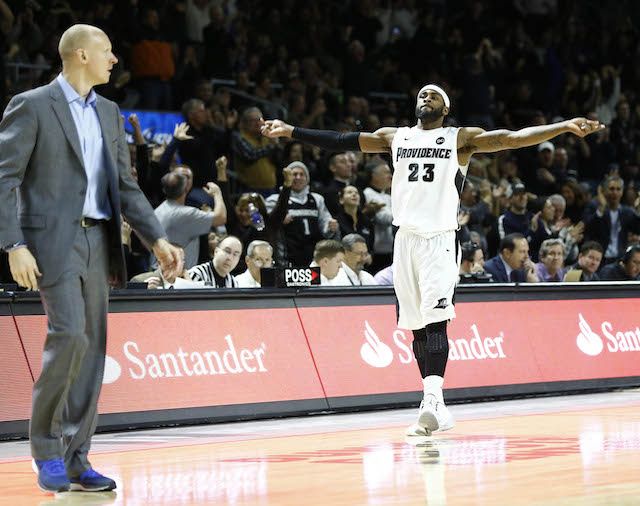 Here's everything you need to know from college basketball's Saturday …  
Game of the Night: Michigan takes down No. 3 Michigan State.
Norlander expounded on that one here for both sides. Do you like Michigan or Michigan State's chances more going forward? That's covered in that post. So let's get to some other stuff here.
Like this amazing sign from Mitch McGary. Huge contributions from the big man relegated to the bench while he recovers from back surgery.
#WinTheGame http://t.co/W2p34iMAQI

— Michael Shamburger (@mshamburger1) January 26, 2014
Elsewhere, thoughts on Michigan State fans calling Spike Albrecht Justin Bieber? Seems a little off.
But he didn't mind it!
Last thing I'm gonna say about tonight's game..The J Biebs chant was kinda funny lol

— spike albrecht (@SpikeAlbrecht) January 26, 2014
(Instagram vid via FTW.)
Game of the Day: Providence enters NCAA tournament conversation with win over Xavier. 
It's time to start discussing the Friars as a legitimate NCAA tournament team. They are no worse than fourth in the Big East, and they have now won five games in a row. The win over Creighton last weekend was no fluke, as Bryce Cotton and LaDontae Henton combined for 48 points to take care of Xavier, 81-72.
The key for Providence will be the next five games. Four of them are on the road, where the Friars are just 2-2 on the season. This has been a tremendous job by Ed Cooley, who has overcome injuries and suspension to put Providence in contention.
What else we'll be talking about in the morning: VCU and Villanova escape with wins in overtime battles.
VCU looked like a sure loser on Saturday, down six entering the final minute at La Salle. But Treveon Graham went on a personal 6-0 run to send it into overtime. After a back-and-forth first overtime, VCU took control in the second extra period, with the 97-89 win. The Rams had two huge efforts from Graham and Juvonte Reddic. Graham finished with 34 points and 12 rebounds, while Reddic went for 27 points and 15 boards. Tyrone Garland had 30 in a losing effort.
Villanova gave up a late lead to Marquette -- including a highly-questionable charge call on a buzzer-beating layup by Tony Chennault -- but the Wildcats pulled away for a 94-85 win. James Bell had 30 points, but Ryan Arcidiacono was the star: 20 points, 11 assists and several key plays in the overtime. 
That's a good win: Iowa State hangs on to knock off No. 22 Kansas State, 81-75.
The Cyclones needed this win, as they entered the game on a three-game losing streak. Meanwhile, Kansas State has now lost three of its last five. Melvin Ejim had 20 points and nine rebounds, while Georges Niang put up 18 points and four boards. The key, though, was Matt Thomas. The freshman guard was 4-for-16 from 3-point range -- after shooting just 4-for-19 from deep in Big 12 play thus far. 
And that's a bad loss: What's wrong with Baylor? Bears fall to Texas.
Baylor entered the Big 12 with a 12-1 record that included wins over Kentucky, Dayton and a healthy Colorado. The Bears are officially in a tailspin after losing at home to Texas on Saturday, 74-60. It's not a bad loss, because the Longhorns have won five in a row and could be in the top 25 come Monday -- but Baylor is in serious trouble. Cory Jefferson and Isaiah Austin combined for 15 points on 4-for-16 shooting and they shot 32 percent from the field. After a winnable home game against West Virginia, the Bears have games against Oklahoma State, Kansas and Oklahoma. Danger time.
Wisconsin stops the bleeding: Badgers win at Purdue for just the third time in 42 years.
This was one Bo Ryan's team needed. Frank Kaminsky had 16 points in the 72-58 Badgers victory. The Boilermakers aren't an NCAA tournament team this year, but Purdue probably won't lose two more games on its home court. Getting a win, its first since Jan. 8, was pivotal to keeping UW in the Big 12 chase and to generally get things going on the right track. Home to Northwestern and Ohio State, then at Illinois. Wisconsin has a chance to be 20-3 on Feb. 9, when it plays Michigan State.
Wiggins gets going: The Kansas frosh went for 27 points, a career-best and the most any Jayhawk has scored this season. Kansas won 91-69 at TCU, avenging a seven-point loss from last season. Wiggins had five rebounds and five assists as well.
Colorado flirting with missing the NCAA tournament: The Buffaloes are 1-4 since losing Spencer Dinwiddie, the projected future pro at point guard. He was so much for the Buffs. On Saturday, Tad Boyle's team fell by 21 at Arizona State. (The Sun Devils really needed to not lose this one, by the by.) Colorado had 19 turnovers and went 2-11 from 3-point range. Colorado is now 15-6 overall.
Jahii Carson's 18 led ASU. He chipped in six boards but had just as many TOs.
Duke defends against Florida State: We touched on the Blue Devils earlier on Saturday, as they clamped down on the defensive end and dominated the glass to beat Florida State, 78-56. 
Syracuse gets off to hot start, holds on to beat Miami: Blog contributor Chip Patterson discussed Syracuse, who got off to a 26-8 start but needed a late run to knock off Miami (Fl.).
Wichita State is still undefeated: The Shockers won 78-61 at Drake, and the highlight was Tekele Cotton contributing another sweet slam. Not as vicious, but pretty no doubt.
Players with impact
Lamar Patterson, one of the 20 best players in the country this season, had a career-best 28 points, along with seven rebounds and seven assists AND four steals in Pittsburgh's 83-79 win at Maryland. Pitt is now 18-2 with its only losses to Cincinnati and Syracuse. Those teams have a combined 38-2 record and beat Pitt by a total of six points. Panthers a top-10 team in your mind?
Four wins in a row for Bryant, and guard Dyami Starks had 31 points on 14 shots to help the Bulldogs.
The buzzer-beater below will get more attention, but Oakland might not have been in position to win without Khalil Felder, who had 21 points, nine assists and shot 9-for-11 from the field.
Northeastern's Demetrius Pollard helped end Hofstra's winning streak, finishing with 25 points and six assists.
J.J. Mann had a career-best 34 for Belmont, now 7-1 in the OVC, in the team's 84-81 win over preseason league favorite Eastern Kentucky.
It was a losing effort, but Towson's Jerrelle Benimon had 29 points and 16 boards against Delaware.
We'll toss you some love, Nigel Williams-Goss. The Wash frosh had 32 for the Huskies in the team's win over Oregon State. Random: Washington alum Terrence Ross scored 51 in the NBA Saturday night. His career-best at Washington: 32.
Ryan Arcidiacono had 20 points, 11 assists, no turnovers in Villanova's overtime win -- that should not have gone to overtime -- against Marquette.
Brad Waldow went for 27 and 10 in Saint Mary's 89-61 win over LMU.
Not bad: Fuquan Edwin takes 16 shots and scores 30 in Seton Hall's 86-69 win over DePaul.
This is cool, and how you get in Night Court. Either submit info, or pass Phil Jackson on some sort of list!
Hey @EyeOnCBB - did you see that UND senior @troyhuff5 (1712) passed @PhilJackson11 (1708) for fifth on the school's all-time scoring list.

— UND Men's Basketball (@UNDMBasketball) January 26, 2014
Numbers to figure
Creighton's Doug McDermott finished with 14 points against Georgetown, becoming the 21st player in D-I history to score 2,700 career points.

— ESPN Stats & Info (@ESPNStatsInfo) January 26, 2014
900: Mike Krzyzewski won his 900th game as the head coach of Duke.
900: The assist barrier broken by Jason Brickman of LIU-Brooklyn. He's the 14th player ever in D-I to do this. Pretty remarkable. Brickman is on pace to crack 1,000 assists later this year, and in doing so can move into the top five, all time. Pretty amazing. He's also on the verge of averaging 12.1 assists, which would be the second-best season in NCAA history.
800: Jim Foster, coach of Chattanooga's women's team, got win No. 800 of his career on Saturday.
124 to 0: The amount of points score by starters vs. the amount of points scored by bench players in Georgia State's 66-58 win over Louisiana-Monroe. Via.
11: Ohio went on a 12-0 run down the stretch to help overcome an 11-point deficit in the final 4:20 and knock off Eastern Michigan. 
149: Gary Waters tied a school record by coaching Cleveland State to its 149th win in his tenure there. The Vikings beat Valpo 69-50.
Maryland's 11-9 record after 20 games is its worst since it was 10-10 en route to 12-16 in 1992-93. That was the Terps' last losing season.

— Patrick Stevens (@D1scourse) January 26, 2014
Other outcomes of note:
It took until 1:25 a.m. ET, but San Diego State got a tough 74-69 road win at Utah State in overtime. Xavier Thames put up a career-high 31 points. San Diego State is now off for a week and sitting at 18-1, unbeaten in the Mountain West. Life is good for Aztecs players.
Florida is looking more and more like a Final Four team, as the Gators completely rolled over Tennessee, 67-41. Florida has allowed one team to score more than 62 points in the last nine games.
Creighton (17-3) disappoints, only makes seven 3s in its ho-hum 76-63 home win over Georgetown. Maybe next time you can crack double digits, boys.
Iowa bounced back from its mid-week loss to Michigan by rolling at Northwestern, 76-50. Gabe Olaseni had 14 points and 10 rebounds off the bench.
A wild game played out into overtime on CBS Sports Network, and UNLV won 75-73 over Fresno State. The Bulldogs missed a tip at the buzzer of regulation that would've won it. Vegas was lucky to get the win; that team is weird.
It wasn't easy, but Oklahoma State got an 81-75 win over West Virginia. Le'Bryan Nash had 29 points and nine rebounds to lead the way, helping the Cowboys overcome poor game from Marcus Smart (four points, five fouls).
Three wins in a row for Oklahoma, which took down Texas Tech on the road, 74-65. 
Kentucky had no trouble with Georgia, getting 15 points from Aaron Harrison in the 25-point victory.
Alabama and LSU was a game of massive swings. Bama led by 19 at one point, at home, then gave the lead away. Got it back late. Fouled LSU with 6.7 left with a three-point lead ... when LSU was shooting a 3. But one foul shot didn't go, Bama won 82-80, and LSU's at-large hopes are officially vaporized.
BYU, which long ago lost its chance at an at-large bid, fell at Gonzaga 84-69. Mark Few's Bulldogs are 8-1 in the WCC and 18-3 overall.
Virginia is getting more and more dangerous. The Cavaliers are now 6-1 in the ACC after dispatching of Virginia Tech. Malcolm Brogdon had 18 points. It was the sixth time this season Virginia held an opponent to less than 20 points in a half. Last time UVa was 6-1 in ACC play was 1982-83.
Kendall Williams must like playing against Colorado State, as he had 23 points to lead New Mexico to a 68-66 win. He had 46 against them last season. 
Missouri gave up 52 points in the second half, but still beat South Carolina. The perimeter trio of Jordan Clarkson, Jabari Brown and Earnest Ross combined for 60 points, 17 rebounds and 11 assists.
Could St. John's be warming up? The Red Storm have now won two in a row after holding Butler to 18 points in the second half. JaKarr Sampson finished with 27 points and nine rebounds.
Ole Miss is flying below the radar as a potential third-best team in the SEC. The Rebels blew out Mississippi State on Saturday and are now 5-1 in the league. They have five losses on the season: two in overtime, and the other three by a combined 10 points.
Delaware is now 6-0 in the CAA after knocking off preseason favorite Towson, 83-76. Jarvis Threatt had 20 points for the Blue Hens.
American is 8-0 in the Patriot, as the Eagles defeated league contender Army.
Maybe Washington can be a Pac-12 sleeper of sorts. The Huskies are 5-3 in-league and 13-8 overall after winning 87-81 over Oregon State.
Richmond has won four in a row to move to 4-1 in the Atlantic 10. The Spiders took down Saint Joseph's by 15 (77-62) on Saturday. 
That's now four losses in five games for Dayton, as Rhode Island handled the Flyers on Saturday, 88-76.
Buzzer-beater Notebook:
-- Oakland's Duke Mondy hit a buzzer-beating 3 to beat Illinois-Chicago. (h/t Sporting News)
-- And, via Gheorghe the Blog, good ol' Bill and Mary won at the horn, too. A 68-66 win over Drexel thanks to Marcus Thornton. Nothing like the buzzer-beater that prompts the camera holder to emulate an earthquake in his hands.
You'll notice Duquesne's Derrick Colter actually bobbles the ball before getting the buzzer-beater off to beat St. Bonaventure.
Regular Notebook:
-- If you didn't see it, go check out Markel Brown's ridiculous 360 dunk.
-- The pin worn today by many a coach. The story on the pin can be found here.
BGSU men's basketball wearing lapel pins with a purple ribbon for #4PetesSake pic.twitter.com/UaRV3JfwB9

— BGSU Men's Hoops (@BGSUMHoops) January 25, 2014
-- After Notre Dame fell 65-58 to Wake Forest, Mike Brey said sophomore forward Austin Burgett could miss the rest of the season due to a "heart issue."
-- Marcus Smart had a vow after his performance today.
Today wasn't one of my most proudest moments I lost my composure and left my team hanging it won't happen again and I apologize to my team

— marcus smart (@smart_MS3) January 26, 2014
-- Robert Morris recently suspended four players. Then the Colonials went out and won on Saturday anyway. A 74-70 win over Wagner, and at 6-0, Andy Toole's team is the NEC favorites.
-- Well-played, Creighton fan.
-- Alex Kirk didn't play for New Mexico against Colorado State on Saturday. He is day-to-day with a foot injury.
-- Did John Calipari give a local reporter at wet willy?
RT @Ky1eSc0tt Coach Cal's finger in Alan Cutler 's ear... pic.twitter.com/4XssN3VaDj

— Thomas Beisner (@Beisner_cn2) January 26, 2014
-- DePaul was down three starters against Seton Hall: Cleveland Melvin (team rules), Billy Garrett (illness) and Charles McKinney (ankle).
-- Minnesota guard Andre Hollins' sprained ankle could be worse than originally expected, head coach Richard Pitino said. 
Jeff Borzello and Matt Norlander contributed to this buffet of a post.
The Wildcats' resume doesn't seem too impressive right now

Was there contact? 'Everybody saw it,' UK coach John Calipari said

After losing its second game this week, a deep NCAA Tournament run looks far-fetched for U...
Coach K shows he is on on top of his game by landing the best three prospects in the Class...

The Buckeyes and Boilermakers continue to assert their dominance in the Big Ten

The 5-star phenom was thought to be headed to Clemson, but was swayed to the Blue Devils