Night Court: Wichita State, Oregon, Notre Dame earn huge Ws
We had a great start to Saturday, with Michigan and Arizona going to the wire -- plus a few impressive performances.
by

Eye on Col Basket staff

• 9 min read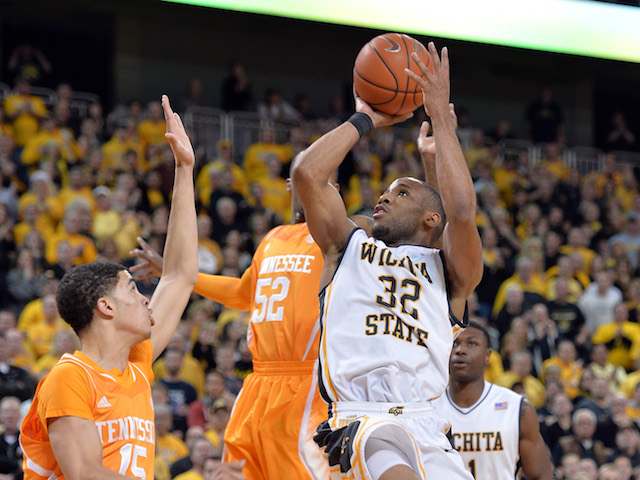 Here's everything you need to know from college basketball's Saturday …  
Game of the Day: Arizona uses late run to get past Michigan on the road.
Everything was going right for Michigan. Glenn Robinson III dominated the first half, Spike Albrecht was doing his typical CBS heroics, Arizona was missing lay-up after lay-up – and it looked like the Wolverines might get a win over the No. 1 Wildcats. However, Arizona outscored Michigan by 10 points over the final 6:30 to get the 72-70 win.
The Wildcats couldn't guard Robinson III in the first half, but freshman Aaron Gordon helped quiet him in the second half – and Michigan's half-court offensive became inconsistent. The Wildcats dominated down low, getting 17 offensive rebounds (although that only translated into a couple of second-chance baskets) – but Gordon, Kaleb Tarczewski and Brandon Ashley combined for 46 points and 20 rebounds. Nick Johnson made big plays late, too, for 14 points. On the other side, that was the Robinson III that Michigan needs going forward. In the first half, he was aggressive and confident, en route to 20 points. Derrick Walton needs to be more of a factor, though. The freshman point guard only played 14 minutes, with Albrecht showing more poise.
What else we'll be talking about in the morning: Kentucky's struggles and UNC's surge.Wichita State Shockers
(Here's Parrish's column from the game.)
As for UNC's 82-77 home win over Kentucky, let's talk the Heels for a second. The nugget you'll hear plenty about is how Roy Williams' team has knocked off Michigan State, Kentucky and Louisville, AKA the three teams ranked in the top three in the preseason. It's a turn of events nobody saw coming. UNC now legitimately looks like one of the 10 best teams in the country ... and it still doesn't have two of its three best players, arguably.
This is a big dose of redemption for Roy Williams, who honestly had to have a small part of him wondering if this team would be below .500 at this point. But no, the Heels are continuing to play good defense, get improved play inside, and with the emergence of J.P. Tokoto, are becoming stronger for whenever P.J. Hairston and Leslie McDonald come back.
Kentucky? Young team that's proving for a second straight season that John Calipari is not well-prepared to have his team going against legit competition and be ready for success. Kentucky has now lost nine of its last 10 games outside of Rupp Arena.
More conversation worth having: Wichita State is better than last season.
And that team made the Final Four. Now I'm not saying the Shockers are getting back to the national semifinals – but this team is more talented and tougher to beat. They weren't dominant on Saturday, but they made plays at the right time to beat Tennessee, 70-61. Ron Baker had a quiet game, but Tekele Cotton (19 points) was fantastic and Darius Carter (11 points, 14 boards) was key off the bench. That doesn't even include Cleanthony Early, who made a couple late baskets, and Fred Van Vleet, who was stellar early on. The Shockers held Jarnell Stokes to just eight points on seven shots, and made life difficult for Tennessee all night long. Wichita State can play multiple tempos, they are physical and versatile defensively, and they're filled with guys who make plays when it counts. 
That's a good win: Both Notre Dame and Indiana could have used a win on Saturday -- but the Fighting Irish emerged with the victory, 79-72.
Jerian Grant had 23 points and eight assists for Notre Dame, while Garrick Sherman came up big down low with 16 points and five boards. Will Sheehey had 22 for Indiana, but 16 of them came in the first half. Now what does this mean for both teams? Notre Dame can breathe a little easier, especially since it was coming off a loss to North Dakota State and has Ohio State coming up next. A defeat on Saturday could have meant five losses after playing the Buckeyes. On the other side, Indiana will enter Big Ten play without any sort of noteworthy win. The Hoosiers are likely to be 10-3 with the best victories coming against Stony Brook and Washington. They have work to do.
This one's nice, too: Oregon off to its first 9-0 start in seven seasons.
The Ducks played Illinois in what turned out to be a very entertaining game. Credit Dana Altman's team for rallying, at one point going on a 13-0 run, and pulling out a 71-64 win. Illinois is now a two-loss team.
The reason this is so big: Dominic Artis and Ben Carter were forced to sit the first nine games of the season for selling off basketball shoes they received from the university. NCAA violation to do that. Artis could be Oregon's best player, and Carter's a guy who will have big impact as well. Yet the Ducks overcome that, and right now they look a very close No. 2 in the Pac-12 behind Arizona. That league at the top can be a lot of fun this season.
Johnathan Loyd, who will probably come off the bench in short time, has been starting with the absence of Carter and Artis. On Saturday he hit a big shot in the final minute help Oregon keep a five-point lead, and then he had a steal in the closing seconds to erase any doubt about a Ducks W. Big stuff. Very fun team.
And that's another good win: Read about Kansas climbing and winning -- so long as Perry Ellis is productive. The Jayhawks' 80-63 dub over New Mexico happened because Ellis was awesome, Naadir Tharpe had a solid game at the point -- and Joel Embiid is proving some of those (mild) Hakeem Olajuwon comparisons to be to decent. Look at this move!
But that's a bad loss: Seton Hall continues falling in the New Jersey rankings.
The Pirates are now 7-4 after losing to Saint Peter's, which had won just two games heading into Saturday.  When Brian Oliver sent it in overtime for Seton Hall, it looked like the Pirates might pull it out – but the Peacocks weren't letting this one slip from their hands. Desi Washington had 34 points and five rebounds for St. Peter's, while Oliver led Seton Hall with 26 points and 10 boards. The Pirates now have losses to both St. Peter's and Fairleigh Dickinson – both coming at home. 
Players with impact
Ryan Harrow has been filling it up this season for Georgia State, and Saturday was no different. He had 33 points in a win over Old Dominion.
Not going to be many better freshman performances on Saturday than Valparaiso's Alec Peters. Thirty points, eight boards, becoming the fifth Valpo player in 15 years to have at least two 30-point games.
Despite Youngstown State's struggles, Kendrick Perry is going to find himself in this category a bunch. On Saturday, he went for 28 points, four assists, four steals.
Steve Holt! Holt dropped 24 points, a career-best, for Saint Mary's in the Gaels' 82-74 road win against Boise State. Damn impressive. We'll have more on Saint Mary's early next week. Nobody thought the Gaels could be 8-0 come Dec. 14.
Jackson State won 57-51 at Evansville thanks to a beastly 22-rebound effort from Brandon West.
Your leading scorer in college hoops on Saturday? Desi Washington of St. Peter's. Thirty-four.
Numbers to figure
How do you score 17 points on 3 shots? Consult @BadgerMBB Nigel Hayes' statline from today (via @wesleyonline) pic.twitter.com/6qH2iRF6oX

— Brent Yarina (@BTNBrentYarina) December 14, 2013
10: Wichita State is now 10-0 – best start in school history.
17: Saint Peter's had lost 17 in a row to Seton Hall, with the last win coming in 1995 – exactly 18 years ago.
57-49: The personal-foul-to-field-goals-made differential in Kentucky-North Carolina.
10.3: The average margin of losing for BYU against the four best teams it's played so far this season. The Cougars have some bright spots but by no means are one of the 40 best teams in the country.
Other outcomes of note:
Give credit to Larry Krystkowiak for getting a needed home win over a decent opponent, BYU, to get to 9-1. Utah's a team the computers don't like yet because the non-con isn't too great, but this could go a long way toward getting the Utes back on the right track. It was an 81-64 victory. Want to see more out of this group, but it looked nice on Saturday. Jordan Loveridge had a game-high 21.
Louisville Cardinals
Louisville was without starting point guard Chris Jones (wrist), but the Cardinals shook off an inconsistent first half to beat Western Kentucky, 79-63. Russ Smith had 14 points and 10 dimes.
Michigan State looked as sluggish as it could look while still earning a victory, winning 67-63 over a 2-9 Oakland team that is better than its record shows. MSU is dealing with injuries still. Many maintain this team is still a Final Four hopeful -- of course it is.
What's going on with VCU? The Rams are now 8-3 after losing at Northern Iowa by nine. The Rams forced 16 turnovers, but couldn't stop the Panthers in a half-court setting and shot just 14-for-40 from inside the arc.
Pittsburgh moved to 10-0 after beating Youngstown State. Tuesday brings a tough test against Cincinnati at Madison Square Garden.
Louisiana Tech needed to be hitting on all cylinders to hang with <span data-shortcode= State" data-canon="Oklahoma Sooners" data-type="SPORTS_OBJECT_TEAM" id="shortcode0">. The Bulldogs weren't. Raheem Appleby was just 4-for-16 and Tech shot 33 percent from the field, as the Cowboys pulled out the 70-55 win. Le'Bryan Nash had 22 points and seven boards for Oklahoma State.
Another day, another Wisconsin win. The Badgers had no upset scare against Eastern Kentucky, cruising by 25. Ben Brust had 20 points to lead the way.
Five guys in double-figures as Massachusetts won its ninth straight game to start the season, beating Northern Illinois.
Toledo is now 9-0. The Rockets will likely be sitting at 12-0 heading into a road game at Kansas on Dec. 30.
Ohio State: also still undefeated (10-0) after beating North Dakota State (which just beat Notre Dame) 79-62.
Major-conference teams that got too-close-for-comfort home wins over small teams: N.C. State barely beat Detroit at home, winning 82-79; Maryland held off Florida Atlantic, 66-62.
Notebook:
-- Akron's director of basketball operations, Dan Peters, is taking a leave from the team while he fights pancreatic cancer. Our thoughts and hopes are with him.
-- Give Brandon Miller credit. Butler is now 8-2 after beating Purdue 76-70 on Saturday. This Bulldogs team's NCAA likelihood is still an unknown, but starting out with two losses through 10 games is exceeding expectations, given talent level on that team this year.
-- Semaj Christon had just eight points, yet Xavier beat Cincinnati 64-47. That's a nice sign for X and a bad one for Cinci, which has dropped two straight against the two toughest teams on its schedule.
-- Jordan McRae had the dunk of the afternoon, despite the technical.
-- Oklahoma got past Tulsa with a 101-91 W. Some standout performances from the Sooners: Freshman Jordan Woodard had 24 points and 8 assists, career highs, both, and Buddy Hield had a personal-best 23 points.
-- Two-bid Ivy?! Princeton is now 8-1 after going on the road and beating Penn State in overtime. Harvard is still the favorite, but the Tigers won't go down easily.
-- Grambling State played its fourth game of the season Saturday. Yep, just its fourth. It fell to 0-4 with a  97-55 loss at Arizona State.
-- Michigan State played without Gary Harris on Saturday, while Louisville's Chris Jones sat out.
-- Seton Hall's Sterling Gibbs could miss an extended period of time after injuring his knee against St. Peter's. 
Gary Parrish and Matt Norlander discuss Louisville's punishment from every angle

Those Cardinals were fun to watch, but those memories are forever tainted

Josh Nagel is a Reno-based handicapper who has his finger on the pulse of Nevada basketbal...
Zack Cimini is a contrarian thinker who's tailed throughout the handicapping industry

The Seahawks could be back in the NCAA Tournament next year if Cacok returns for his senior...

Kenny White used to set lines for the biggest casinos. Now, he's locked in a Syracuse vs. UNC...