Night Court: Wisconsin continues to impress so far this season
Saturday featured a top-25 battle, several ranked teams in action, and a couple of big-time individual performances.
• 8 min read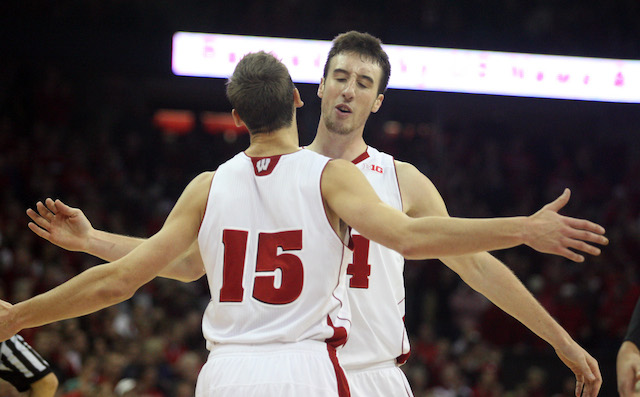 Here's everything you need to know from college basketball's Saturday …
Game of the Day (on paper): Ohio State's defense was absolutely stifling in its blowout win over Marquette.
This was the "Game of the Day" only in the sense that it was the only matchup between two top-25 teams. In terms of on-the-court performance, this was one of the ugliest games we'll see all season. The two teams combined for 38 points in the first half, which was the lowest total in Division-I this season. Ohio State actually started making plays in the second half, though, en route to an easy 52-35 victory. Obviously, the Buckeyes didn't have an award-winning offensive night, but Aaron Craft, Shannon Scott and Sam Thompson all found ways to be playmakers in the second half. 
However, Ohio State's defense looked exceptional. Craft and Scott might be the best defensive backcourt duo in the country – both players are excellent on-ball defenders, and make it difficult for opposing guards to initiate offense. Sam Thompson can guard multiple positions, and Thad Matta has some big guys on the interior. Marquette shot the ball terribly, but Ohio State's defense played a major role the Golden Eagles' struggles.
Actual Game of the Day: Doug McDermott's basket-and-foul gives Creighton a road win at Saint Joseph's . 
Jon Rothstein was in Philadelphia for this one, and he saw a terrific contest, with Creighton coming back to win, 83-79. Saint Joseph's jumped out to an early lead in the first half, as the Hawks opened up a double-digit lead and it looked like they could get an impressive win. However, Creighton wouldn't go away, relying on Ethan Wragge (21 points) and Devin Brooks (16 points) to keep them in it. And of course, down the stretch the Bluejays relied on their All-American. McDermott hit a jumper while getting fouled to give Creighton a two-point lead with five seconds remaining, and Brooks hit two free throws to ice the game. Saint Joseph's was led by Deandre Bembry, who finished with 20 points. If Creighton can get consistent production from its non-McDermott weapons, the Bluejays will certainly contend for a Big East title. 
What else we'll be talking about in the morning: Please don't judge Florida until it's at full strength.
And I'm not just saying that because the Gators beat Arkansas-Little Rock by 30 on Saturday (after being tied at the half). Aside from Casey Prather going for 27 points, five rebounds and five points, the main takeaway from the game was the debut of Virginia Tech transfer Dorian Finney-Smith. He was suspended for the first couple games this season, but went for 17 points and nine rebounds off the bench. Florida won't look complete until it gets all its pieces – and Scottie Wilbekin and Chris Walker are still waiting in the wings. (Damontre Harris looks like a different situation.)
That's a good win: Wisconsin moves to 3-0 with an impressive road win at Green Bay .
One can easily make the case that Wisconsin has the best collection of wins in the country right now. The Badgers dispatched of St. John's and Florida fairly easily in their first two games, and then went on the road Saturday and knocked off Green Bay, 69-66. Bo Ryan's team was down seven in the second half, but made a late run to get the victory. Wisconsin big man Frank Kaminsky had 16 points and eight rebounds, and also blocked the game-tying layup attempt from Keifer Sykes in the final seconds. Kaminsky then hit a free throw to provide the final margin of victory. Sykes had 32 in a losing effort for Green Bay. 
It's not a bad loss, I promise: Mercer holds off Seton Hall in double overtime.
After Florida Gulf Coast's run to the Sweet 16 last season, most people expected the Eagles to be the heavy favorites in the Atlantic Sun this year. However, what most forget is that it was actually Mercer that won the regular season title in the conference last season – and the Bears aren't going anywhere. They beat Seton Hall in double overtime on Saturday, 77-74, withLangston Hall leading the way with 24 points. Fuquan Edwin had 35 points for Seton Hall in a losing effort.
Players with impact
Jarnell Stokes struggled from the field, but still managed to finish with 17 points and 18 rebounds as <span data-shortcode=" data-canon="Tennessee Volunteers" data-type="SPORTS_OBJECT_TEAM" id="shortcode0">beat USC-Upstate. 

Southeast <team idref=

's

Tyler Stone

was suspended for the first two games, but he debuted with 22 points and 14 rebounds against IUPUI.
Colorado State won't be as good as it was last season, but winning by 21 against Weber State is nothing to overlook. J.J. Avila had 30 points, seven rebounds and six assists.
Demetrius Pollard totaled three points in his first two games for Northeastern this season. On Saturday, he hit eight 3-pointers and scored 27 points.
Obi Emegano is off to a terrific start for Oral Roberts. After Saturday's 27-point effort, he's now averaging 23.3 points through three games.
Manhattanlost to George Washington, but George Beamon had 34 points and nine rebounds -- on only 15 shots.
Another efficient effort came from UC Riverside's Taylor Johns, who went for 31 points on 16 shots.
A solid 25 points and 12 boards for Southern's Calvin Godfrey in a win over North Florida.
Numbers to figure:
1: Aaron Craft is the first player in Ohio State history to have 1000 points, 500 assists and 200 steals in a career. Via Buckeye assistant Jeff Boals.
3: Marquette's five starters made three field goals on Saturday, shooting 3-for-28 and scoring a total of 12 points.  
29: Providence won its 29th straight home game against a non-conference opponent when it defeated Marist by 45 on Saturday. Bryce Cotton had 28 points and 11 assists.
Other outcomes of note:
Syracuse still isn't getting much offensive production from its interior players, but the Orange certainly didn't need it against Colgate. C.J. Fair had 20 points to lead them to a 69-50 win.
No. 16 Wichita State was down one at the half to Tennessee State, but the Shockers shot 18 of 32 in the second half en route to an 85-71 win. Tekele Cotton paced Wichita State with 18 points.
Joe Harris was held to just one point by Davidson, but Virginia got 18 points and seven rebounds off the bench from Mike Tobey in a 70-57 win.
Cincinnati's biggest question going into the season was how to replace Cashmere Wright. Troy Caupain did a fine job off the bench Saturday, finishing with 13 points and four assists in a 77-49 win over Appalachian State.
Colorado had seven players in double-figures in its 94-70 win over Jackson State. The Buffaloes shot 62 percent from the field and 53 percent from 3-point range. 
Northwestern State scored 72 points in the second half on Friday against Auburn, but only managed 74 total on Saturday in a 14-point loss to LSU. LSU's big men Johnny O'Bryant and Jordan Mickey combined for 31 points and 27 rebounds. 
It looks like Jabari Brown could be the go-to-guy offensively for Missouri. He scored 23 points against Hawaii on Saturday, bringing his three-game total to 59 points.
VCU forced 25 turnovers and had six players reach double-figures in a 21-point win over Winthrop. 
After Saint Louis' third straight win to open the season (at Southern Illinois), it's looking like the Billikens and Wisconsin are heading for an unbeaten showdown on Nov. 26. 
The WCC continued to roll, as BYU (Colorado Mesa) and Saint Mary's (Drake) both picked up wins. 
Notebook:
-- Not including La Salle's Tyreek Duren in our top 30 point guards could be a huge mistake by the end of the year. He's a playmaker and a winner, as shown by his clutch plays in the Explorers' 78-74 win over Siena. He finished with 20 points.
-- Marshall Henderson made his season debut on Saturday, scoring 19 points in a two-point Ole Miss win. 
-- It would be a surprise not to see Penn State's guard duo as one of the highest-scoring backcourts at the end of the season. Tim Frazier and D.J. Newbill combined for 48 points in a win over Pennsylvania.
-- That's now 63 points in three games for North Carolina State's T.J. Warren, as he went for 23 in a win over Campbell. He might top the ACC in scoring. 
-- Moving into Conference USA will make things more difficult for Middle Tennessee, and the Blue Raiders are unlikely to win 28 games this season – but they continue their solid start. Beating MAC co-favorite Akron 80-73 moves Middle Tennessee to 3-0 on the season. Forward Shawn Jones had 24 points and 12 rebounds, while pitching in to help the Blue Raiders hold Demetrius Treadwell to just six points and three bounds.
-- Brandon Miller is still undefeated as the head coach of Butler. His Bulldogs survived a late run by Princeton to win, 70-67. Kellen Dunham went for 26 points. 
-- One under-the-radar game was Vermont at Bryant . Vermont is the America East favorite, while Bryant is a Northeast contender. On Saturday, Bryant was clearly the better team, steamrolling the Catamounts, 87-64. Dyami Starks had 30 points for the Bulldogs. 
-- Minnesota's frontcourt has struggled this season, but the Golden Gophers got 26 points and seven boards from guard Andre Hollins in a decent win at Richmond. The Spiders could be a tough out at times in the Atlantic 10. 
-- Dayton is now 3-0 after beating St. Francis Brooklyn, but its next two games against Georgia Tech and Gonzaga could show what the Flyers are made of this season.
-- Wright State might be the favorite in the Horizon, but the Raiders fell on Saturday toDePaul in the CBE Classic. The Blue Demons made a late run and pulled away for an 81-72 win. Cleveland Melvin had 23 points and 13 boards.
The selection committee will again reveal what it is thinking ahead of Selection Sunday

Teams not in major conferences with a shot at an at-large NCAA Tournament bids

The nation's No. 3 player will commit Saturday and here's his impact on each of his finali...
Gary Parrish and Matt Norlander also preview the weekend and Zion Williamson's announcemen...

The Sun Devils started 12-0, but since then are 2-4 after Wednesday's loss to Stanford

Andrew Jones is Texas' second leading scorer