Night Court: Wisconsin, St. John's get wins, overshadowed by Smart
Marcus Smart will be the talk of Monday, but Wisconsin and St. John's got much-needed wins on Sunday.
• 4 min read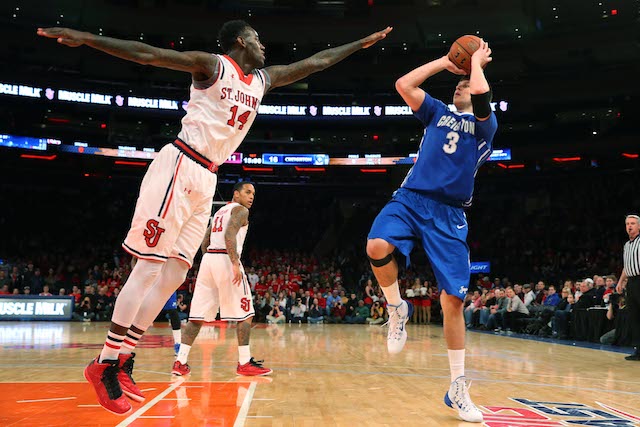 Here's everything you need to know from college basketball's Sunday …  
Game of the Day: Wisconsin beats Michigan State on Traevon Jackson's clutch jumper.
Wisconsin had fallen on hard times after opening the season with a 16-0 record, as the Badgers had lost five of six before beating Illinois during the week. But Traevon Jackson's pull-up jumper with 2.1 seconds left gave Wisconsin a 60-58 win over Michigan State on Sunday. Bo Ryan's club had four players in double-figures, led by freshman forward Nigel Hayes' 14 points off the bench. The Spartans were without Keith Appling and Branden Dawson, but got 24 points from Adreian Payne. 
Are the Badgers back to being a legitimate threat come March? They are back above .500 in the Big Ten, but have a tough three-game stretch coming up. Wisconsin hosts Minnesota before heading on the road to face Michigan and Iowa. On the other side, Michigan State's constant injuries are beginning to become worrisome. The Spartans are still a title favorite when healthy, but Appling's injury seems more serious than originally thought. They have lost three of five, although home games against Northwestern and Nebraska this week could be a chance to get back on the right track.
What else we'll be talking about in the morning: Marcus Smart's three-game suspension.
We've written enough about this, and we'll probably talk about on Monday's podcast, but if you've missed any of it, here's the rundown of what we've written on the subject.
-- VIDEO: Marcus Smart shoves fan near end of loss at Texas Tech
-- Reaction on Twitter to the incident
-- PARRISH: Regardless of what fan said, Marcus Smart was wrong to react
-- Marcus Smart suspended three games by Big 12
-- Texas Tech fan Jeff Orr denies slur, won't attend more games this season
-- BORZELLO: Tough stretch for Oklahoma State gets worse with Smart suspension
-- PARRISH: Marcus Smart needs to learn a lesson, but he's not the only one
That's a good win: St. John's takes down No. 12 Creighton for its sixth win in seven games.
A month ago, St. John's was 0-5 in the Big East and barely above .500 overall. There were reports that head coach Steve Lavin's heart really wasn't in it, and the Red Storm were considered arguably the biggest disappointment in the country. Well, four weeks later and St. John's is back on the bubble. The Red Storm won for the sixth time in seven games on Sunday, beating No. 12 Creighton at Madison Square Garden. D'Angelo Harrison led the way offensively, scoring 19 points -- including a key 3-pointer and game-icing free throws in the final minutes. Doug McDermott had 25 points for Creighton, but JaKarr Sampson and St. John's made life difficult for him, especially late in the game. They limited his post touches and cut off passing lanes, being physical with him and running two or three players at him when he did get the ball. In fact, he didn't score in the final eight-plus minutes of the game.
St. John's heads to Seton Hall this week, and then returns home to play Georgetown and Butler. If the Red Storm go 3-0 during that stretch, they will have serious NCAA tournament hopes heading into the final four games of the regular season. 
Players with impact
A.J. English was a breakout candidate at the beginning of the season, and we're seeing why. The Iona guard had 32 points, five rebounds and six assists.
Houston dominated Temple on Sunday, behind TaShawn Thomas' 25 points and nine rebounds.
Niagara's Antoine Mason continues to light up the scoreboard, going for 33 points.
Colorado got a big game from Xavier Johnson, with 27 points and 10 rebounds.
Numbers to figure
23: Syracuse hasn't won 23 straight games since 1918.
1500: Akron became the 55th Division-I program with 1500 wins after beating Bowling Green.
602: Penn State lost to Illinois, but Tim Frazier became the school's all-time assists leader with 602.
Other outcomes of note:
Syracuse had little trouble moving to 23-0 against Clemson, rolling past the Tigers, 57-44. C.J. Fair had 19 points and seven rebounds.
The former No. 1 team in the country, Arizona, got great contributions from freshman forwards Aaron Gordon and Rondae Hollis-Jefferson in Sunday's 22-point win over Oregon State. Gordon and RHJ combined for 33 points and 10 rebounds.
Connecticut was struggling from behind the arc against UCF, but the Huskies still cruised, 75-55. Shabazz Napier and Lasan Kromah each had 17 points.
Massachusetts needed 21 points and seven assists from Chaz Williams in order to get past Rhode Island.
Colorado absolutely needed a big week given its post-Spencer Dinwiddie struggles – and the Buffaloes got a home sweep of the Washington schools. A two-game road trip to Los Angeles is up next.
Quietest 21-3 team in the country? Might be Southern Miss, which improved to 8-1 in Conference USA after beating Charlotte.
Iona is alone atop the MAAC right now, after going on the road and taking down Canisius, 101-91. The Gaels atoned for their late loss to the Golden Griffins in January.
Marvin Bagley, if eligible at Duke this season, projects as the country's top power forwar...

The Big Ten Tournament is a week earlier than usual, so the regular-season schedule may look...

Arizona, Grand Canyon and Tulane are also in Barcelona and have reported to be accounted for...
The Kansas forward is no longer accused of walking out on an $88 tab

Cavaliers basketball coach tapes statement on behalf of his university and his city

Gary Parrish and Matt Norlander discuss all things Marvin Bagley and his immediate future