No. 1 prospect Jabari Parker begins his own college evaluation period
As coaches and colleges begin contacting and evaluating their potential targets, No. 1 prospect Jabari Parker is beginning his own evaluation period. "I gotta ask them questions as well," Parker said.
• 2 min read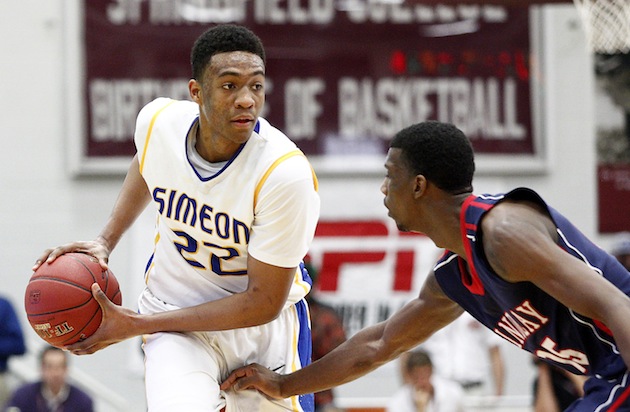 Jabari Parker is the No. 1 prospect in 2013, but he's going through the recruiting process slowly. (US Presswire)
The contact and evaluation periods are usually meant for college coaches to talk to and watch high school players, figuring out which ones to pursue heavily. They can gauge which players fit their system.
For Jabari Parker, colleges aren't going to be the only ones studying their targets.
"This is my evaluation period too," Parker said. "I gotta ask them questions as well. Where they're going to play me, what offense they run, what they expect me to do as a freshman."
At this point, Parker is in a position to dictate his recruitment.
Parker is the No. 1 prospect in the class of 2013, and was the subject of a recent Sports Illustrated cover that declared him the "best high school basketball player since LeBron James." While that might be hyperbole, Parker is certainly the best player in his class.
Moreover, he continues to get better and diversify his game.
"I'm being more patient, trying to find different things, scoring with double teams," Parker said. "I was starting to get a little too skinny. I wanted to put on some weight so I can bang in the post."
There are more than a dozen schools still in the mix for Parker, including Michigan State, Duke, DePaul, Kentucky, Kansas, Washington, BYU, Louisville, North Carolina, Northwestern, Ohio State, Illinois, Missouri and Connecticut.
During the college basketball season, Parker said he watched a few of the elite teams to see what they did so well and how he could potentially fit into their strategy.
Kentucky: "Their penetration, it fits my game."
Kansas: "The way they utilized Thomas Robinson, how they implemented his game."
Duke: "Austin Rivers, the way they moved him around the perimeter."
In general, Parker said he looks at each school and what types of players they have had in the past. As a result, he could see what made each school so successful.
Recently, Jabari's father, Sonny Parker, said he was basically shutting down Parker's media access and said schools have to go through him before speaking with his son. Jabari Parker did speak at the NBPA Top 100 Camp, but didn't really get too specific with schools.
"It's gotten me stronger, it hasn't been a setback," Parker said of the nonstop coverage. "This is what the fans want."
Parker has said he would narrow his list by the end of the summer, and then potentially make an announcement during the fall.
"I want to keep it simple," he said. "My school and my teammates have been there for me. I don't want it to be all about me."
The university also maintains that Pitino was appropriately fired

Price only made it nine games into his third season

The Wildcats won't play another currently ranked team until Jan. 10
The BC fan has a ton of apparel and gear headed his way after this putt

Durant's made a habit of making sure his alma mater is set with the latest customized gear

Ball says UCLA told him to thank Trump for getting him back to the states after shoplifting...