No. 1 Syracuse goes down at home to BC, first loss of season
Syracuse suffered its first loss of the season on Wednesday.
• 2 min read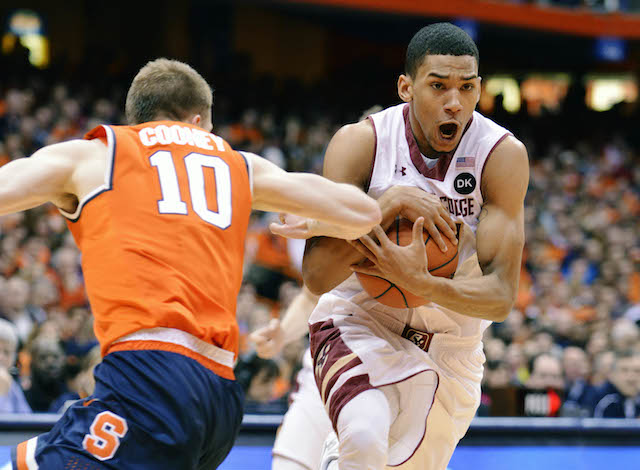 And then there was one.
Syracuse, one of the nation's two remaining unbeatens, dropped its first game of the season on Wednesday night, falling to Boston College, 62-59.
With the Orange losing, Wichita State is the last unbeaten team left in college basketball.
"I'm happy we have won 25 games, that's a great thing, but we can't be thinking about that," Syracuse head coach Jim Boeheim said after the game. "We have to think about what to do in order to get better - maybe execute a bit better on offense, but at the end of the day you have to get the ball in the paint. We're not getting to the basket. In the second half they made all those threes when they needed to and that happens. Offensively we have to get better and we have a few games left to improve. This team works hard and they will bounce back. It's been an unbelievable run where we have made unbelievable plays in the last six minutes of games. And it is something I have never seen before. We've had great teams, but we have never had any teams that would have won all these games at the end - the way this team has - its remarkable what they've done."
This was a shocker. 
Boston College was one of the biggest disappointments in college basketball, and head coach Steve Donahue has one of the hotter seats in the ACC. The Eagles had beaten just one Division-I team since November, and had the fewest wins of any major-conference team. 
But Olivier Hanlan played like the preseason all-conference player he was, scoring 20 points and hitting several big shots late in the game. Lonnie Jackson was huge, hitting four free throws in the final 30 seconds. Syracuse really struggled from the perimeter, and the Eagles simply knocked down shots over the zone.
Syracuse doesn't have any easy turnaround, either. The Orange head to Cameron Indoor Stadium this weekend for a Saturday showdown with Duke. 
"We'll see how we respond," Trevor Cooney said in the postgame. "I mean we have some good guys on our team and guys who don't like to lose at all and I'm one of those guys and we'll be ready to practice tomorrow. We'll be ready to bring it. We have a tough road stretch coming up and we'll see how we respond. We have to respond the right way."
What a great team win tonight! So proud that the hard work I've witnessed from our guys all year pays off with an awesome road win!

— Steve Donahue (@Coach_Donahue) February 20, 2014
Legendary Boston College SID Dick Kelley passed away last week after a battle with ALS. 
That was for you DK.

— Steve Donahue (@Coach_Donahue) February 20, 2014
Cal's form wasn't pretty, but when it works, it works

Josh Nagel has his finger on the pulse of Purdue basketball and locked in a play for Tuesd...

Gary Parrish and Matt Norlander discuss the latest in college basketball
The Mountaineers' coach surprised Self with a pullover -- and Self actually wore it during...

After beating West Virginia, the Jayhawks are on a four-game winning streak and jumped to No....

Oklahoma's basketball phenom has won the national Freshman of the Week award again