No one deserving of No. 1 spot
Michigan lost Saturday. Kansas has dropped three in a row. Indiana and Florida both went down to potential NIT teams earlier in the week. No one has earned the No. 1 spot in the land -- and no one will earn it until April 8.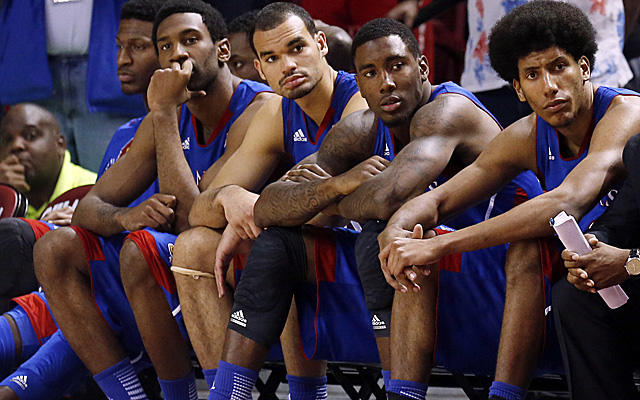 The Jayhawks, who'll likely lose their No. 2 ranking Monday, have lost three consecutive games. (Getty)
No one is truly worthy of the No. 1 spot.
Michigan was all set to move back to the top before Ben Brust and Wisconsin took care of the Wolverines in Madison Saturday afternoon. Indiana was the latest to occupy numero uno, but then the Hoosiers went out and couldn't take care of business against a fledgling Illinois team over in Champaign.
No need to mention Kansas anymore. The Jayhawks went from No. 2 to a team that has now dropped three consecutive games, including the ultimate stink bomb at TCU. Louisville, a club many (myself included) pegged to cut down the nets, also lost three straight games a few weeks back -- and the Cards came up short late Saturday night in South Bend in a five-overtime thriller to Notre Dame.
Duke had the look, feel and resume of a No. 1 team -- until senior Ryan Kelly aggravated a foot injury. Now the Blue Devils don't look all that different than everyone else after a 27-point drubbing down in Miami and a setback down in Raleigh against NC State. We still don't know the status of Kelly, and until he returns, Coach K's team is much like everyone else -- vulnerable.
Miami is playing as well as just about any team in the nation over the last month or so. The Hurricanes have drilled Duke (without Kelly), crushed North Carolina on Saturday and also took care of NC State (without starting point guard Lorenzo Brown). With its full team, Miami hasn't lost a single game this season. The mid-November setback to Florida Gulf Coast came without Durand Scott, and the two losses in Hawaii to Arizona and Indiana State were without injured big man Reggie Johnson.
Everyone was gushing about Florida after the Gators began SEC play by smashing league opponents by more than 25 points per game over an 8-0 start. But Billy Donovan's team had feasted primarily on bottom-feeder teams in a weak league. Then came the loss in Fayetteville this past week to a mediocre Arkansas club -- and we all realized that the Gators weren't any different than the rest of the teams in the top 10.
Maybe Arizona is worthy of the top spot -- even though you watch the Wildcats and certainly don't feel as though Sean Miller's team passes the look test of a No. 1 team in the land. However, the Wildcats only have two setbacks -- at Oregon and in Tucson to rival UCLA. There's the win they stole against Florida at McKale, that victory over Miami and a win against San Diego State out in Hawaii.
Gonzaga is 23-2, and we all know the Bulldogs are balanced and talented, but it's difficult to elevate a team in the WCC -- which clearly lacks another high-powered team this season -- to the No. 1 slot. Remember, Mark Few's team did lose at home to Illinois. However, Few always plays a tough non-league slate and this year Gonzaga took care of Kansas State and Oklahoma State prior to conference play.
Forget about Syracuse -- at least until James Southerland returns. If Southerland returns. The Orange had just one mishap against Temple in Madison Square Garden with the 6-foot-8 shooter in the lineup, but Jim Boeheim's team has dropped two recently -- including one at Villanova -- to take them out of the equation.
It's just too confusing to come up with the No. 1 team in the land these days, someone who has taken the reigns and earned the spot. There's no Kentucky of a year ago, just a bevy of very good basketball teams that will all be shuffling to see who enters the NCAA tournament as a top seed. Good luck to Vegas in trying to figure out the odds in who will advance to Atlanta and cut down the nets come April.
Forget about numero uno. I know the polls don't matter, but they give us banter -- never more so than this season.
No team has separated itself from the pack -- and it's highly unlikely one will over the next few weeks prior to conference tournaments. So let's come to grips with the fact that this season in college hoops is like no other. There won't be a No. 1 -- until April 8.
Northern Colorado will be on probation through 2020 due to academic and recruiting violati...

You might not see a projected NCAA Tournament bracket quite like this one anytime soon

The Wildcats, once written off after a three game skid, appear poised to enter Pac-12 play...
The Ducks are riding a three game winning streak yet are slight underdogs against the Bulldogs...

The Hurricanes are one of only a handful of unbeaten teams left in college hoops

The Bearcats are fresh off a convincing win over previous unbeaten Mississippi State