No penalties for Penn State basketball, but this scandal is still an obstacle to success
I spent this weekend at the Nike Peach Jam watching college basketball coaches watch college basketball prospects, just sitting inside the Riverview Park Activities Center on the Georgia-South Carolina border alongside the biggest names of the sport. One minute I was next to Roy Williams. The next minute it was Tom Izzo. Or Bob Huggins. Or Ben Howland. Or Eugene Burroughs. You've probably heard of those first four guys but not the fifth. The fifth is the associate head coach at Penn State. I ca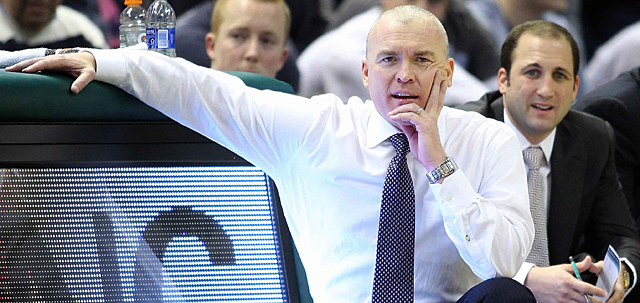 While Penn State basketball wasn't penalized, coach Patrick Chambers will still feel the impact. (US Presswire)
I spent this weekend at the Nike Peach Jam watching college basketball coaches watch college basketball prospects, just sitting inside the Riverview Park Activities Center on the Georgia-South Carolina border alongside the biggest names of the sport. One minute I was next to Roy Williams. The next minute it was Tom Izzo. Or Bob Huggins. Or Ben Howland. Or Eugene Burroughs.
You've probably heard of those first four guys but not the fifth.
The fifth is the associate head coach at Penn State.
I can't remember whether it was Friday or Saturday, but on one of those nights, in a crowd of coaches, I looked to my right and realized I was beside Burroughs. The first thing I saw was the Nittany Lions logo on his shirt and I immediately thought of Jerry Sandusky, child rape and the subsequent conspiracy to cover-up that led us to this historic day in college athletics.
So, no, the NCAA and Big Ten didn't penalize Penn State basketball in any way this morning, and it should be noted that hoops had nothing to do with the criminal activity that took place on campus. But I couldn't help but think while standing there that night that if the first thing I think of when I see a Penn State basketball coach is this Penn State scandal, that's got to be what most basketball recruits think of, too.
And this is the challenge going forward for Burroughs and his boss, Penn State head coach Pat Chambers.
"It will affect [basketball] recruiting in the short-term," said Baylor coach Scott Drew, who already knows what Chambers soon will learn, that it's difficult to recruit to a ruined brand even if the damage done wasn't your fault. Drew, in 2003, took the challenge of rebuilding the Bears program rocked by a murder and coverup under former coach Dave Bliss.
"The people who only know of Penn State what they're reading nationally probably aren't going to be interested in going to Penn State right now," Drew said. "So Penn State might have to rely more on prospects and families who know more about Penn State than what's in the news -- maybe people who had relatives or family members go there, or just people who have spent some time on the campus before all this -- because those people will probably be more inclined to see more than just this situation."
Things were great when Chambers took the job in June 2011.
Penn State was still Happy Valley and not Cover-up City.
Joe Paterno was still an icon revered by most.
But then came the indictment of Sandusky and the firing of Paterno, and things haven't really slowed since. Penn State has, in a span of nine months, gone from what many considered a beautiful example of a high-major athletics program to the most radioactive brand in sports.
So while Chambers won't have to deal with scholarship losses, postseason bans or any of the things his football counterparts must endure, there's no denying his job is now exponentially more difficult than it was when he took it, and it was already a pretty difficult job.
For that, he can thank his former bosses and colleagues.
With that, I wish him luck.
These teams went to The Big Dance in March, but could take a step back this season

The success of Chris Chiozza and KeVaughn Allen have the Gators ready to compete for SEC t...

FBI investigation suggests Quinerly received improper benefits from a Wildcats assistant c...
Meet the mid-major coach who refused to vote for the teams involved in the recruiting scan...

The player, now at the University of Portland, says he was injured during a workout which broke...