No surprise that UCLA becomes latest to target Brad Stevens
UCLA has targeted Butler's Brad Stevens. The Bruins become the latest program to make a run at the Bulldogs' coaching star, following in the path of NC State, Missouri, Illinois, Maryland and just about everyone else that's had an opening in the last couple of years.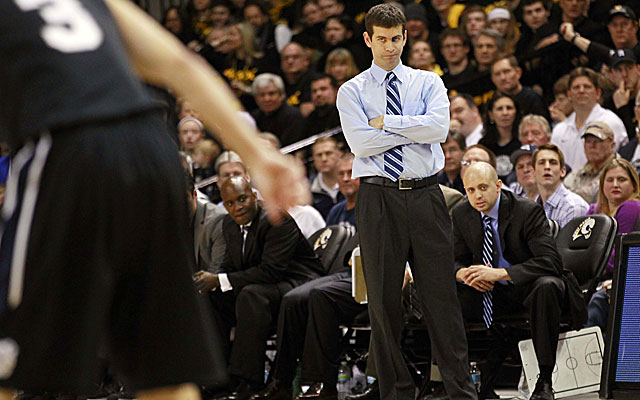 According to a source close to Brad Stevens, the Butler coach has been contacted by virtually every high-major opening over the past couple of years. So it's no surprise his name has come up as UCLA's top target in the wake of Ben Howland's firing on Monday -- especially after VCU locked up Shaka Smart with a long-term extension Wednesday night.
"In one way or another, every single athletic director has reached out to Brad -- whether it be directly or through a third person," a source recently told CBSSports.com. "You'd be dumb not to at least give it a shot." 
NC State tried two years ago. Miami gave it a shot. So did Missouri, Maryland and Georgia Tech. Last season Illinois came calling, among numerous others. Stevens said thanks, but no thanks to them all. 
Well, now Guerrero is the latest to take a crack at Boy Wonder and see if he would make the trek to the left coast and try to bring this storied program back to elite status. Howland was fired last week despite taking the Bruins to three consecutive Final Fours. 
"I'd be shocked if he left for UCLA," a source close to Stevens told CBSSports.com. "Maybe if Butler was still in the A-10, but they're in the Big East now. He's a midwest guy and Butler will pay him." 

Stevens sent out a tweet shortly after 8 a.m. on Friday morning and if you read between the lines, it certainly doesn't appear he has any interest in the UCLA gig: 
"Love walking thru Hinkle in the morning... Anxious to get started on our spring workouts next week."
Stevens is 36 years old and has a pair of national championship game appearances -- both while playing in the Horizon League. The Bulldogs won 27 games in their first and only season in the A-10 and lost to Marquette in the NCAA tournament's Round of 32. Stevens & Co. will join the Big East in 2013-14. 
Stevens is once again being pursued. The only surprise would be if he accepts. 
Nov. 10 will be here before you know it so here's what you need to know

The league would be wise to treat that series like the ACC treats Duke-North Carolina

Pacific is penalized after the NCAA found academic rules were broken
Arizona, for no good reason, doesn't have to play at USC or UCLA this season

We look at the 'Major 7' leagues and give you the best of what's to come in conference play...

Louisville's coach predicts a change is coming to the NBA's one-and-done rule by 2019