North Dakota State's big success leading toward a big decision
North Dakota State is the darling of the NCAA Tournament and has won three straight FCS championships. Will the Bison go the route of Boise State and join the biggest stage in college athletics? It's a big decision.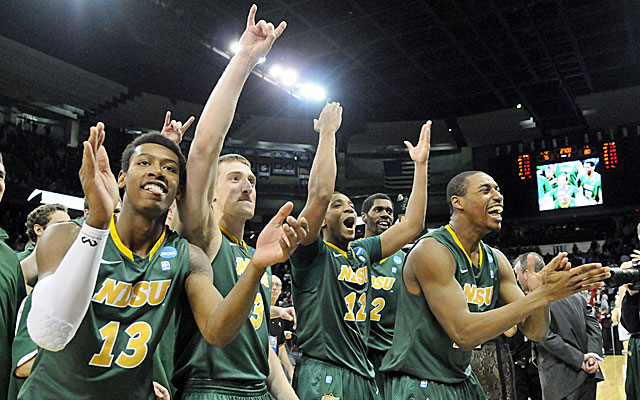 More NCAA hoops: Tournament bracket | Complete coverage of NCAAs | Latest news
SPOKANE, Wash. -- North Dakota State's whales are flying in here just like the high rollers would be for Texas and Alabama. It's a happening in this NCAA Tournament when the unwashed pull an upset or two.
This weekend, Gene Taylor is tending to those whales -- slang for big donors who build stadiums, weight rooms and the future. Yes, North Dakota State has the big kahunas, too. Not as many as Texas and Alabama, perhaps, but just as rabid.
Just don't expect them to stand up and take a bow when the Bison play their Round of 32 game Saturday against San Diego State.
"Our largest donors are anonymous donors," said Taylor, North Dakota State's AD. "They like to keep their gifts private. If you were to meet them you'd think they were homeless almost."
Halfway through a wild opening weekend, the pride of Fargo, N.D., is one of those unwashed funded -- the way Taylor tells it -- by the unwashed.  Only kidding, the AD says, hastening to add those whales "are the nicest, kindest people in the world."
Together, they've got a monumental decision to make. After Thursday's basketball upset of Oklahoma, it can be argued that North Dakota State has the best athletic department not competing at the Football Bowl Subdivision level.
The football team has won 24 games in a row and three consecutive Football Championship Subdivision (formerly Division I-AA) national titles. All that happened in six years since moving up from Division II. In only its sixth year eligible for the Big Dance, the basketball team has been to two NCAA tournaments having won its first ever tournament game on Thursday.
It took Duke, for example, 16 years to get to its first tournament and 21 years to win its first tournament game. Different times, different tournament, but you get the point. We may be witnessing a sort of college Kilauea -- the birth of a new athletic power adding to the NCAA land mass.
Taylor and the whales just need to make sure they make the right decision. Competing in FBS, at the highest level, brands a university. The difference is more than the 22-scholarship difference between FBS (85 max) and FCS (63). It marks you as one of the best, most powerful 125 schools playing that the highest level -- of football, basketball and finances.
Giving increases, so does TV exposure. Suddenly, you're part of a $7.2 billion College Football Playoff enterprise.
It can also be a money suck, a financial drain. The competition level also rises, along with costs.
An increasing number of formerly I-AA schools have sold their athletic souls trying to change the perception of an entire university. Sometimes it works. See: Boise State.
Sometimes …
"The drawback is not having success in FBS," Taylor said. "All the sudden you're 7-5 and playing in -- pick a bowl -- that is not very exciting and you're fans are going, 'Really?' "
For proof, Taylor need only travel 87 miles down the road this weekend to the University of Idaho. When conference realignment left the Vandals without a conference in 2013, the school had to make a decision about whether it still wanted to play big-time football.
AD Rob Spear hustled together an independent schedule of eight games before being allowed by school officials to proceed and stay in FBS. The Vandals went 1-11 last year with first-year coach Paul Petrino.
Getting their teeth kicked in would be a charitable description. Balance this on your spreadsheet: As part of that indy schedule, Idaho was paid $975,000 to come to Florida State in November, where it lost 80-14.
"I took some heat from a lot of our boosters," Spear said. "I really didn't have a choice. I needed a game and they had an opening. The mighty Vandals, right?"
Who play in the same NCAA subdivision as Texas and Alabama.
This is the world North Dakota State may consider joining.
"That [moving up to FBS] is always going to be out there with the success we've had," Taylor admitted.
North Dakota State has an athletic budget -- $17 million -- higher than some schools at the bottom of FBS. Annual giving is $16 million to the school's development foundation. The basketball arena is undergoing a $41 million renovation. The economy is thriving with North Dakota now the second-largest oil-producing state.
The school already sponsors the NCAA minimum of 16 sports for FBS membership. Only eight states don't have a land-grant school with an FBS program. North Dakota is one of them. 
Whatcha goin' to do Bison?
North Dakota State's basketball conference -- the decidedly mid-major Summit League -- is absolutely gushing. Until Thursday, the league hadn't won a Round of 64 game since Valparaiso in that famous Bryce Drew game in 1998. Because of the Bison's success, the Summit had its highest RPI in history according to commissioner Tom Douple.
Still, at the least the Cinderella-tinged program here in Spokane knows its place.
"There's nothing about us pretty, come on," coach Saul Phillips said. "We're the great unwashed."
There's that theme again. It may be now or never for North Dakota State. In the new governance structure, the power commissioners have let it be known they are trying to regulate -- or cap -- FBS membership.
"We've made it too easy to get into Division I and too easy to stay there," Big 12 commissioner Bob Bowlsby said last summer. "Northern Iowa and Texas aren't much alike."
Taylor says his school may not have a choice. If FCS powers continue to move up, it may not be worth it for North Dakota State -- currently playing football in the Missouri Valley -- to stay at that level. The subdivision could become too watered down.
Conference USA needs a 14th team. Georgia Southern and Appalachian State are moving up to join the Sun Belt this year. Fellow FCS powers James Madison and Jacksonville State are rumored to be hot targets.  Somewhere.
"It's still good right now, there's a lot of good football in FCS," Taylor said. "But if James Madison goes, who do you compete against? We'll keep an eye on that."
Don't scoff. Boise State playing in the Fiesta Bowl once sounded outlandish. But while the whales gathered to watch their Bison, there is a certain purity still left in being an NCAA Tournament upstart. It's still possible for a bunch of kids whose scholarship offers you could count "on two hands," according to senior Marshall Bjorkland, to have the time of their lives.
Save the whales? Sometimes it's just fun and good and right to stay anonymous.
Kentucky losing this game probably cost it a shot at earning a high NCAA Tournament seed

Freshman had 12 turnovers and 20 points; the Wildcats rattled him and kept OU on its heels

Kentucky and UNC are just behind the Blue Devils and Jayhawks
Cal's form wasn't pretty, but when it works, it works

Josh Nagel has his finger on the pulse of Purdue basketball and locked in a play for Tuesd...

Gary Parrish and Matt Norlander discuss the latest in college basketball