North Dakota State's improbable crew springs unlikely trap on OU
You've never heard of Taylor Braun or Saul Phillips, but North Dakota State's top scorer and enthusiastic coach are well-known in NCAA tourney circles after beating 5-seed Oklahoma.
More NCAA hoops: Tournament bracket | Complete coverage of NCAAs | Latest news
SPOKANE, Wash. -- This is going to require some introductions. It's not every day that an NCAA Tournament upset is cobbled together from the muscle developed on a pig, corn and soybean farm in southern Minnesota.
Or from a 6-foot-7 combo guard who had zero Division I prospects.
Or a nothing kid off the bench whose biggest challenge was getting past the box score designation -- "DNP, coaches' decision."
Sit back, because a 41-year old former Bo Ryan assistant at Wisconsin rides herd over this bunch. North Dakota State coach Saul Phillips wasn't going anywhere, anytime soon Thursday night.
"If anybody doesn't get any interviews," Phillips crowed after an 80-75 overtime West Region upset of Oklahoma, "we'll be here all night."
And at last check, the Bison were doing just that -- lingering with prejudice. Soaking up the latest 12-over-5-seed result that have become almost tournament clichés. The program's first tournament win came Thursday only four years after it joined Division I. That initial 2009 team became the first in 37 years to reach the tournament in its first year of D-I membership.
But that's for next year's media guide. For now, the last time Fargo took over Spokane so completely folks were going to the Cineplex to see the wood chipper scene. The good folks from the home on the range -- Fargo, N.D. -- filled a section of the Spokane Arena and let their upset hope spread.
In the end, the 6-7 combo guard -- Taylor Braun -- had fouled out. That was important because on the senior-dominated roster he was averaging 18.2 points. His D-I prospects coming out Newberg, Ore., four years ago were nil. Phillips only offered him because a St. Cloud, Minn. Guard named Nate Wolters took his services to South Dakota State. Wolters wound up in the NBA.
This upset was never going to happen without him. It almost didn't happen with him. Braun ended up with a nasty scrape down his right bicep and the imprint of the shoe of Oklahoma's Cameron Clark on his face. That was the result of a nasty tangle for the ball underneath a basket.
"He's unique, he's a different player," Phillips said after perusing his leading scorer's line -- 3-of-11 shooting, 11 points, four turnovers. "Taylor didn't grind them up on the offensive end, but he fills up the entire stat sheet during the course of the game, splatters all over it."
Splatters. That's a good way to put it. The pig farmer had another name for what happened Thursday night.
"Down low, it was almost like a bar fight" said post Marshall Bjorklund, sporting a nasty cut underneath his left eye.
You probably don't know that the 6-8 Bjorklund is the nation's most accurate shooter (64 percent) on the nation's most accurate team (51 percent). Phillips recruited him out of Arlington, Minn., to rebound, then found out he had a touch around the basket.
"Farming isn't as strenuous as it used to be," Bjorklund said. "It helped my basketball career. It made me tough."
You probably don't know Carlin Dupree at all. He's the kid who was stuck to the bench (DNP = did not play in box score parlance). Dupree had to play when Braun fouled out. Phillips traded his 6-7 leading scorer for the slight 6-3 freshman from Milwaukee averaging 3 points a game.
All Dupree did was score four points in the final 74 seconds to put it away. His 27th basket in his 23rd game -- a layup -- put the Bison up four with 41 seconds left.
Phillips called it the "loudest two minutes in the history of the NCAA basketball tournament."
"He's a kid that comes from a background fighting for everything he can get in inner city of Milwaukee," Phillips added. "He's certainly not spoiled."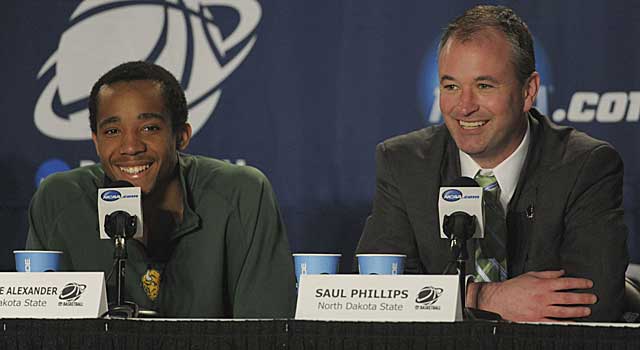 The night will be remembered, though, for the kid they call "L.A." The Bison had blown a four-point lead with 2:21 left in regulation when guard Lawrence Alexander rose up from the right wing and drained a 3.
"Buckets," Lawrence said to himself with the ball in the air.
Damn it, said the Sooners who watched the game become tied at 66 with 11.2 seconds left. Lawrence, who averages 10.8 points, had scored a career high 28.
The Bison beat an Oklahoma squad that sported the Big 12's coach of the year (Lon Kruger), who was leading his record fifth school to the tournament.
They came at the Sooners with five returning starters, along with six seniors on the roster. That No. 1 shooting offense matched up well with Oklahoma, No. 302 in scoring defense.
OU had eight top-50 wins this season. The Bison played exactly two BCS schools -- beating Notre Dame and losing to Ohio State. For the first time all year, the Sooners hit at least 10 3s and lost.
Sometimes none of it makes sense. Before Thursday, North Dakota State got most of its athletic fame from beating Kansas State in the 2013 football opener. The FCS football champions have won 24 in a row.
Phillips knows his prospects can only get better.
"Football helps us recruit," he said. "We bring a kid up there and put them in the Fargo Dome when it's packed for football. It changes a lot of misconceptions about Fargo. Fargo is a substance place. It's not a flash place."
Check Braun's face and bicep, or underneath Bjorkland's eye. Or check all of them out Saturday in the next round.
Calipari threw major shade at Duke and the coaching staff's recruiting pitch

Brown is the No. 2 center in the Class of 2018 and a big get for the Bruins

The Sooners are on a two-game losing streak but still rising on one AP ballot
Vegas legend Kenny White has nailed 3 straight UNC picks and just made a play for Monday's...

Josh Nagel has almost two decades of handicapping experience and locked in a play for Monday's...

The Wildcats stumbled to an 0-2 record this week and fell out of the top 25