OKLAHOMA CITY -- You're going to have to choose.
When the tears are dry and the smiles fade and the incredulity dissipates, history will have to find the right file folder for what happened here Sunday night.
But before any of it, you're going to have choose. Comeback? Choke? Texas A&M somehow beat Northern Iowa 92-88 in two overtimes. Or was it Northern Iowa somehow losing to Texas A&M in two overtimes?
Right now, which is it? 
"Surreal," said A&M's Danuel House who scored 10 of his 22 points in the two overtimes. 
"I wish I could get some time back," said Northern Iowa's Paul Jesperson who, ironically, left no time on the clock Friday with a half-court buzzer beater.
In the end, the cuddly mid-major underdogs from Cedar Falls, Iowa, were taught a cold, cruel lesson about the real world. Sometimes it's just unforgiving. Sometimes there doesn't have to be a reason.
Or maybe the Panthers taught it to themselves. They shocked the world Friday with Jesperson's heave against Texas. Then they shocked themselves.
"I'd like it to be known for Texas A&M coming back but I guess it's going to known for us choking," said Panthers forward Klint Carlson, "but I don't see it that way."
"We easily could have given up there at the end," Northern Iowa's Jeremy Morgan said.
Except that's almost what it looked like down the stretch. The Panthers led by 13 with 11:30 left, 11 with 6:30 left, 11 again with 71 seconds left, 12 with 44 ticks left.
Then the biggest collapse in college basketball history happened.
ICYMI, Texas A&M's rally from 12 down w/less than 1:00 to play is the largest last-minute deficit overcome to win in college hoops history.

— David Worlock (@DavidWorlock) March 21, 2016
The Aggies somehow scored 14 points in the last 35 seconds. Northern Iowa couldn't even hold a five-point lead with 17.9 seconds left.
At that point, Carlson had just gone down and dunked on a breakaway to make it 71-66. But if the Northern Iowa redshirt sophomore just turns around and dribbles in circles, were talking a purple reign.
But he didn't. That left time. Too much time.
In the end, the Panthers forgot to set the parking brake on a win that was a lead-pipe lock. They turned it over four times in the final minute -- all of them pretty much unforced errors. Apparently, one of those win projection sites gave the Panthers a better than 99 percent chance to win with a minute left.
Except the Einsteins who dreamt up that whole concept forgot there was an actual game left to play by actual humans.
"It was," Missouri Valley commissioner Doug Elgin said softly, "tragic."
Everything had to go wrong -- a 1,000 little things.
Sure, the Aggies somehow scored 14 points in those final 35 seconds of regulation to tie. Or was it more the Panthers somehow allowing the Aggies to score 14 points in the final 35 seconds?
Whatever. A 69-57 lead with 44.3 seconds left somehow became a 71-71 tie with 1.9 seconds left.
But even then it wasn't over. It took Northern Iowa giving up a two-point lead in the final 20 seconds of the first overtime. It saw the Panthers clinging to life with their top three scorers either fouled out (Wes Washpun, Paul Jesperson) or hobbled by a knee injury (Matt Bohannon). 
It saw House climb into the stands afterward, posing for selfies with any Aggie with an iPhone. A few minutes earlier he could have climbed under a rock, starting the game 0-for-9.
That somebody named Jeremy Morgan dropped 36 points. Carlson finished 17 with 3-pointers all season. Three of them came Sunday night.
The Aggies grabbed 50 rebounds. Then the final, hurried, wild conclusion asked for an opinion. 
"It should be called, 'Comeback Aggies,'" House declared. 
There will be those who come down on both sides. The story could have written itself. Northern Iowa was on the verge of knocking off two of Texas' finest (Texas, Texas A&M) with combined budgets of $350 million to reach the Sweet 16.
The Aggies were able to come back despite House and Jalen Jones -- the team's top two scorers -- starting 1-for-16. Add to that, for half the contest Texas A&M didn't look like it wanted to be there.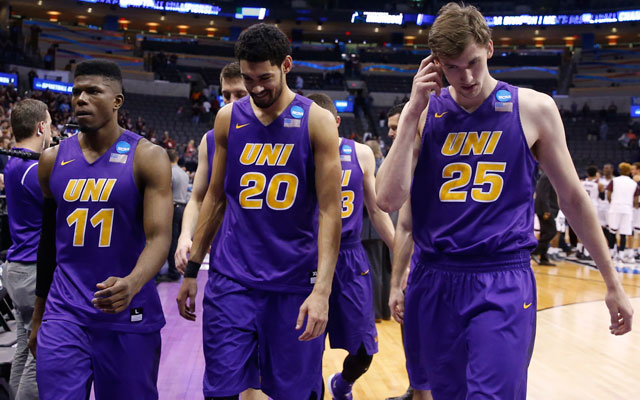 The game wasn't hard to break down. The simple eye test told you the Aggies were bigger and faster and just … better. With Kentucky bowing out, a football school was the SEC's tournament pride and joy. The Aggies first regressed, then survived, before advancing. 
In a game in which 140 shots were launched in 50 minutes of play, it came down to a precious few seconds that neither team will forget.
It seemed simple. Northern Iowa led 71-69 with 11.8 seconds to go. Jesperson in-bounded under his basket. For some reason he passed it to Washpun near the end line.
For some reason Washpun maneuvered himself into a corner. It was there he was surrounded by Aggies reserves Admon Gilder and Tonny Trocha-Morelos.
Washpun pivoted. No one open. Gilder and Trocha-Morelos closed in forming sort of a human awning over Washpun. Nowhere to go. Not over, not around, not past.
With a five-second count looming, Washpun tried to bounce it out of bounds off Gilder's leg.
"That's what I thought he was going to do," said Gilder who stepped back to catch what amounted to a bounce pass from Washpun. "I just actually read the play."
With 1.9 seconds left, Gilder laid it in for the tie and overtime.
From there, well, wasn't it fate that Texas A&M would win and get to its second-ever Sweet 16?
Well, no. It's not that simple. In fact, it's complicated -- something that will have to be sorted out beyond Sunday night. Kansas pulled a gag job like this three years ago in the Elite Eight. The Jayhawks led Michigan by 14 with seven minutes left and by five with 21 seconds left -- and lost.
The difference being Kansas probably has a good chance of getting to the Elite Eight again. This week as a matter of fact.
The odds for Northern Iowa getting back to this point? It's possible, just not likely in any given season. The Panthers have gone to one Sweet 16 in their history and it took a miracle shot to get them there. 
"Thirty seconds that we aren't going to be able ever have an answer for, nor do we need one," Panthers coach Ben Jacobson said of Sunday's meltdown. "It just happened to go that way."
Jesperson walked the bowels of Chesapeake Energy Arena with a towel over his head. A&M guard Alex Caruso stopped him to say, "Keep your head up, man. You're a heck of a player."
"It felt like we were a minute away from dancing," Jesperson had told reporters.
In fact, Paul, you were. If it hurts, it should.
"It shouldn't have ended tonight," Jacobson concluded, "but maybe it ends next Thursday [in the West Regional]. Maybe it ends on Saturday.
"Unless you play that final game, there is an end .... The way this one went down, there is no question this the hardest one I've ever been a part of."
Or the best, if you walked just a few steps to the giddy Aggies' locker room.
You choose.