Not a classic Calipari PG, Tyler Ulis is just what Kentucky needs
On paper, Tyler Ulis won't garner headlines. He's 5-foot-8 and was only a four-star prospect. But he's just what Kentucky needs at point guard.
• 3 min read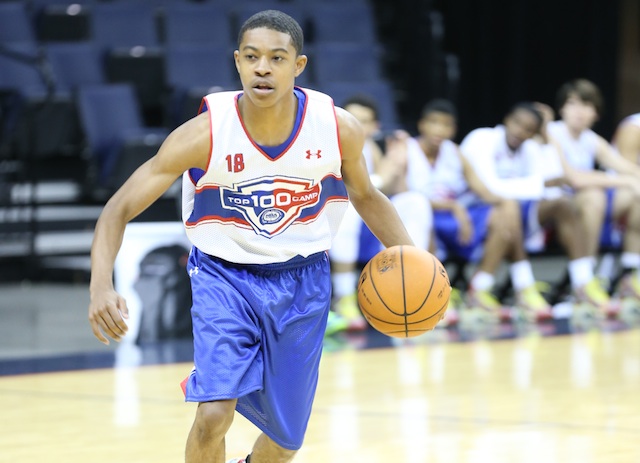 We all know the classic John Calipari point guard: strong, aggressive, explosive off the dribble, able to draw contact and get to the free-throw line consistently. And tall. That last part might be the most noticeable – Calipari hasn't been dealing with 6-foot lead guards.
Derrick Rose is 6-foot-4; Tyreke Evans is 6-foot-6; John Wall is 6-foot-4; Brandon Knight is 6-foot-3; even Marquis Teague is 6-foot-2.
And look who he has coming in for the 2013-14 season: Andrew Harrison, an elite 6-foot-5 prospect who is perfect for the Calipari mold.
As a result, most signs pointed to top-five prospect Emmanuel Mudiay being the next in line. He is 6-foot-5 and nearly impossible to keep out of the lane. Of course, Mudiay shocked everyone and committed to SMU last month – leaving Kentucky searching for a contingency plan.
Plan B ended up being Tyler Ulis, a Marian Catholic (Ill.) product who boosted his stock during the summer and eventually chose Kentucky on Friday night over finalists Michigan State and Iowa.
Let's get one thing out of the way quickly: Ulis is certainly not the classic Calipari point guard.
Ulis not a top-five – or even five-star – prospect; he is ranked No. 38 in the 247Sports Composite. Ulis not a big, strong scoring playmaker; he's 5-foot-8, 142 lbs. and is much better as a passer than a scorer.
When Kentucky missed on Mudiay, many people in Big Blue Nation were understandably upset. He was supposed to be a done deal for months; how could Calipari miss on his biggest target? Ulis being mentioned as the next point guard target for the Wildcats didn't go over so well, either. Seriously, how good can a 5-foot-8 point guard be in Lexington?
I'm here to tell you that Kentucky fans are going to be pleasantly surprised with Ulis. And I know exactly where they're coming from, too. I first watched Ulis two and a half years ago, when he was playing with on the AAU circuit with the 15U version of Meanstreets. He played extremely well, making clutch plays down the stretch and leading his team to a win.
Was I impressed? I guess. But in the end, he was 5-foot-8 (probably 5-foot-5 back then) and I didn't see him as much of a high-major player. Chicago recruiting expert Scott Phillips happened to be watching with me that day, and he basically said that Ulis was going to be end up playing in a BCS-level league. "He's a winner and can run an offense," Phillips said.
Thirty months later, I'm here to tell Kentucky fans the same thing. Ulis might not jump out at you on paper, but he's exactly what the Wildcats need: a point guard who doesn't need to score in order to make an impact. Calipari will surround him with plenty of talent, and Ulis will excel in that sort of environment. Can he go against elite-level point guards? Without a doubt. Ulis proved that at the Peach Jam back in July, when he went head-to-head with top-five prospect Tyus Jones and more than held his own, finishing with 22 points and 17 assists and flat-out controlling the game at times.
Having a string of extremely talented one-and-done point guards is undoubtedly something with which to be impressed. No other coach could have done what Calipari did over the past six years or so (with the exception of Ryan Harrow, of course). But doing that led to Calipari being under plenty of pressure to bring in a top-five prospect to run the show – every year.
Ulis is a four-year player. He'll bring stability to the position. He's not going to go to Lexington with one foot out the door and one eye looking toward the NBA. With Ulis on the roster, Calipari doesn't need to bring in a lottery-level point guard on an annual basis. Can he pursue them? Of course, but it will be out of luxury, not necessity.
Ulis won't garner as much attention with his commitment as Harrison or Wall did, but Kentucky will be just fine with him running the show for the next four years.
The UConn women's basketball coach stepped in to offer up a solution in an education budget...

Duke and North Carolina players will skip ACC Operation Basketball because of new NCAA pol...

After a close game against Michigan, Air Force is playing San Diego State with some moment...
Quickley played for John Calipari this summer with USA Basketball

A revamped Erwin Center is part of a $4.25 million upgrade to the Longhorns' hoops facilit...

Nov. 10 will be here before you know it so here's what you need to know