Not all early entries made an NBA roster (but it's not a big issue)
Yes, there are some underclassmen who entered the NBA Draft early but did not make an NBA roster, and that's too bad. But it's not a serious issue nor one the NCAA should concern itself with.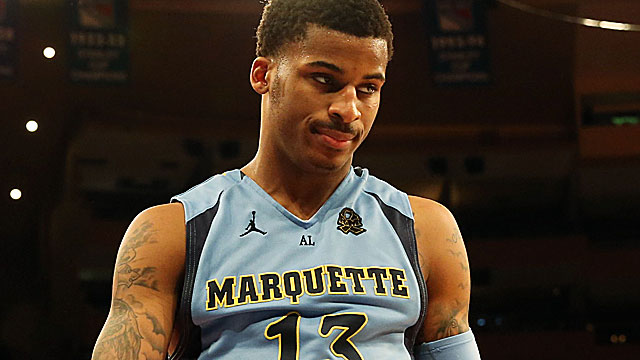 Tuesday night represents the start of another NBA season in which several prospects we watched play college basketball just eight months ago will dress for professional franchises. Congrats to them all. But it's still difficult to ignore the fact (if only because it's been all over Twitter) that there are a handful players -- Vander Blue, Grant Jerrett, Adonis Thomas and 17 others -- who left school early but did not make an NBA opening-day roster.
And that's too bad.
Talk to any basketball player and they'll tell you the goal is to play in the NBA. Anything short of that is considered disappointing. So, yeah, this is disappointing, and it's led to a conversation about how the NCAA should handle such situations. To that point, my pal Jeff Goodman tweeted the following when the Knicks waived C.J. Leslie over the weekend: "I would like to see a rule put in where underclassmen who do not get drafted can return to college. Let's try and help these kids." Then Portland coach Eric Reveno replied this way: "I would like to go one step further and if a kid does not like his draft pick, he can go back to college. Why protect NBA?" Then Goodman replied like this: "I am completely on board with that. Let's try and help these kids from making mistakes, not compound them."
That exchange interested me.
On one hand, I don't think I'd have any issue with rule changes that would allow players to A) return to college with eligibility if they go undrafted (like Goodman suggested), or B) return to college with eligibility if they simply do not like where they were drafted (like Reveno suggested). Yes, it would put NBA franchises in a tough spot. But the NBA has never seemed to care much about what effect its collectively bargained rules might have on college basketball. So, like Reveno said, why should the NCAA protect (or care at all about) what effect its rules might have on the NBA?
That said, is such a rule really practical?
The NCAA is so illogically tied to the concept of amateurism that I can't imagine a scenario where an underclassmen could go all the way through the draft process without compromising his amateur status. I realize college baseball players theoretically do it. But basketball and baseball are two different deals entirely, and, regardless, the Major League Baseball Draft actually happens during the college baseball season. So nobody is asking baseball prospects to maintain their amateur status for three months after a season ends while they're waiting to learn if they'll like where they're selected (or if they'll even be selected at all). Such is not the case for college basketball prospects. A college basketball season is over for most prospects by mid-March; the NBA Draft isn't until late-June. That's a long time to float between the categories of "amateur" and "professional." So I don't believe allowing underclassmen to return to school with eligibility remaining after the NBA Draft would be practical unless the NCAA is willing to reexamine its concept of amateurism and extra benefits, and there's no real indication that the NCAA would be willing to do that, or even that most college coaches would want it.
But whatever.
That's not my main point with this column.
My main point with this column is about the idea that the NCAA should "help these kids."
That seems silly to me.
Though I freely admit that it's disappointing to see some players leave school early to chase their dreams of playing in the NBA only to not make the NBA, it should be noted that we're only talking about a total of 20 people. (Just 20!) And of those 20, at least nine -- Saint Joseph's C.J. Aiken, Bethune Cookman's Adrien Coleman, Morgan State's Christian Kabongo, Rider's Nurideen Lindsey, Oklahoma's Amath M'Baye, Spartaburg Methodist's Joshua Simmons, UNC Greensboro's Trevis Simpson, Delaware's Tahj Tate and Fresno Pacific's John Taylor -- knew when they sacrificed their eligibility that they wouldn't immediately bounce to the NBA. So we're really only talking about 10 or 11 "kids" who might be, at this moment, regretting their decisions, and, beyond that, they're not really "kids."
They're adults.
Young adults, sure. But they're still adults free to make all sorts of questionable life decisions, and I've never understood why folks are so anxious to try to protect basketball players from possibly bad decisions when thousands of college students make similarly questionable decisions every single year.
It's not just basketball players who withdraw from school to chase dreams, you know?
Actors do it.
Musicians do it.
Entrepreneurs do it.
All sorts of people do it for all sorts of reasons. Sometimes it works. Often times it doesn't. But, best I can tell, that's a personal issue or a parental issue -- not an NCAA issue. In other words, it's my job to try to make sure I make good decisions, and it's my job to try to make sure my son makes good decisions. But I don't believe we need a system in place to theoretically help prevent basketball-playing adults from making questionable decisions. And, regardless, it's important to remember that not all of the so-called questionable decisions these basketball-playing adults make are actually questionable decisions when viewed through the scope of the real world.
Take Deshaun Thomas, for instance.
He led the Big Ten in scoring last season, took Ohio State to the Elite Eight and entered the NBA Draft, where he was selected 58th overall. He played summer league and performed well. But it became clear, at some point, that the 6-foot-7 wing probably wouldn't make the opening day roster. So Thomas signed with a pro team in France -- where he's now earning an annual net salary in excess of $150,000, according to his agent J.R. Hensley.
Is this really the "kid" we're trying to "save?"
He's a 22-year-old making a six-figure salary in France.
He's doing OK.
Granted, this is not where Thomas planned on being or wanted to be when he announced that he would forgo his senior year. But if the worst decision Thomas ever makes is dropping out of college to earn $150,000 playing professional basketball in Europe, man, he really is going to live a charmed life.
Bottom line, is this really an issue at all?
By my count, 27 of the 47 prospects who entered the NBA Draft early actually ended up on an NBA roster, another nine (that's 36) knew they never would, and Thomas is making bank in Europe (that's 37). That means no more than 10 players could reasonably regret their decisions to leave college, and I bet the number is actually lower. And, either way, I'm just not sure something that affects 10 people a year in a Division I sport with around 4,000 players is worth worrying too much about.
Transfer waivers?
Yeah, that's an NCAA issue.
The outdated concept of amateurism.
That is most certainly also an NCAA issue.
But this?
This doesn't seem like an NCAA issue.
In fact, the numbers suggest, it's not a serious issue at all.
Fall is being shut down after dealing with shoulder injuries and will undergo surgery soon

The Wildcats' resume doesn't seem too impressive right now

Was there contact? 'Everybody saw it,' UK coach John Calipari said
After losing its second game this week, a deep NCAA Tournament run looks far-fetched for U...

Coach K shows he is on on top of his game by landing the best three prospects in the Class...

The Buckeyes and Boilermakers continue to assert their dominance in the Big Ten