Notebook: Carlton Bragg boosts stock, Vance Jackson has offers
Two young prospects were impressive last weekend in California: Carlton Bragg and Vance Jackson. Both are seeing their recruitments pick up.
• 2 min read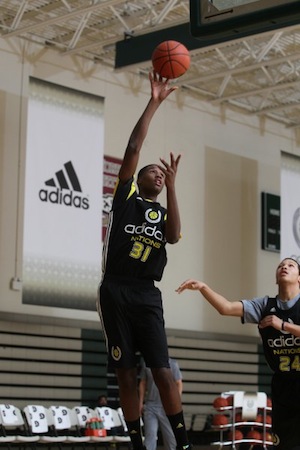 Carlton Bragg is a top-25 2015 prospect. (247 Sports)
A year ago at this time, Carlton Bragg wasn't really on the recruiting radar. After a stellar summer with the Ohio Basketball Club AAU team, though, Bragg began to hear from some bigger schools.
Now, Bragg is one of the top 25 prospects in the class of 2015 and continues to boost his recruitment.
"I'm working on my game a lot," Bragg said over the weekend. "I'm taking people off the dribble. Playing defense. Running the floor better than I was. I'm just having fun. It's good exposure. I'm trying to get my name out there right now."
It seems that colleges across the country already know all about the 6-foot-8 power forward from Villa Angela-St. Joseph (Ohio).
Bragg holds offers from West Virginia, Cleveland State, Illinois, Ohio State, Xavier, DePaul and others, while Missouri, Oklahoma, Duke, North Carolina and NC State have expressed interest.
Ohio State and Illinois are two of the schools coming at him the hardest.
"I'm just in the process of getting recruited," Bragg said. "I want a school that welcomes me, and I [have to] like their style of play."
Bragg is No. 22 in the 247 Sports Composite rankings.
Vance Jackson holds three early offers
Just finishing up his freshman year of high school, 6-foot-7 Vance Jackson could emerge as one of the top players in the class of 2016. He has great height for the wing and can knock down shots consistently from the perimeter.
But Jackson has no idea how he stacks up to his peers; he hasn't played against most of them yet.
"I don't worry about that," he said. "I'm just in the gym every day. When I see them on the court, I'll just go at them."
Jackson, who is from La Salle High School in Pasadena, Calif., holds offers from Connecticut, Washington and Arizona, with interest coming from UCLA, Stanford, Kansas, USC, UC Irvine and Detroit. 
"I can do everything, almost," Jackson said. "I can shoot. If they're pressing me, I can blow by. But I could get a lot better. [I'm working on] everything, from athleticism to talking on the court to rebounding to dribbling, passing."
Gary Parrish and Matt Norlander discuss a wild Saturday of college basketball

Ball left the program earlier this month and has since signed with a Lithuania professional...

Sooners beat third-ranked Shockers while Florida and FSU lost in upset fashion to unranked...
The Hoosiers grow up before our eyes, and Miller has his first signature victory as Indiana...

Trae Young, a freshman and the nation's top player, has a 21-point first half at Wichita S...

Michigan State is probably going to have company atop the Big Ten standings