Notebook: Dominic Woodson going through two recruiting processes
Top-50 big man Dominic Woodson is hearing from plenty of colleges, but he is also being pursued by some of the elite basketball high schools in America. Plus, dual-sport star Tadric Jackson makes impact on the hardwood.
• 2 min read
Dominic Woodson has more than one destination decision to make in the coming months. Not only is he going through the college recruiting process, but Woodson also needs to settle on a new high school.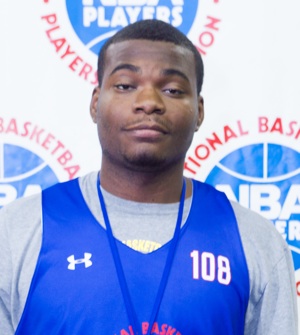 Four-star big man Dominic Woodson was one of the more productive players at NBPA Top 100 Camp. (Davide DePas)
The 6-foot-9 big man spent last season at Vermont Academy (Vt.), but the Louisville native is moving on.
"Vermont wasn't for me," Woodson said. "It was too far away."
He's looking at Findlay Prep (Nev.), Huntington Prep (W.Va.) and Sunrise Christian (Kan.), and plans to decide fairly soon. The top-50 post prospect would be a valuable asset for any of those three programs – as well as whichever college gets his commitment.
For now, Woodson is hearing from Oklahoma, Baylor, TCU, Texas Tech, Texas A&M, Cincinnati, Memphis, Louisville, North Carolina State and Rhode Island. He has taken trips to Baylor and Texas A&M, and liked what he saw at both places.
Baylor: "Their big men get the ball a lot."
Texas A&M: "We played a tournament there. It was nice, I got to walk around."
Woodson, who averaged an impressive 9.0 points and 6.4 rebounds at NBPA Top 100 Camp, said Louisville, NC State, Baylor and Texas Tech are coming at him the hardest right now.
Not flashy, but Tadric Jackson gets it done
When watching Tadric Jackson, you're not going to immediately notice overwhelming athleticism or explosive quickness to the rim. However, Jackson grows on you every time you watch – he's a smooth lefty guard who is crafty with the ball and can get into the lane.
"I want to get better," Jackson said. "I think I'm playing real good, attacking the rim."
Tennessee, Florida State, Ole Miss, Florida, Georgia, South Carolina and Georgia Tech are coming after him for now, but the 6-foot-2 prospect in 2014 is a dual-sport star – and could be better on the gridiron.
He's ranked No. 31 in the class of 2014 by CBSSports.com.
News and Notes: Five-star 2014 prospect D'Angelo Russell visited Kentucky on Monday, while fellow elite guard Jaquan Lyle is taking a trip on Tuesday . . . Former South Carolina commit Carlos Morris is headed to Chipola Junior College in Florida . . . Top-100 prospect Michael Chandler is off to Northwest Florida State Junior College . . . Toledo has nabbed three commitments in the past couple days: Jordan Lauf, Zach Garber and Jonathan Williams . . . 2014 forward Cameron Jackson pledged to Mount St. Mary's.
FBI investigation suggests Quinerly received improper benefits from a Wildcats assistant c...

Meet the mid-major coach who refused to vote for the teams involved in the recruiting scan...
The player, now at the University of Portland, says he was injured during a workout which broke...

Please don't start with the 'Being preseason No. 1 didn't work out so well for Duke last season!'...

A look at some of the biggest name coaches in new places in 2017