Notebook: Emmanuel Mudiay has elite suitors
As one of the top players in a loaded 2014 class, guard Emmanuel Mudiay has a long list of elite-level colleges pursuing him. Meanwhile, 7-foot-5 Mamadou Ndiaye has turned heads this month.
• 2 min read
In a 2014 group that is loaded at the top, Emmanuel Mudiay might have the most potential of any guard in the class. At 6-foot-4, Mudiay's size and skillset make him nearly impossible to defend.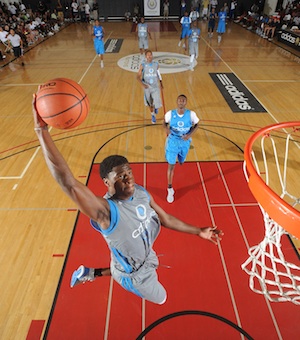 6-foot-4 point guard Emmanuel Mudiay is ranked as the No. 5 prospect in the class of 2014. (Davide DePas)
"Some people say [I play like] Tyreke Evans, some say Dwyane Wade," Mudiay said. "I don't really pay attention to that, I just play."
Ranked No. 5 by CBSSports.com, the Grace Prep (Texas) product has plenty of high-level suitors.
He recently mentioned Baylor, SMU, Texas, Oklahoma, Kentucky, Arizona, Kansas, Marquette and others as the schools pursuing him.
"I'm keeping all my options open," Mudiay said. "I'm looking for a coach that will bring the best out of me. A place that will make me a better person on and off the court."
7-foot-5 Mamadou Ndiaye immediately turns heads
When you stand 7-foot-5, it's impossible not to be noticed by everyone in the vicinity. When you're 7-foot-5 and pretty skilled at basketball, it's even more difficult to go unnoticed.
Mamadou Ndiaye made appearances at the Pangos All-American Camp and NBPA Top 100 Camp recently, and he left people impressed by his ability.
"I've been playing four or five years," he said. "Now I'm just learning a lot of stuff. I'm working out everyday."
Ndiaye plays for the tiny Huntington Beach Brethren Christian School (Calif.), but he continues to improve his game. Given his size and potential, expect schools from coast-to-coast to enter his recruitment.
"I don't know where I want to go," he said. "I'm going to go home and think about a lot of stuff." 
News and Notes: Creighton has been the busiest school this week, picking up four commitments: Toby Hegner, Darian Harris, Nick Norton and Ezra Talbert . . . Valparaiso picked up a solid commitment from Chicago native Jubril Adekoya. He is active at both ends . . . JC transfer Alex Davis is headed to Fresno State . . . Northern Iowa scored a commitment from Klint Carlson . . . Oklahoma State completed its 2012 class with Kirby Gardner . . . UW-Green Bay nabbed Turner Botz . . . Ayinde Sprewell, who had high-major interest, committed to Florida International . . . Kansas officially announced the signing of Milton Doyle . . . Former St. John's and Dayton commit Jevon Thomas will do a prep year at St. John's Northwestern Military Academy (Wis.) . . . Maryland signee Damonte Dodd is going to Massanutten Military Academy for a prep year . . . For all the other prep transfer news, go to Jason Hickman's list at MaxPreps.com. 
The Wildcats, No. 6 in Friday's updated Top 25 (and one), play their first tough team in a...

Thomas will be just the third player to have his number retired at the University of Washi...

The 47,000 square foot facility on Nike's world headquarters looks awesome
Gary Parrish and Matt Norlander discuss the latest in college basketball

The university also maintains that Pitino was appropriately fired

Price only made it nine games into his third season