Notebook: Georgetown picks up big man Bradley Hayes
Georgetown needed another big man to fill out its recruiting class; on Wednesday afternoon, the Hoyas received a commitment from fast-rising Bradley Hayes. UConn also worked its German connections to get a player.
• 2 min read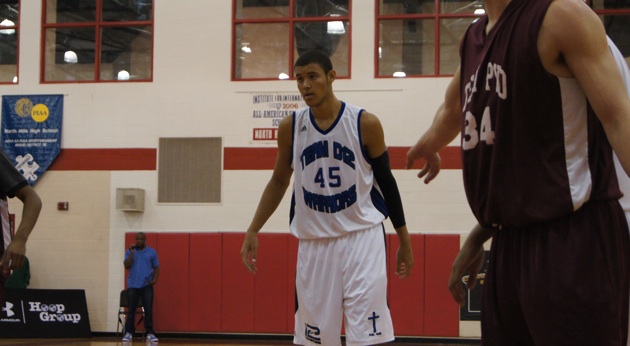 Big man Bradley Hayes was one of the most sought-after prospects left on the board in 2012. (Under Armour/Kelly Kline)
It was only one month ago when Bradley Hayes burst onto the recruiting scene and started hearing from major-conference schools left and right.
On Wednesday, Hayes capped up the quick rise to prominence by signing with Georgetown.
"They have a good history of developing big men who actually do something while you're in the league," Hayes told The Florida Times-Union. "One of my goals is to make it to the league, and also get a good education in going there. When I visited, they accepted me into the Hoya family. They made me feel real accepted."
Hayes, a 6-foot-11 center from Sandalwood (Fla.), had knee injuries during his freshman and sophomore seasons that kept him off the court. He also went through a major growth spurt in the past couple of years.
UCLA, UCF, South Florida, Arkansas, Georgia, Michigan State, Connecticut and others were also involved in his recruitment.
UConn works German ties once again
Connecticut is banking heavily on its German connection in order to be successful next season. The Huskies already had Enosch Wolf and Niels Giffey on the roster, but now they have added a third foreign player.
Leon Tolksdorf, a 6-foot-8 forward, committed to the Huskies on Wednesday. His pledge comes on the heels of four-star forward Phillip Nolan announcing for Connecticut last week. Both players visited the Storrs campus last week.
Based on a couple of YouTube videos – high-level evaluating tool, of course – Tolksdorf has a nice 3-point stroke and good inside-outside ability. He will look to replace Roscoe Smith, who transferred from UConn last month.
While Connecticut won't have the talent level of past years, at least the Huskies are filling out their roster. They still have two scholarships to give.
News and Notes: I.J. Ready committed to Mississippi State on Wednesday night . . . Arkansas got a commitment from JC forward Coty Clarke . . . James Hunter signed with Washington State . . . Harvard added to its class with Patrick Steeves . . . North Texas had a huge pickup with former Nebraska commit Keith Coleman. Kid is a beast . . . A couple more JC transfer signings: Shareif Adamu to Auburn and Fahro Alihodzic to UAB . . . Eric McClellan pledged to Vanderbilt earlier this week . . . David Andoh is off to San Jose State . . . Mark Simpson pledged to Missouri State . . . Florida International has picked up a couple of commitments in the past couple of days: Jerome Frink and JC transfer Malik Smith . . . Drake nabbed Robertas Puleikis out of Detroit Country Day (Mich.) . . . Cody Joyce is headed to Houston Baptist . . . Appalachian State picked up Frank Eaves . . . Lexus Williams committed to Valparaiso . . . Logan Mortenson to New Hampshire . . . IMG Academy (Fla.) product Chris Fowler popped for Central Michigan on his visit . . . Like father, like son: Blake Simmons will play for his father at Evansville . . . The Long Island-Texas connection hit again with D.J. Griggs.
Freshman overcomes plenty before he even puts on a jersey and then sparks signature win for...

Officials didn't buy the flop, but the Mastadons player gets an A-plus for his acting effo...

It's early, but the Vols appear to finally be heading in the right direction
Shittu is the highest rated Vandy commitment since .. Darius Garland, who committed last w...

Gary Parrish and Matt Norlander also preview the PK80-Phil Knight Invitational

Either the Shockers or the Irish will lose for the first time in Wednesday's Maui Invitational...