Notebook: Isaiah Whitehead has Louisville, Syracuse, Minnesota
We have updates on 2014 prospects Isaiah Whitehead and Brekkott Chapman, plus 10 of the top performers from NBPA Top 100 camp.
• 4 min read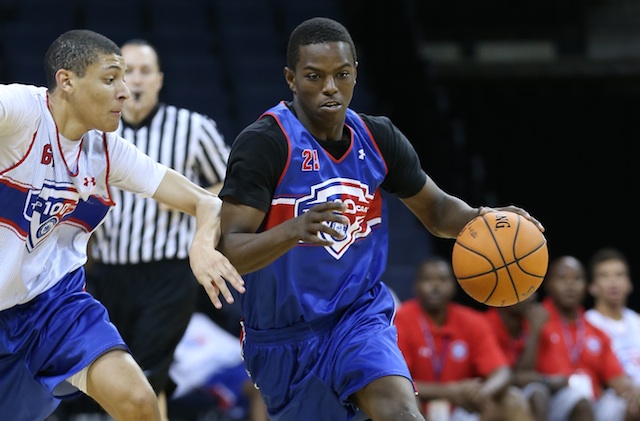 CHARLOTTESVILLE, Va. -- Don't tell Isaiah Whitehead that rankings don't matter.
The 6-foot-4 guard from Lincoln (NY) has seen his status drop from a five-star prospect into the 30s. At the 247 Sports Composite, he's No. 33 in the class of 2014.
"I want to move up in the rankings," Whitehead said. "I think I belong in the top 25 at least."
Whitehead has been proving himself as one of the top scoring guards in the country, finding ways to get points in a variety of ways. He makes difficult and contested shots better than anyone in the class, and has deep range on his outside jumper. Whitehead is aggressive with the ball and isn't afraid to drive into traffic. He also defends and has underrated vision.
Through the first three games of NBPA Top 100 camp, Whitehead has been consistent, scoring in double-figures in each contest. In fact, he's leading the camp in scoring heading into Friday night.
"All the guys out here that's ranked higher than me, I'm just going at them and showing everybody that I'm better than them," Whitehead said.
In terms of recruiting, three are coming at him the hardest: Louisville, Syracuse and Minnesota.
"They're just great programs," Whitehead said. "They have great coaches."
St. John's and UCLA are also making an effort, but he wants to visit the aforementioned three after the July live period.
"Just a family atmosphere," Whitehead said when asked what he's looking for in a school. "A great coach, my style of play, education, everything."
Brekkott Chapman's shooting sets him apart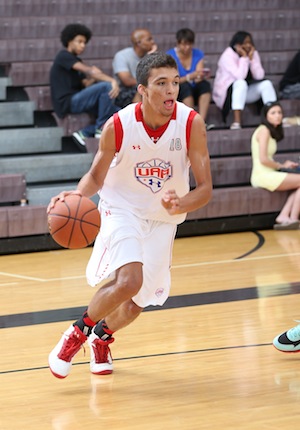 The 6-foot-8 Chapman can shoot. (Kelly Kline/Under Armour)
After flying somewhat under the radar for most of the spring, Brekkott Chapman has played in two high-profile tournaments in June: the Pangos All-American Camp and the NBPA Top 100 camp.
And he's been holding his own.
"I can hang with the top players in the country," Chapman said. "I play with a high motor all the time, just go go go. I want to prove that I can play defense, bang with the big men and hang with the guards, too."
Chapman, a 6-foot-8 forward from Roy (Utah), has risen to No. 23 in the 247 Sports ranking. The lefty has a consistent perimeter stroke from deep, making him a matchup problem for most opponents. While he does need to add muscle and some physicality to his game, Chapman's ability to stretch the defense makes him a much-needed asset for many teams.
As a result, his college recruitment continues to pick up.
Utah is on him the hardest, with Gonzaga also making a major effort. BYU, Utah State, Arizona, Arizona State, Colorado and San Francisco have also offered.
"I had an offer from UCLA, but the new coach has come in, and I was told by coach [Duane] Broussard that all they're waiting on is for coach [Steve] Alford to see me," Chapman said. "And then I'll have an offer from them."
Chapman isn't sure where he wants to go for college, and he's yet to trim his list or plan any visits.
"I want to be able to play upbeat, go go, push-the-ball offense," he said. "Gotta be able to know the coaches really well. Just kind of a home environment."
NBPA Top 100 Camp standouts
Stephen Zimmerman, 2015: After playing really well at Pangos last weekend, Zimmerman is again making a statement to be in the top five in 2015. He can score inside and out, and is defending well.
Chieck Diallo, 2015: Diallo is getting better and better. He runs the floor extremely well, blocking shots defensively and attacking the glass on the offensive end. He's always around the ball.
Derrick Jones, 2015: Jones seems to get a little bit bigger and taller every time I see him play. He is an outstanding athlete who threw down a couple of big-time dunks, and also hit a jumper.
Kevon Looney, 2014: Looney is just a very difficult matchup for most opponents. He can score in a variety of ways, and he's active around the basket and on the offensive glass.
Kameron Chatman, 2014: The lefty wing has always been able to score at a high level, but he was knocking down jumpers on Friday morning, which makes him even tougher.
Romelo Trimble, 2014: Maryland has a good one in Trimble, who has been effective offensively on both days. He is hitting 3-pointers consistently and is also getting to the rim off the bounce.
Justin Jackson, 2014: Jackson is just so difficult to defend because of his ability to knock down floaters and pull-up jumpers in the mid-range. It's something most players at this age don't have in the arsenal.
Caleb Swanigan, 2016: At 280 pounds, Swanigan is clearly a load to handle on the inside. He's young, but is already adept at sealing his man on the block and getting position. Can finish with both hands.
Daniel Hamilton, 2014: It's getting to be almost impossible to keep Hamilton from scoring once he gets a step to the basket. He can shoot from the perimeter and is a very good finisher at the rim.
Myles Turner, 2014: No one's stock is rising faster than Turner, who has risen into five-star status in some rankings. He can pass well out of the post, and blocks shots well. Showed some perimeter punch, too. 
Alabama enters the top 25 while Northwestern drops out after a rough week

Four years ago, Bryant told Jimmy Kimmel that he'd have picked UNC

Dates, start times and streams of LaVar Ball's interview with CNN
Wichita State and Notre Dame could meet in the final of the Maui Jim Maui Invitational

The Wildcats are 3-2 with two losses to unranked teams

Trump again says he should have left LiAngelo Ball in China