Notebook: Joel Berry proves he can carry a team
Joel Berry was one of the more impressive point guards in the spring -- but he was even better without dominant big man Dakari Johnson at the Peach Jam. Also, Mickey Mitchell cements himself as a top-five prospect in 2015.
• 2 min read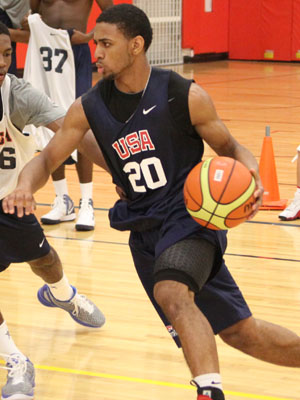 Joel Berry averaged 17.2 points and 7.0 assists in six games at the Nike Peach Jam. (USA Basketball)
NORTH AUGUSTA, S.C. – Joel Berry put up solid numbers during the EYBL regular season, averaging 12.4 points and just fewer than four assists per game. Berry, however, had the advantage of playing with dominant big man Dakari Johnson.
With Johnson missing the Peach Jam with an injury, how would Berry and his Each 1 Teach 1 team fare?
It turns out Berry stepped his game up even more, averaging 17.2 points and a Peach Jam-leading 7.0 assists in six games. He consistently got his teammates involved and was able to get to the free-throw line on a consistent basis.
"I have to be a leader without Dakari," Berry said. "That's 15 points and a lot of rebounds we're missing. It's not too much different without him, but it's harder to play inside-out."
Berry, a 6-foot-1 point guard from Lake Highland (Fla.), is ranked No. 20 in the class of 2014. He's listed fourth at his position, although his performance in South Carolina could improve his stock.
"I think I'm one of the best point guards in the nation," Berry said. "Everyone is supposed to say that, but I really do think it."
Berry didn't delve much into recruiting, but in the past he's mentioned Florida, Florida State, Miami (Fl.), South Florida, North Carolina, Kansas, Kentucky and Duke.
Two-sport star Mickey Mitchell continues to impress
Mickey Mitchell has been a hyped prospect for several years – and he is only now entering his sophomore year of high school.
He is a versatile 6-foot-6 perimeter player who can run the point or play on the wing. Because of his ball-handling ability, he has no problem initiating the offense.
"I always bring the ball up," Mitchell said. "I'll do whatever the coach wants me to do. I bring intensity, trying to be an all-around player."
Mitchell is one of the top five players in the class of 2015, but he is also a highly-touted quarterback prospect on the gridiron, which makes his college decision slightly more intriguing.
He didn't rule out playing both sports at the next level.
"I'm just going to play it out right now," Mitchell said.
Kentucky, Duke, Memphis, Florida, Florida State and North Carolina are all showing interest, and he has visited North Carolina, North Carolina State and Duke. 
Gary Parrish and Matt Norlander discuss a wild Saturday of college basketball

Ball left the program earlier this month and has since signed with a Lithuania professional...

Sooners beat third-ranked Shockers while Florida and FSU lost in upset fashion to unranked...
The Hoosiers grow up before our eyes, and Miller has his first signature victory as Indiana...

Trae Young, a freshman and the nation's top player, has a 21-point first half at Wichita S...

Michigan State is probably going to have company atop the Big Ten standings