Notebook: Jordan McLaughlin lists eight schools; prospects set visits
Jordan McLaughlin has eight schools on his list; Elbert Robinson wants to visit Louisville; Robert Johnson is set to trip to Villanova and Seton Hall.
• 2 min read
Jordan McLaughlin had a quiet spring, staying mostly on the west coast and preparing for the summer camp and AAU season.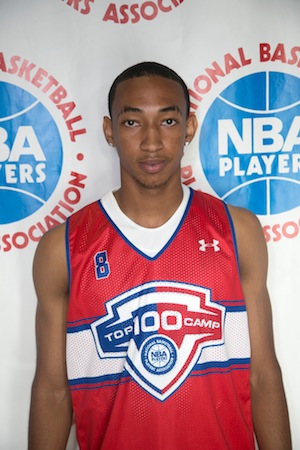 McLaughlin could be a top-five point guard. (Davide De Pas)
"I'm planning on doing very well in the summer," McLaughlin said. "Just playing the basketball I play best. I'm trying to come out and impress. Work on my team, make everyone look good."
The 5-foot-11 point guard from Etiwanda (Calif.) showed himself as one of the better point guards at the NBPA Top 100 camp, ranking among the top-five assist men over the weekend. He's ranked No. 26 in the 247 Sports Composite at this point, but he's working on his mid-range jumpers and his ability to pressure the ball defensively.
USC, UCLA, San Diego State , Indiana, Gonzaga, Connecticut, Kansas and UNLV are the schools on his list right now, with the west coast programs -- USC, UCLA, SDSU, Gonzaga --making the biggest effort.
While the regional schools are coming at him the hardest, McLaughlin wouldn't be opposed to going elsewhere for college.
"I'm not sure right now," he said. "I'm open to anybody. I'll probably take a few officials back east and see how I like the schools out there."
Big man Elbert Robinson sets Louisville visit
While it's sometimes difficult for big men to dominate in a camp setting, Elbert Robinson found ways to boost his stock by staying on the block.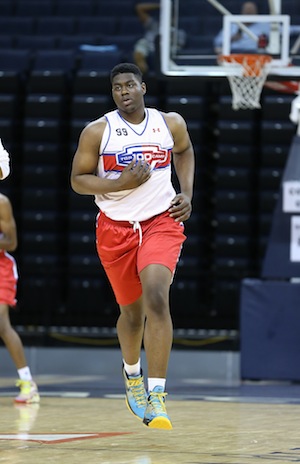 Robinson dominates the low block. (Kelly Kline/Under Armour)
The 6-foot-10, 265-pound post player from Lakeview Centennial (Texas) averaged 10.2 points and 6.2 rebounds at the camp.
While he still needs to run the floor more effectively and become more mobile on the offensive end, Robinson's ability to carve out a spot on the block and make himself available for entry passes is impressive.
"I'm outrebounding people, fighting on the block, fighting for position," Robinson said. "Scoring the ball, blocking shots."
Georgetown, Kansas, Ohio State and Louisville are among the schools in pursuit.
"Next month, I plan on going to Louisville on an official visit," Robinson said.
A decision will likely come by the end of the fall. 
Robert Johnson continues breakout spring
Heading into the April live period, Robert Johnson had mostly mid-majors and area schools in the mix for his services. A solid season at Benedictine (Va.) brought in some interest, but it was still sporadic.
Then came the AAU season, and Johnson blew up playing for Boo Williams, ranking among the top scorers during the EYBL season at 16.7 points. He continued his impressive rise at the NBPA Top 100 camp, putting up 10.8 points.
"I'm just trying to go out there and compete and show that I'm just as good as any guy that's here," Johnson said. "I think I've been playing pretty well. It was an adjustment playing in the EYBL, a lot of good teams, elite teams. It's the best AAU circuit that there is. I think it definitely helped me."
Florida State, Villanova, Pittsburgh, East Carolina, Seton Hall and Tennessee have offered, with Alabama and Rutgers showing interest.
Villanova, Wake Forest and Alabama are coming in strong, and he has plans to visit Villanova and Seton Hall on June 26.
"It's a good winning tradition at Villanova," Johnson said. "They had a lot of good guards, guards who are similar to the way I play and my style."
Kansas won the rivalry renewed and helped raise money for hurricane relief

Larranaga still claims he is innocent in the FBI's investigation into corruption within college...

The Tar Heels join Arizona, Kentucky and Wichita State with key players on the sideline
It's difficult to figure out how these teams will perform this season

The reigning Final Four Most Outstanding Player will miss the start of the season

These teams went to The Big Dance in March, but could take a step back this season