Notebook: TeMarcus Blanton boosts stock in Pittsburgh
TeMarcus Blanton was one of the biggest breakout players in Pittsburgh, while Marqywell Jackson showed talent.
• 2 min read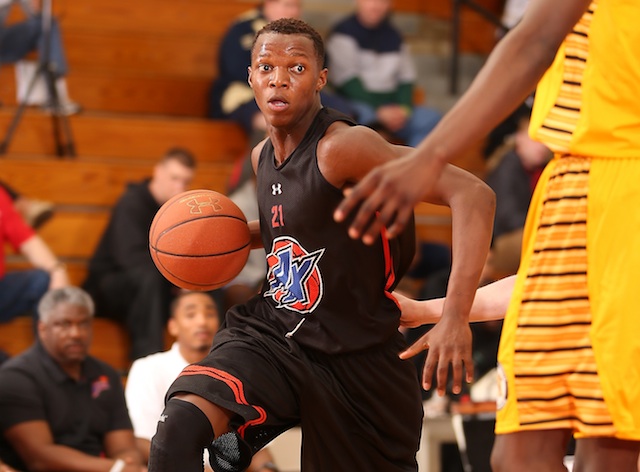 The spring evaluation period is always ideal for breakout performances, and the Hoop Group Pittsburgh Jam Fest was no different.
Among the players who boosted their stock, TeMarcus Blanton might have been the most impressive.
The 6-foot-4 shooting guard from Luella (Ga.) was a consistent offensive producer throughout the weekend. He can get points in a variety of ways, knocking down shots from the perimeter – while also getting to the lane and finishing through contact. He has a strong body, and is also effective in transition.
"People are starting to see what I can do more," Blanton said. "Attacking the basket, my full-court defense. Pressuring the ball. My major goal is to get a way to college. That's my biggest goal. To keep increasing my game."
Ole Miss, George Mason, Mississippi State and Murray State have all offered, with interest coming from Cincinnati, Alabama and Tennessee. He wants to visit George Mason and Mississippi State, the two schools coming at him the hardest.
Marqywell Jackson has three showing most interest
A year ago, Marqywell Jackson was one of the more intriguing prospects at the Pittsburgh Jam Fest, as 6-foot-4 point guards with his talent are hard to find.
This past weekend, Jackson again showed flashes of his ability. With his size, he's able to see over defenses, and he has the ball-handling and quickness to get into the lane.
The Crockett (Mich.) product still has room for improvement, though.
"I'm just trying to get better, get my teammates better as well," Jackson said. "I'm working on my jump shot, my 3-point shot, and take care of the ball."
Over the weekend, he also showed improved on-ball defense, using his length to create havoc with deflections and steals.
"I'm driving to the basket, but my defense improved a lot," Jackson said. "I'm being more aggressive."
Xavier, Miami and DePaul are showing the most interest, with Michigan, UAB, Long Beach State and Detroit also in the mix.
"I want to just feel like I'm home," Jackson said. "Just to feel comfortable."
Notes:
- If DeShawn Freeman is able to get his academics in order, he could be a quality late pickup for someone. He's an athletic four-man who is extremely active at both ends of the floor. The 6-foot-7 NC Red Storm prospect is hearing from VCU, East Carolina, UNCW, Appalachian State, Niagara and Southeast Missouri for now but is looking to go to the highest level.
- Here's a name from the past, kind of: Chinanu Onuaku, younger brother of former Syracuse big man Arinze Onuaku. The 6-foot-10 Riverdale Baptist (Md.) big man is being recruited by Seton Hall, DePaul, Cincinnati, Xavier, Maryland, North Carolina State, Virginia Tech, VCU, West Virginia, Miami and Connecticut. 
The BC fan has a ton of apparel and gear headed his way after this putt

Durant's made a habit of making sure his alma mater is set with the latest customized gear

Ball says UCLA told him to thank Trump for getting him back to the states after shoplifting...
SportsLine's advanced computer model simulated Wednesday's Villanova vs. Temple game 10,000...

Will any of these six teams make it to 2018 without their first loss?

Temple could be a big problem for undefeated Villanova, the No. 1 team in the Top 25 (and...