Notebook: Top-five Myles Turner trims list to eight
Myles Turner, Abdul Malik Abu, Jared Terrell and Terry Larrier all trimmed their lists on Wednesday night or Thursday morning.
• 1 min read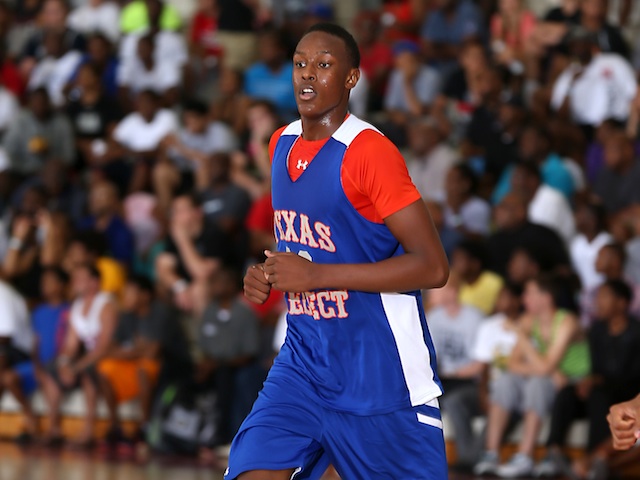 Myles Turner was unquestionably the biggest riser in high school basketball over the past three months. He went from a relative unknown to a top-five prospect with over 60 offers. Turner cut his list to 25 schools – and is now ready to trim it down to eight.
Duke Blue Devils , Kansas Jayhawks , Kentucky Wildcats , Louisville Cardinals , Arizona Wildcats , Ohio State Buckeyes , Oklahoma State Cowboys and Texas Longhorns are the schools remaining, as first reported by ESPN.com.
The only official visit Turner has set up so far is an Oct. 4 trip to Kansas for "Late Night in the Phog."
"I really like the fact every year, they put a big man in the league," Turner told CBSSports.com last month about the Jayhawks. "They come from high school, maybe being a weaker player, but they always develop and are able to go into the league and make an impact. I really like the way coach [Bill] Self develops his big men."
ESPN.com also reported that Texas would conduct an in-home visit with the 7-footer from Trinity (Texas), while Turner will unofficially visit the Longhorns in the fall.
Four-star AAU teammates each cut list to four
There have been some rumors that Abdul Malik Abu and Jared Terrell could potentially attend college together, given that they play AAU together for Expressions Elite. Moreover, the two will announce their decision at a joint press conference in September.
If that is the case, though, there is only one school remaining involved with both players.
On Wednesday, Abu said he was down to Florida Gators , Connecticut Huskies , NC State Wolfpack and Providence Friars . The 6-foot-8 Abu is ranked No. 56 in the 247Sports Composite, but boosted his stock greatly during the month of July.
Terrell is also now considering four schools: Providence, Rhode Island Rams , Oklahoma State and Cincinnati Bearcats . The 6-foot-3 guard from Brewster Academy (N.H.) is No. 62 at 247Sports.
Both players will attend Providence's Elite Camp this weekend.
Another top-50 prospect is down to 10
Terry Larrier has the potential to be a matchup nightmare for defenders at the next level, given his 6-foot-8 size, tremendous length, and ability to consistently knock down shots from the perimeter.
As a result, Larrier has been pursued by plenty of schools. On Thursday, SNY.tv reported that he cut his list to 10: Penn State Nittany Lions , Marquette Golden Eagles , Minnesota Golden Gophers , Connecticut, Florida State Seminoles , Miami (Fla.) Hurricanes , St. John's Red Storm , VCU Rams , Florida and Seton Hall Pirates .
Larrier is ranked No. 45 in the 247Sports Composite.
Quickley played for John Calipari this summer with USA Basketball

A revamped Erwin Center is part of a $4.25 million upgrade to the Longhorns' hoops facilit...

Nov. 10 will be here before you know it so here's what you need to know
The league would be wise to treat that series like the ACC treats Duke-North Carolina

Pacific is penalized after the NCAA found academic rules were broken

Arizona, for no good reason, doesn't have to play at USC or UCLA this season