Notebook: Zylan Cheatham and Terry Larrier continue rising in 2014
Two long, athletic wings have raised their stock during the summer. Zylan Cheatham and Terry Larrier aren't slowing down.
• 2 min read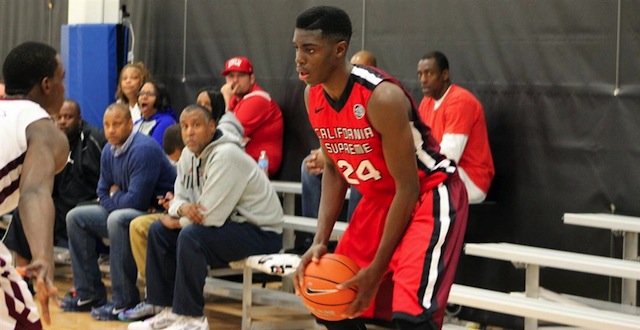 Zylan Cheatham might not have been the most talented player at the Peach Jam, but there are few players more exciting than Cheatham in the class of 2014.
The 6-foot-7 forward from Westwind Prep (Ariz.) is long and extremely athletic, and he's constantly active on the glass and in transition. In essence, he's fun to watch.
"I've been putting in the work, and schools are starting to see that," Cheatham said. "I'm a guy that's progressing and getting better. There's still a lot to work on, but I'm getting better consistently."
Cheatham began reeling in offers during the school season and in the spring AAU period, but he's hearing the most from San Diego State, Southern California Trojans , Arizona State, Miami and New Mexico Lobos .
So far, he's taken trips to Arizona Wildcats , Arizona State Sun Devils , Washington Huskies , San Diego State Aztecs , USC and UNLV Rebels . Cheatham is still in the process of trimming his suitors, which he plans to do in the near future.
"After I narrow my list, I'll probably make my officials," he said.
While he doesn't have an offer from Arizona yet, both the Wildcats and Arizona State have made an impression due to their proximity to Cheatham.
"They're both great programs," he said. "They're both close to home, of course, in my backyard. That separates them from any other school."
Cheatham is ranked No. 63 in the 247Sports Composite.
Terry Larrier not ready to trim list just yet
Terry Larrier, a 6-foot-8 wing from the Bronx, had some impressive moments last summer, leading to mid-major offers and some high-major interest.
After a spring playing alongside five-star big men Chris McCullough and Chieck Diallo on Team Scan, Larrier has emerged as one of the top 50 prospects in the class of 2014.
"I've been playing good, playing to my potential," Larrier said. "I want to prove that I'm one of the top kids in the country. I can play with anybody."
Due to his size and length, Larrier has the ability to create matchup problems for most defenders. He has deep range on his outside shot and has a smooth release from the perimeter.
"I shoot it, I can dribble, I can pass," he said. "Once I get hot, I get hot. I can do a lot of things that guys 6-foot-8, 6-foot-9 can't do."
VCU Rams , Minnesota Golden Gophers , Providence Friars , West Virginia Mountaineers and Miami (Fla.) Hurricanes are all making a strong push, and he's taken trips to VCU, Minnesota, Seton Hall Pirates , Rutgers Scarlet Knights and Temple Owls .
"Sometime in July, I plan on cutting down my list," Larrier said. "I'll make my decision in November, December."
Arizona, for no good reason, doesn't have to play at USC or UCLA this season

We look at the 'Major 7' leagues and give you the best of what's to come in conference play...

Louisville's coach predicts a change is coming to the NBA's one-and-done rule by 2019
Multiple former players of Lonergan's alleged verbal abuse and inappropriate remarks

When Miller left for Indiana, there was cause for concern in Flyerland; a top-100 signee says...

The Hoyas will spend their non-league schedule playing mostly nobodies -- as will most big...