NYC gets buzz back as Seton Hall usurps St. John's for Whitehead
Five-star guard Isaiah Whitehead announced on Thursday for Seton Hall, choosing the Pirates over St. John's.
• 3 min read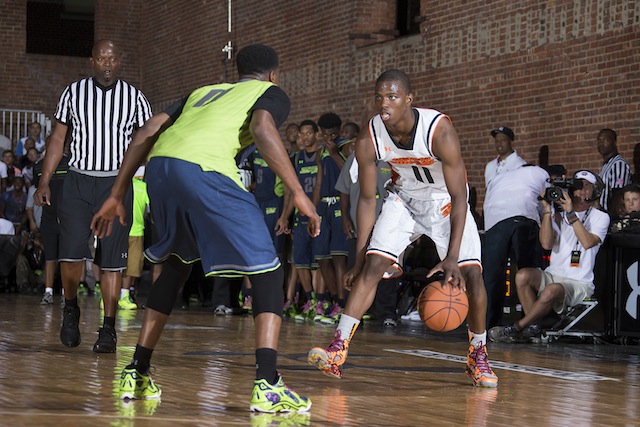 New York City used to be one of the biggest hotbeds in the country for basketball talent. On an annual basis, the five boroughs would produce dozens of college prospects, including several high-major talents and a couple of future NBA players. More than anything else, there was hype and buzz about any big-time New York player.
Take 2004, for example. Sebastian Telfair was one of the best point guards in the country, while New York City and Long Island also produced players that ended up at Louisville, Kansas, Connecticut, NC State, Pittsburgh, Seton Hall, St. John's, and more.
Times have changed.
Since 2009, when Lance Stephenson and Durand Scott were both five-star players, New York City hasn't produced a top-25 prospect. The class of 2013 didn't have a single top-100 player from a high school in the city. While there are a variety of factors at play – overhyping kids too early, leaving the city for prep schools, etc. – the fact remains that New York City isn't what it used to be when it comes to producing high-level talent.
Which brings me to Isaiah Whitehead. The 6-foot-4 combo guard from Lincoln (N.Y.) – the same high school that produced Stephon Marbury, Telfair, Stephenson – has been on the radar for several years.
And he might be the last great New York City prospect for a few years. There is no one on the 2015 or 2016 radar that looks like an elite five-star lock. In theory, it was Whitehead or bust for some of the local schools.
Therefore, it was strange that the NYC-area schools didn't really appear as threats for Whitehead's commitment. Syracuse was deemed the favorite for the past couple of years, while schools like Minnesota, Indiana, Louisville, UCLA, Arizona, Pittsburgh and others faded in and out of his recruitment.
Yet, when Whitehead surprised everyone earlier in the week by saying he was planning to announce his decision on Thursday – two schools emerged as favorites: Seton Hall and St. John's. Two local schools vying for his services. Seton Hall has been up and down in recent years, while St. John's has had a renewed sense of vigor under Steve Lavin.
Remember what I said earlier about New York City and its hype? Well, what do you know – in the 24 hours leading up to Whitehead's commitment, that buzz was back. Phones were ringing off the hook, there were tons of rumors and movement behind the scenes – it was like New York City was back in its basketball prime.
After Whitehead visited St. John's on Wednesday, the Red Storm seemed to be the preferred destination. Then things began changing Wednesday night and hit a fever pitch on Thursday morning. St. John's and the Under Armour connection were on one side, but Seton Hall countered by reportedly offering Tiny Morton, Whitehead's high school coach, an assistant coaching position. An old-school New York power move.
In the end, the Red Storm got outdueled by Seton Hall. Whitehead announced his commitment at a press conference on Thursday, choosing the Pirates.
"I would like to announce I'll be taking my talents to Seton Hall University," Whitehead said.
Whitehead, ranked No. 17 in the 247Sports Composite, is a tremendous addition for Seton Hall. He is one of the best pure scorers in the class, capable of getting his shot off against nearly defender. Whitehead has deep range on his jumper, and makes more difficult and contested shots than anyone in 2014. He can play both guard positions, and is simply a playmaker with the ball in his hands. Simply put, this was undoubtedly a coup for Kevin Willard and the Pirates.
As for St. John's, the Red Storm remain without a commitment in the class of 2014. With a young roster, though, it's not time to worry for Steve Lavin just yet. After all, Lavin can just as easily go into Philadelphia, Chicago, California, Texas or anywhere else for a prospect these days.
Unfortunately, that's the norm for New York City-area schools in 2013. There's not enough talent in the area to get by just recruiting locally.
For one day, though, New York basketball was the epicenter of the recruiting world. It had its buzz back. And there's no buzz like New York buzz.
After a close game against Michigan, Air Force is playing San Diego State with some moment...

Quickley played for John Calipari this summer with USA Basketball

A revamped Erwin Center is part of a $4.25 million upgrade to the Longhorns' hoops facilit...
Nov. 10 will be here before you know it so here's what you need to know

The league would be wise to treat that series like the ACC treats Duke-North Carolina

Pacific is penalized after the NCAA found academic rules were broken