Observations: Alford puts UCLA in solid NCAA tourney position
UCLA's Steve Alford was roasted at his introductory news conference. What's he done since? Go 26-8 and take the Pac-12 tournament with a solid win over likely NCAA tourney 1-seed Arizona in the final, for two.
• 2 min read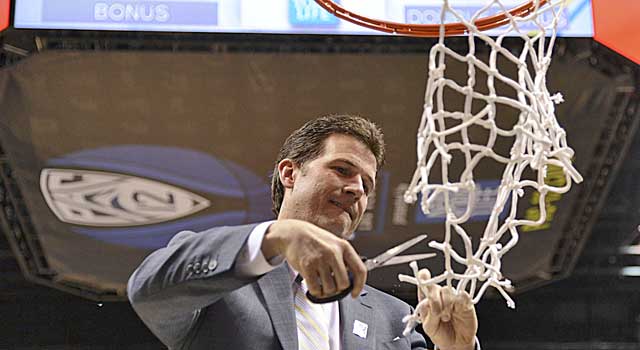 Latest in hoops: Bracketology | Bubble Watch | News & notes
1. Steve Alford's first UCLA season a rousing success: For a guy who got assaulted immediately at his introductory news conference, Alford has proven he has the temperament to handle college basketball's most-scrutinized position. UCLA (26-8) heads into the NCAA Tournament fresh off a Pac-12 tournament title. Saturday's victory over Arizona was a crowning moment for Alford, who still doesn't get the respect he deserves. The Bruins will be a dangerous team in the field of 68 and are set up to sustain success the next few seasons. UCLA probably will lose only Kyle Anderson and potentially Zach LaVine after this season, but will return a strong core next season, headlined by a perimeter trio of Bryce Alford, Norman Powell and Jordan Adams. UCLA also will add several high-caliber newcomers in freshmen Kevon Looney, Thomas Welsh, Jonah Bolden and Isaac Hamilton.
2. Iowa State doesn't win the Big 12 tourney without Dustin Hogue: People continue to rave -- and for good reason -- about DeAndre Kane, Georges Niang and Melvin Ejim, but Hogue has been the gas in the Cyclones' engine all season. Versatile and bouncy at 6-foot-6, Hogue is an exceptional passer and always seems to come up with 50-50 balls. Every winning program needs a quality "glue guy," and that's just who Hogue is for the Cyclones. The junior forward averaged 14.3 points and 8.7 rebounds during three games at the Big 12 tournament.
3. St. Joe's Phil Martelli deserves major credit for his work this season: Not many people, including myself, expected the Hawks to playing in the Atlantic 10 tournament championship game Sunday vs. VCU (1 p.m. ET, CBS). St. Joseph's has had NCAA-caliber talent each of the past two seasons but failed to reach the NCAA Tournament either season. That won't be the case this season. Thanks to better chemistry and concrete role allocation, Martelli is on pace to lead the Hawks back to the tournament for the first time since 2008 and has three special seniors in Langston Galloway, Halil Kanacevic, and Ron Roberts. St. Joseph's was at a crossroads after a 4-4 start, but Martelli never panicked, kept his team together and has led the Hawks to 19 wins in their last 23 games.
4. Baylor has Syracuse-type length up front: What does that mean heading into the NCAA Tournament? Any team facing the Bears in the tournament better have a decent zone offense. Baylor lost to Iowa State in Saturday night's Big 12 title game, but Scott Drew's team still has length on the baseline that's comparable to some Syracuse teams over the years. The alignment of Isaiah Austin, Cory Jefferson and Royce O'Neale is extremely disruptive and it's going to take a very skilled offensive team to find seams in Baylor's 2-3 zone. Iowa State had enough playmakers to get by the Bears in the second half Saturday night in Kansas City, but any team that struggles to score will have a hard time getting interior production against Baylor.
5. NCAA tourney mid-major quality may feel watered down: And that's because we've seen so many teams which won their respective conferences fall during conference tournaments. There always are going be upsets at the mid-major level during championship week, but I've never seen so many mid-major teams that were average during the regular season reach another level, as we've seen the past few days. A few mid-majors to watch in the Round of 64? Manhattan, Harvard, Eastern Kentucky, Mercer, Delaware,North Carolina Central and North Dakota State.
Young is coming off his worst game as a Sooner and will try and bounce back vs. the Cowboy...

The Wildcats face a surging Stanford team that has risen as a potential Pac-12 contender

The reeling Mountaineers look to get back on track against Texas at home
The first-ranked Wildcats travel to UConn to face a middling Huskies team that is 3-3 in league...

The Boilermakers top two scorers share a last name, but aren't related

'Meaningful change' is on the way to college basketball, Emmert says