Observations: Arizona owns Pac-12 as challengers lose key players
Arizona appeared to have Pac-12 challengers when last season ended, but the Cats' elite starting five and defections from other schools leave no doubt who's on top out West.
• 6 min read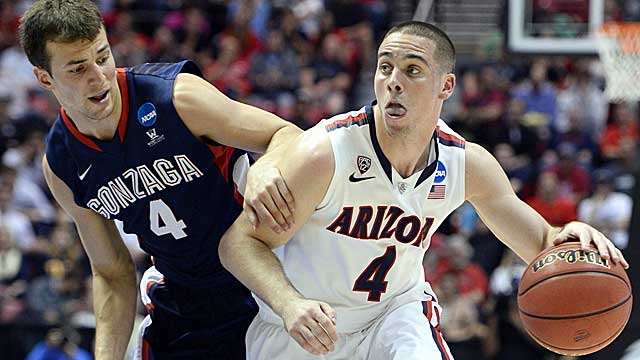 More college hoops: Early Top 25 (and one) | Hoops news & notes
1. Pac-12 is officially Arizona and everyone else: The Wildcats clearly are the conference's team to beat and arguably will have the nation's most complete starting five next season: T.J. McConnell, Stanley Johnson, Rondae Hollis-Jefferson, Brandon Ashley, and Kaleb Tarczewski. Sean Miller has a group that's built to finally get him to a Final Four and again win 30-plus games. One question remains: Who can challenge the Wildcats in the Pac-12? UCLA, Oregon and Colorado looked like good bets at the end of last season, but the Bruins' unexpected loss of Jordan Adams to the NBA, Spencer Dinwiddie's early departure from the Buffaloes and the losses of Dominic Artis, Damyean Dotson and Brandon Austin at Oregon put Arizona head and shoulders above in-conference competition. Stanford returns three starters -- Chasson Randle, Anthony Brown and Stefan Nastic -- and adds a high-level power forward in freshman Reid Travis, but the Cardinal still have the replace the experience of Josh Huestis and Dwight Powell up front. Utah appears primed for a jump to be an NCAA-caliber team under Larry Krystkowiak, but it's yet to be determined if the Utes can sustain an elite level of play for an entire season. This is Arizona's league until someone proves otherwise.
2. Iowa State does a tremendous job of owning its niche: The Cyclones have never fancied themselves as North Carolina or UCLA, nor should they. Iowa State doesn't have that blue-blood tradition, but Fred Hoiberg's program is creating its own legacy. When Hoiberg first returned to coach his alma mater 2010, he said at his first staff meeting he wanted to acquire as much talent as quickly as possible. That led to one transfer committing to Iowa State. And then another. And then this week, Oregon State transfer Hallice Cooke pledged to the Cyclones and gave Iowa State its 12th transfer since Hoiberg came to Ames four years ago. The process may look unorthodox from the periphery, but the results are obvious. The Cyclones have been to three consecutive NCAA Tournaments and look destined to go to a fourth next season. There is no doubt transfers are the lifeblood at Iowa State, and the Cyclones are as comfortable in their own skin as any program in America.
3. South Florida is set up for a big jump in 2015-16: Former Kentucky assistant Orlando Antigua hasn't coached a game for the Bulls, but he's already laid a foundation for the future. Since being named South Florida's coach in late March, Antigua already has commitments from a two impact transfers: Kareem Canty (Marshall) and Roddy Peters (Maryland). The Bulls also have Oklahoma State's Kamari Murphy scheduled for an official visit June 1. Antigua has the pieces in place for South Florida to make a jump in his second season, but the most important goal for Year One is development of players already in the program. Rugged sophomore power forward Chris Perry is a cornerstone who has a "Danny Fortson" feel after averaging 8.9 points and 5.3 rebounds last season. The growth of Perry and veteran floor general Anthony Collins, who only played eight games last season because of a knee injury, is vital for the Bulls. Another thing South Florida must improve: Production on the wing. The Bulls shot only 25.8 percent from three-point range last season and need newcomers Troy Holston, Dinero Mercurius and Nehemias Morillo to emerge as consistent long distance threats to complement Perry.
4. Don't assume an Atlantic 10 downturn: Last summer, this conference was supposed to be down and forgotten. Instead it had a landmark season. The Atlantic 10 lost Temple, Butler, Xavier and Charlotte last year but managed six NCAA tournament teams after earning five spots in the 2013 field of 68. This league repeatedly has shown it can absorb defections, and don't be surprised if that's the case again next season. Programs like Saint Louis and Saint Joseph's will retool after losing the bulk of their cores from last year, but VCU, Dayton and others look primed to be a nuisance on a nightly basis. George Washington lost Maurice Creek and Isaiah Armwood to graduation but return a strong quartet of juniors in Joe McDonald, Kethan Savage, Patricio Garino and Kevin Larsen. McDonald and Savage never were healthy last season and it will be interesting to see how they respond after an off-season of rehab.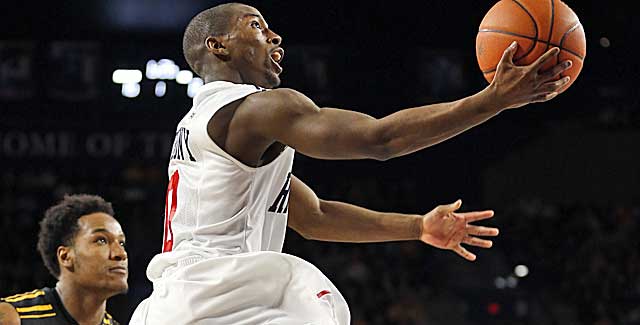 Richmond has one of the country's more electrifying players in undersized combo guard Kendall Anthony, and Dan Hurley has Rhode Island primed to make a jump after big-time additions during the late signing period. The Rams looked like a 20-win team last summer but the loss of starting center Jordan Hare (personal reasons) before last season took away their main defensive anchor. Hare's impending return and the addition of a Top 75 recruit in combo guard Jared Terrell give Hurley two starting caliber players who could be difference makers. Two more underrated programs? UMass and La Salle. The Minutemen have the A-10's best big man in Cady Lalanne (11.3 points, 7.9 rebounds, 2.2 blocks last season), while the Explorers have arguably the league's best frontcourt combo: Jerrell Wright and Steve Zack. The Atlantic 10 isn't like some other leagues where there are "built-in wins." For the most part, every team is a tough out, and the 10th or 11th best team is this conference often is ahead of the 10th or 11th best team in another conference. Snagging six NCAA bids will be awfully hard to achieve, but history proves completely writing it off wouldn't be wise.
5. Creighton has had a very productive off-season: The Bluejays likely never will have another player the caliber of Doug McDermott, but that hasn't stopped them from moving forward in the Big East. On the heels of a win 27-season, Greg McDermott's squad landed commitments from two solid transfers -- Maurice Watson (Boston University) and Cole Huff (Nevada) --and an immediately eligible wing in Cal transfer Ricky Kreklow. The 6-foot-6 Kreklow (5.5 points last season) has battled injuries but should give Creighton another veteran perimeter piece to go with Austin Chatman and Devin Brooks. Another name to remember: James Milliken. The 6-2 guard redshirted last season after transferring from junior college but Creighton's staff loves his ability to score.
More observations
• Houston transfer Danuel House said he visited Texas A&M this week and also is considering UCLA, South Carolina and LSU . The 6-7 wing has two years of eligibility remaining and averaged 13.6 points and 5.3 rebounds last season for the Cougars.
• Dayton and Arkansas agreed to a home-and-home series beginning next season in Fayetteville. There will be a return game in Ohio during the 2015-16 season.
• Harvard's staff quietly believes that the key to the Crimson advancing to a fourth consecutive NCAA Tournament under Tommy Amaker in 2015 may be Corbin Miller. The 6-2 shooting guard has missed the past two seasons while serving a Mormon mission, but was productive two years ago -- shooting 45.6 percent from three-point range. With the departures of Laurent Rivard and Brandyn Curry, Harvard needs someone to take pressure off Siyani Chambers. Miller could well be that guy. Miller averaged 3.8 points for the Crimson during the 2011-12 season.
• The 2014 Preseason NIT features four host programs -- Minnesota, Gonzaga, St. John's and Georgia -- with a legitimate chance to reach the NCAA Tournament next season. Minnesota, St. John's and Georgia should have a chance to finish in the top third of their leagues while Gonzaga could one of the top teams in the country. Mark Few returns two three-year starters in guards Kevin Pangos and Gary Bell along with two impact transfers: Kyle Wiltjer (Kentucky) and Byron Wesley (USC). The 6-5 Wesley (17.8 points, 6.4 rebounds last season) should give Gonzaga the type of physical presence it's been missing on the wing and could be a major X-factor if he's willing to sacrifice individual gain for team success. Wesley will be immediately eligible to play since he's already graduated from school. In addition to the NIT, the Bulldogs will host both SMU and Memphis and travel to UCLA and Arizona.
• Xavier transfer Justin Martin visited Florida State on Wednesday. SMU and West Virginia are also in the mix. The 6-6 forward will be eligible to play immediately. He averaged 11.7 points and 5.2 rebounds last season.
Northern Colorado will be on probation through 2020 due to academic and recruiting violati...

You might not see a projected NCAA Tournament bracket quite like this one anytime soon

The Wildcats, once written off after a three game skid, appear poised to enter Pac-12 play...
The Ducks are riding a three game winning streak yet are slight underdogs against the Bulldogs...

The Hurricanes are one of only a handful of unbeaten teams left in college hoops

The Bearcats are fresh off a convincing win over previous unbeaten Mississippi State