Observations: BC win shows thin line between haves, have-nots
Jon Rothstein discusses the current state of parity in college basketball, and looks ahead to a major slate of games this weekend.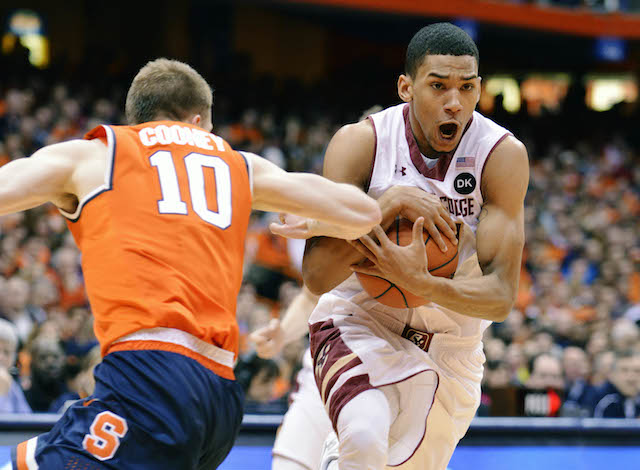 Check out below for five observations from the week and five games I'll be watching this weekend.
Five observations from the week...
1. The level of separation between the top teams in college basketball and the rest of the country is as close as it's ever been.
Let's make this simple. There are no great teams in the sport right now. There's no unit out there that's even remotely close to Kentucky's team in 2012 or even Louisville's squad a year ago. Top-ranked Syracuse lost to a Boston College team (7-19 overall) on Wednesday that had only beaten one Division I team since December -- Virginia Tech. The Orange also had two games that went down to the final minute with Miami, who won't make the NCAA Tournament, and nearly fell to an NC State club that appears headed for the NIT. Jim Boeheim's team is still likely to be a number one seed when the brackets come out in a few weeks but their trials over the past month reiterate that is one of the most wide open seasons that we've seen in college basketball in quite some time.
2. UCLA's Jordan Adams is playing like well, Jordan Adams.
Underrated and underappreciated, UCLA's steady sophomore has been dominant for the Bruins over the past two weeks. In Adams' last four games, he's averaging 21.5 points, 6.3 rebounds, 3.3 rebounds, and 3.3 assists while shooting 58 percent from the field and 53 percent from three-point range. Several Pac-12 coaches have told me that Adams has the best feel out of any player in the conference and that fact is starting to come to the forefront. The 6-5 guard isn't blessed with a great body or unbelievable athleticism, but he just knows how to play. Ben Howland often said last season that Adams was regularly this team's best player and it would have been interesting to see UCLA in last season's NCAA Tournament if Adams hadn't broken his foot right before Selection Sunday. The Bruins are currently 21-5 and 10-3 in the Pac-12 in Steve Alford's first season in Westwood and Adams is a major reason why. This kid can play.
3. Iowa State's DeAndre Kane should be Big 12 Player of the Year.
And that's simply because the Cyclones would be an 11- or 12-win team without him. Kane has changed everything for Iowa State this season and he makes everyone else around him instantly better when he's at the point of attack and initiating offense. The fifth-year transfer is averaging 16.2 points, 6.6 rebounds, and 6.0 assists for the Cyclones, who will play in their third consecutive NCAA Tournament this March under Fred Hoiberg. The 6-4 Kane simply gets his teammates higher-percentage looks, and Melvin Ejim, Dustin Hogue, and Georges Niang all tremendously benefit from his presence. One could make a case for West Virginia's Juwan Staten or Kansas' Andrew Wiggins or Joel Embiid as the Big 12 Player of the Year, but Kane's overall impact has allowed Iowa State to become a nationally known team. Without Kane, the Cyclones wouldn't have been able to navigate the best conference in college basketball and frankly, they may not have had a chance. It's amazing how one player can make that much of a difference.
4. St. Louis' Jordair Jett has quietly become one of the more clutch players in college basketball.
The rugged senior guard is a big reason why the Billikens are 24-2 and 11-0 in the Atlantic 10. Built like a strong safety, Jett plays his best when it matters most and has made several game-winning plays in big spots this season. The 6-1, 215 pound Jett hit key free throws down the stretch in games against George Mason and URI while also burying a game-winning layup in the final seconds a few weeks at La Salle. Saint Louis isn't a flashy team and Jett isn't a flashy player, but that's kind of what makes Jim Crews' team special. The Billikens aren't going to regularly be on highlight reels but they're regularly going to win. This program is headed right towards another Atlantic 10 regular season title. Somewhere, the late Rick Majerus has to be smiling.
5. Gabe York is Arizona's X-Factor.
And he needs to play like did on Wednesday night in the Wildcats' overtime win at Utah. Just a few days removed from Arizona's loss at Arizona State where he didn't make a single field goal, York was sensational against the Utes and had 15 points including three made three-point shots. With Brandon Ashley done for the season, York immediately becomes one of Arizona's top six players and his ability to make outside shots gives the Wildcats something no one else on their roster can do with consistency. To go deep in the NCAA Tournament, Sean Miller needs York to be really good each time this team steps in between the lines.
Five games I'll be watching this weekend...
Louisville at Cincinnati (Saturday, Noon ET, CBS)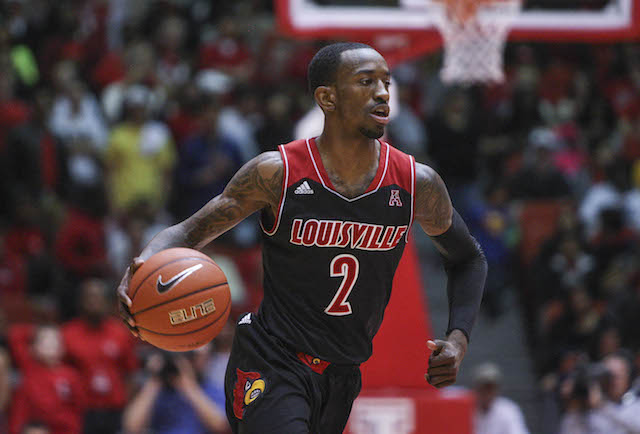 This may very well be the biggest game of Mick Cronin's coaching career. Cincinnati has already beaten Louisville once this season and the Bearcats will have an inside track at the American regular season title if they can complete a season sweep of the Cardinals. Cincinnati showed incredible resiliency in its win at Louisville earlier this season and the Bearcats will need all that and more if they're to beat Rick Pitino's team a second time. Expect a hard-hitting, physical affair that features two of the best guards in college basketball in Cincinnati's Sean Kilpatrick and Louisville's Russ Smith.
St. John's at Villanova (Saturday, 1:30 ET)
The Red Storm have won six straight games and nine of their last 10 overall, but beating the Wildcats on Saturday would greatly help this team's at-large chances. St. John's is definitely trending upwards but Steve Lavin's team still only has one win against a program that's a lock to be in the NCAA Tournament -- Creighton. Villanova meanwhile, is clearly in the field of 68 and will be more than ready for its Big East counterpart. The Red Storm will be without starting center Chris Obeka, who is out with an ankle injury and that could be a major advantage for the Wildcats who are predominantly a penetrating team. Obekpa is one of the best shot-blockers in the country (3.2 blocks) and his absence on the back line of St. John's defense could open up opportunities for Villanova to attack the rim.
Syracuse at Duke (Saturday, 7 ET)
The Orange's highly anticipated visit to Cameron Indoor Stadium became a little more interesting when both Syracuse and Duke lost this week to Boston College and North Carolina. There's no need for added cachet when two programs of this magnitude square off in one of college basketball's most fabled venues, but this game is now that much more important for Jim Boeheim's team. The Orange would slide to second place in the ACC if they lose to the Blue Devils and that would open the door for Virginia to potentially win the ACC regular season title. The Cavaliers only have one conference loss so far this season and host Syracuse on 3/1 in Charlottesville. The Orange also visit Maryland on Monday in College Park.
Arizona at Colorado (Saturday, 9 ET)
Both of these teams have had to endure major injuries this season but they're both also coming off big-time wins. Arizona grinded out an overtime win at Utah on Wednesday and Colorado managed to hold off Arizona State in Boulder. The Wildcats and Buffaloes both look like teams that will play in the NCAA Tournament and Colorado is slowly starting to develop its new identity post-Spencer Dinwiddie. Tad Boyle's team is now focused on featuring sophomores Xavier Johnson and Josh Scott as much as possible while Xavier Talton is starting to come into his own at point guard. It will be interesting to see how the Buffaloes respond in a big game at home against an opponent that's been clearly the best team in the Pac-12.
San Diego State at New Mexico (Saturday 10 ET)
The two best teams in the Mountain West will square off in what is a terrific contrast in styles. The Aztecs are one of the elite defensive teams in college basketball while the Lobos want to push the pace each time they get the ball. New Mexico was mightily impressive in its road win at UNLV on Wednesday and it's amazing that this team isn't getting more attention nationally. The Lobos return four starters -- Hugh Greenwood, Kendall Williams, Cameron Bairstow, and Alex Kirk -- who were starters on last year's team that was a three-seed in the NCAA Tournament and yet no one across the country is talking about this squad. That won't be the case if New Mexico is the victorious team at the Pit on Saturday night.
Marvin Bagley, if eligible at Duke this season, projects as the country's top power forwar...

The Big Ten Tournament is a week earlier than usual, so the regular-season schedule may look...

Arizona, Grand Canyon and Tulane are also in Barcelona and have reported to be accounted for...
The Kansas forward is no longer accused of walking out on an $88 tab

Cavaliers basketball coach tapes statement on behalf of his university and his city

Gary Parrish and Matt Norlander discuss all things Marvin Bagley and his immediate future