Observations: Big man Mangok Mathiang is Louisville's X-factor
If Louisville is going to make some noise in its first ACC season and contend for a title, Cardinals big man Mangok Mathiang will play a major role.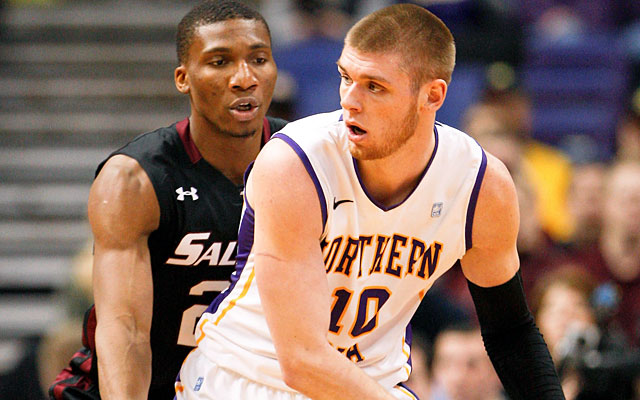 My five observations from this week (and five other nuggets) as we slowly move closer to the start of the college basketball season.
1. Mangok Mathiang is Louisville's X-factor
The 6-10 big man had a solid freshman season (3.6 points, 3.6 rebounds, 1.4 blocks), but if the Cardinals want to compete for a conference title in their first year in the ACC, they're going to need more out of Mathiang. One of the more underrated reasons for Louisville's 31-win campaign last season was due to the work that Stephan Van Treese (5.7 rebounds) did on the backboards and Rick Pitino's squad will need similar mileage out of Mathiang on the glass. The 6-9 Van Treese really picked up the rebounding slack for Louisville after Chane Behanan's dismissal, and had seven or more rebounds in six of the Cardinals' final seven games. Louisville needs Mathiang to reach the same type of level as a sophomore if it's to get where it hopes to go in 2014-15.
2. The Big East is officially Villanova and everyone else
After seeing the Wildcats in person last week during an off season practice, it's safe to say that they're ready to pick up right where they left off on the heels of last year's 29-win season. But what about the rest of the league? That's more mystery than anything else. St. John's has the talent, experience and guard play to be an NCAA Tournament team but the Red Storm have yet to prove that they're capable of sustaining a consistent level of play for the duration of an entire season. Seton Hall, Providence and Georgetown have all recruited well, but all three of those programs are unproven commodities as well. The sleeper in the Big East could be Xavier, who lost its best player in Semaj Christon but adds two potential starters in Indiana transfer Remy Abell and top-flight freshman wing Trevon Blueitt. There's a plethora of questions in this league after Villanova. It's officially the Wildcats and then everyone else.
3. Northern Iowa should challenge Wichita State in the MVC
And that will be a good thing for the Shockers in the long run. Ben Jacobson's squad returns its top six scorers from last year's team that went 16-15 and earned a non-conference home victory over VCU. The Panthers have two potential all-conference players in forward Seth Tuttle (15.4 points, 8.0 rebounds) and guard Deon Mitchell (12.1 points, 3.4 assists) along with a long range marksman in 6-4 guard Matt Bohannon (77 made three-point shots in 13-14). Another player to watch for Northern Iowa next season? Virginia transfer Paul Jesperson. The 6-6 wing started 33 games for the Cavaliers two years ago (4.7 points, 37 percent from three-point range) and should be an immediate contributor for the Panthers.
4. LSU transfer Anthony Hickey changes Oklahoma State's outlook
No one is expecting much from the Cowboys after they lost both Marcus Smart and Markel Brown to the NBA Draft along with Kamari Murphy (transferred to Miami), but they may be better than people expect. The NCAA granted LSU transfer Anthony Hickey (8.4 points, 3.7 assists last season) a waiver to play immediately last week and that should give Travis Ford a proven veteran guard who has been a multi-year starter in the SEC. The combination of Hickey, JUCO transfer Jeff Newberry, and Phil Forte (13.3 points last season) is a capable perimeter trio with LeBryan Nash set to spend more time next season at small forward. Ford also said big man Michael Cobbins could resume team workouts by mid-July. The 6-8 big man started the first 13 games of last season and averaged 4.5 points and 4.3 rebounds before being lost for the year with an Achilles injury.
5. George Washington's tourney hopes hinge on production at power forward
Mike Lonergan's junior class of Joe McDonald, Kethan Savage, Patricio Garino, and Kevin Larsen is as good a quartet as you're going to find in the Atlantic 10, but if George Washington hopes to hear its name called on Selection Sunday, it's going to need to identify a power forward. The Colonials lost an All-Atlantic 10 player at the four in Isaiah Armwood (12.7 points, 8.4 rebounds, 1.5 blocks last season) and replacing him will be no easy task. Who are the candidates to do just that? Veteran big man John Kopriva (1.8 points, 2.5 rebounds) is the likely choice, but freshmen Yuta Watanabe and Matt Cimino will also be in the mix. The 6-7 Watanabe is undersized, but has an uncanny "nose for the ball."
This and That:
• Samford transfer Tim Williams visited New Mexico and Iowa this week, according to sources. Dayton is also in the mix. Williams will have two years of eligibility remaining after sitting out the upcoming year. The 6-8 forward averaged 17.6 points and 7.3 rebounds last season.
• Ron Hunter has made Georgia State the Iowa State of mid-major basketball. In the last two years, the former IUPUI coach has added Jeremy Hollowell (Indiana), Ryan Harrow (Kentucky), SOCON freshman of the year Isaiah Williams (Samford), and Kevin Ware (Louisville) as transfers. The NCAA granted Ware a waiver this past week to play immediately next season without sitting out. The Panthers won 25 games last season and advanced to the postseason NIT.
• Two teams that won't be pushovers next year in the American? Tulsa and Houston. Frank Haith inherits a squad from Danny Manning that returns six of its top seven scorers from last year's team that won 21 games and reached the NCAA Tournament. Houston meanwhile, lost both Danuel House (Texas A&M) and TaShawn Thomas (Oklahoma) as transfers, but rebounded in the late signing period with two former Top 100 recruits in Torian Graham (originally committed to NC State) and Devonta Pollard (originally committed to Alabama). Graham and Pollard will give newly minted coach Kelvin Sampson two quality additions to a returning nucleus of L.J. Rose (8.9 points, 5.5 assists last season), Jherrod Stiggers (80 made 3-point shots last season), and Danrad "Chicken" Knowles (7.1 points, 4.3 rebounds).
• Hofstra will begin a home and home series with La Salle beginning on Dec. 23 in Hempstead, N.Y., sources told CBSSports.com. There will be a return game in Philadelphia during the 2015-16 season.
• Boise State's Nick Duncan is down 17 pounds, according to Broncos' head coach Leon Rice. The 6-7 forward averaged 5.0 points last year as a freshman and shot 41 percent from 3-point range during his first season of college basketball.
"Four Sides of the Story" also takes a look at Tiger Woods' first PGA tournament and the role...

Indiana's Archie Miller and Mizzou's Cuonzo Martin have been killing it on the recruiting...

Duke's much-anticipated Allen-Duval connection is off to a hot start already
It'll be Miller vs. Miller if the Hoosiers and Wildcats can finalize the proposed series

Wisconsin's Ethan Happ has made only two jumpers in his career, but is adding a long-range...

The deal is part of long-awaited $2.64 billion contract; CBS' hoops-only commitment runs through...