Observations: Cronin has Cincinnati evoking Huggins era
Jon Rothstein offers five observations from the past week in college basketball, also serving up five games he'll have an eye on this weekend.
• 7 min read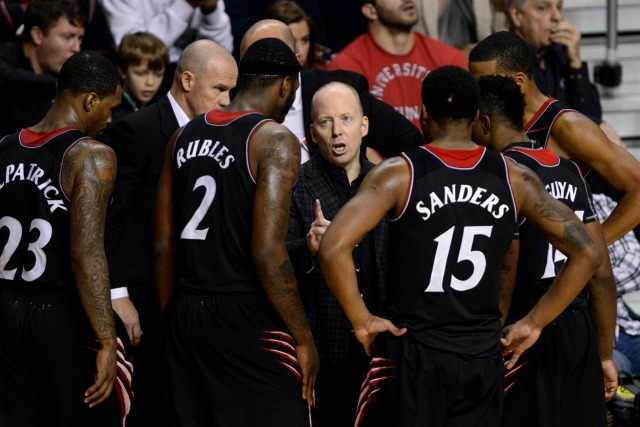 Check out below for five observations from the week in college basketball as well as give games I'll be watching this weekend.
Five observations from the week...
1. Mick Cronin deserves to be mentioned among college basketball's elite young coaches.
Cincinnati is all but assured of a fourth NCAA Tournament in four seasons and now has an inside track for the American Athletic Conference regular season title after Thursday night's 69-66 win at Louisville. The biggest reason why the Bearcats are in this position? Their head coach. Cronin took over a near impossible situation at his alma mater in 2006 and had a depleted roster that was more on par with mid-major programs than teams that were a factor nationally. Through hard work and a meticulous recruiting philosophy that's focused on getting players with an "edge," Cincinnati has now returned to a level that's comparable to what it was at during the Bob Huggins era. The Bearcats are 20-2 this season and Cronin has taken his place among the elite young coaches in the sport. The biggest reason why what Cincinnati is doing is so impressive? No one in the Bearcats' starting five was highly sought after coming out of high school or junior college. With all that said, Cincinnati still has one of the best guards in the country in fifth-year senior Sean Kilpatrick as well as the potential AAC Player of the Year in rugged forward Justin Jackson. Cronin is now 94-33 over the past three and a half seasons and has a solid 5-5 record against Rick Pitino since arriving in the Queen City eight years ago.
2. Kansas has a very similar makeup to the 2012 Kentucky team that won the national title.
Just like two years ago when the Wildcats had two dominant freshmen in Anthony Davis and Michael Kidd-Gilchrist, the Jayhawks have a pair of elite first-year players in Andrew Wiggins and Joel Embiid. And just as Kentucky leaned on veterans in Darius Miller, Doron Lamb, and Terrence Jones who had been through the gauntlet the year prior, Kansas has two guys playing really good basketball in Naadir Tharpe and Perry Ellis who were a big part of this team's run to the Sweet 16 last season. The biggest different between the the two teams? Two years ago Kentucky had a freshman point guard in Marquis Teague who anchored John Calipari's offense and ran the Wildcats' from tip to finish. Nevertheless, there's definitely some parallels between both squads and that's good news for Bill Self and the Jayhawks. Kansas has been as dominant as any team in college basketball since conference play started at the beginning of January.
3. Nebraska's Pinnacle Bank Arena is a serious home court advantage.
I'm not ready to say that it's enough to make Nebraska a serious player in the Big Ten, but the Cornhuskers' new arena has paid immediate dividends in its inaugural season in the building. Tim Miles' team is 11-1 at home this year and has already beaten Indiana, Ohio State, and Minnesota in Lincoln. Nebraska's only home loss this season? A one-point defeat to Michigan in which the Cornhuskers missed several shots at point-blank range on the game's final possession. Miles turned around Colorado State and led the Rams to the NCAA Tournament before taking his current post. Earning an NCAA bid out of the Big Ten is going to be a lot harder than it was out of the Mountain West, but having a dominant home court advantage certainly helps accelerate the process. Nebraska is currently 11-9 overall and 3-5 in Big Ten play.
4. Arizona State is a tough matchup when it goes small.
The Sun Devils finally got some traction on Wednesday night when they beat Cal in Berkeley. One of the main reasons why Arizona State had success against the Bears? With Jordan Bachynski out of the game in the first half with foul trouble, the Sun Devils went to a smaller, more skilled lineup with Jonathan Gilling and Eric Jacobsen up front. Cal's frontcourt tandem of David Kravish and Richard Solomon had to come out further on the perimeter to guard Gilling and Jacobsen and it opened up the floor for Jermaine Marshall to get post up opportunities. Herb Sendek brought in Eric Musselman as his associate head coach two years ago in an effort to open up the Sun Devils' offense and that's just what happened against Cal. Arizona State has two dynamic backcourt scorers in Marshall and Jahii Carson and even though Bachynski is the best shot blocker in college basketball (4.2 blocks per game), this team's best chance to win may be with its speed and skill. The Sun Devils are 16-5 overall and 5-3 in the Pac-12. Arizona State next plays Stanford on Saturday in Palo Alto.
5.  Saint Joseph's is in position to go on a little bit of a run.
The Hawks have been one of the tougher teams to figure out over the past few seasons. Phil Martelli's squad has always had the talent to be one of the better teams in the Atlantic 10, but has come short in each of the past two years. There's a good bet that this team's next three-game stretch will have a major impact on whether or not the Hawks have a chance to get back to the NCAA Tournament for the first time since 2008. Saint Joseph's is 14-6 overall and 4-2 in league play after Wednesday night's 60-57 win at Dayton. What's on tap next? Three consecutive home games against UMass, Saint Louis, and VCU. The Hawks missed out on opportunities earlier in the season at Hagan Arena when they lost to both Creighton and Villanova, but now have a serious chance to make multiple national statements. Saturday's game against the Minutemen is at 6 PM ET and can be seen on CBS Sports Network.
Five games I'll be watching this weekend...
Kentucky at Missouri (Saturday, 1:00 PM ET)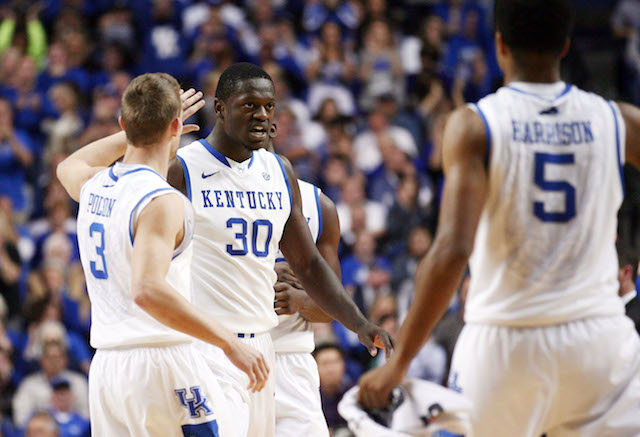 This is a dangerous game for Kentucky. The Wildcats have struggled all season long to consistently make one another better and that was never more apparent than in Tuesday's loss at LSU. Missouri has shown flashes of being a very capable team and has arguably the best perimeter in the SEC with Jordan Clarkson, Jabari Brown, and Earnest Ross. Kentucky has a distinct advantage in this game on the interior with Julius Randle, but college basketball is a guards' game and it's hard to trust the Wildcats' perimeter right now. It will take an incredibly strong effort for John Calipari's team to leave Columbia with a win.
Kansas at Texas (Saturday, 4:00 PM ET)
The Jayhawks are playing like one of the best teams in the country while Texas is playing like a team with a chip on its shoulder the size of Alaska. The Longhorns are currently thriving under Rick Barnes and have a tremendous chance to make a national statement when they host Kansas. A big matchup to watch in this game? The Jayhawks' Naadir Tharpe against Texas' freshman point guard Isaiah Taylor. Tharpe has played in several big games like this while Taylor has not. Experience could play a big role in this important individual battle.
Duke at Syracuse (Saturday, 6:30 PM ET)
What do you need to break the Orange's vintage 2-3 zone? Great offensive players. That's just what the Blue Devils possess. Duke played its most complete game of the season in Monday night's win at Pitt and finally displayed all of the offensive capabilities that many envisioned when the season began. The X-Factor for this team? Andre Dawkins. The sharpshooter came off the bench to score 20 points against Pitt and drained six three-point shots. Duke is 10-0 this season in games where Dawkins scores in double-figures and they'll need his range to open up the floor Saturday night at the Carrier Dome.
Arizona at Cal (Saturday, 10:30 PM ET)
The Wildcats are the Evander Holyfield of college basketball. No matter how many times Arizona gets cracked in the jaw, it always responds with incredible fight and determination. Sean Miller's team plays its best when it matters most and that's why it's hard to see them falling to the Bears, who have lost three straight games in Pac-12 play. Ten days ago Cal looked like the Wildcats' number one challenger in the conference. Since then, that buzz has dissipated. It will be interesting to see if Mike Montgomery's team can regain some traction against the top team in college basketball.
Virginia at Pitt (Sunday, 12:30 PM ET)
There are not many teams playing better basketball in 2014 than the Cavaliers. Virginia is 7-1 in ACC play and its only defeat was a four-point loss against Duke at Cameron Indoor Stadium. Pitt has resembled a vintage Pitt team under Jamie Dixon but the Panthers could use a quality win against an opponent the caliber of the Cavaliers. A big key in this game could be depth. Virginia has two high-level reserves who could be starters in Anthony Gill and Justin Anderson. Pitt does not have comparable talent off the bench.
The NCAA formally notified MSU of its investigation into Nassar on Tuesday

The Sooners' freshman, pilloried for his recent performances, showed a different side Tues...

Young is leading the NCAA in both scoring and assists per game
Our advanced computer model simulated Tuesday's UNLV vs. Fresno State game 10,000 times

Our advanced computer model simulated Tuesday's Kansas-Oklahoma game 10,000 times

Our advanced computer model simulated Tuesday's Virginia vs. Clemson game 10,000 times