Observations: Ellis the unsung key for Jayhawks
Jon Rothstein offers up his observations from the week in college basketball, while spinning it forward to tell you what games are on his radar for the weekend.
• 5 min read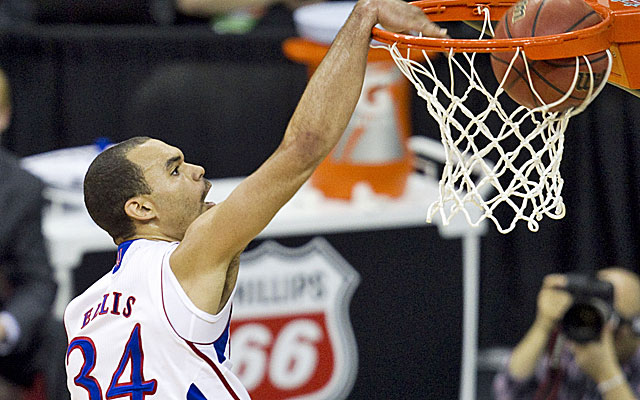 Check below for five observations from the week and five games I'll be watching this weekend...
Five observations from the week...
1. Kansas has been at its best this season when Perry Ellis scores the ball at a high level.
In the Jayhawks' best wins this season (against Duke, New Mexico, and Oklahoma), it's been Ellis that's led Bill Self's team in scoring. The 6-8 sophomore has soft hands around the basket and tallied 22 points on eight shots in Wednesday night's win at Oklahoma to go along with 11 rebounds. This isn't the best NBA prospect on Kansas' roster and Ellis isn't getting the hype that's associated with Andrew Wiggins or Joel Embiid. But for this team to win a Big 12 title he's going to have a be an offensive focal point moving forward.
2. Arkansas' season will hinge on what it does in the next few days.
That may sound crazy considering it's early January, but the Razorbacks won't get two better opportunities to earn resume-building wins than the next two games they're going to play at Bud Walton Arena. Arkansas will host Florida on Saturday and then Kentucky on Tuesday in a four-day stretch that will undoubtedly have much to say about whether or not this team has a chance to build an NCAA resume. The Razorbacks are 11-3 and have beaten SMU, but they need to cash in some of these opportunities they have in the next week if they're going to make a move in the SEC. Mike Anderson has had great success at home throughout his career, but is just 2-16 in true SEC road games since becoming the head coach at Arknasas in 2011.
3. Josh Hart isn't a one-and-done player, but that doesn't mean he's not one of the nation's top freshmen.
I'm not saying that Hart is in the same class as Jabari Parker, Julius Randle, or Andrew Wiggins, but the 6-5 wing is playing a major role in Villanova's 14-1 start. Hart is averaging 9.7 points and 4.7 rebounds per game for the Wildcats and is regularly is on the floor down the stretch in crunch time. Another thing about Hart? He's incredibly efficient. Through 15 games, he's shooting 58.5 percent from the field and 46.2 percent from three-point range. This is the perfect "program" player that Villanova has had incredible success with over the years. Hart may not have the cachet of some of the other first-year players in college basketball, but he deserves recognition for having a major hand in the Wildcats' early success this season.
4. Oregon has to start guarding people.
The Ducks have tremendous offensive firepower, but right now they can't guard anyone. Dana Altman's team has surrendered a combined 196 points in back-to-back losses to Colorado and Cal. Oregon needs to remedy this situation quickly. The Ducks are 1-2 in Pac-12 play and could legitimately be 0-3 if they hadn't pulled out a two-point overtime win at Utah last week in the conference opener. Oregon hosts Stanford on Sunday in Eugene.
5. Jim Larranaga is getting the most he can out of Miami.
On the heels of last season's run to the Sweet 16, Miami was supposed to lay low and keep things at bay until next year when transfers Angel Rodriguez (Kansas State) and Sheldon McClellan (Texas) become eligible. Apparently, no one told the Hurricanes. Larranaga led Miami to an impressive win at North Carolina earlier this week and nearly upset Syracuse last Saturday at the Carrier Dome. The Hurricanes are only 9-6 overall, but they've already proven that they're going to be capable of winning more games than people anticipated in the ACC.
Five games I'll be watching this weekend....
Iowa State at Oklahoma, Saturday, Noon
Don't be surprised if this game goes into the 100's. Oklahoma has excelled at pushing the tempo this season and that falls right into Iowa State's wheelhouse. Fred Hoiberg's team loves to play an open style and that's just what they'll be able to do on Saturday in Norman. DeAndre Kane is currently playing like one of the best guards in the country (16.1 points, 7.1 rebounds, 6.2 assists per game) and he'll have another big canvas to paint on against the Sooners. The key for the Cyclones in this game will neutralizing Cameron Clark, a 6-7 senior forward who's having a monster year for the Sooners. In 15 games this season, Clark is averaging 18.7 points and 6.0 rebounds per game, while shooting 42.9 percent from three-point range.
Villanova at St. John's, Saturday, 1 PM ET
I'm not ready to say this is a must win for the Red Storm, but it's awfully close. St. John's is 0-2 in its first two Big East games and wasn't competitive in a loss last Saturday at Georgetown. Villanova meanwhile, has played like one of the best teams in the country all season and wins virtually every 50-50 ball in every game they play. Steve Lavin will have to be very meticulous with how he structures his lineups in this one. The Red Storm will have to counter the Wildcats' speed and quickness and may not be able to use more than one traditional big man on the floor at the same time.
Kansas State at Kansas, Saturday, 2 PM ET
Rivalries are what make college sports special and that's just what we'll have on Saturday at Phog Allen Fieldhouse. The Wildcats are off to a surprising 2-0 start in Big 12 play and have gotten great mileage out of their three freshmen -- Jevon Thomas, Marcus Foster, and Wesley Iwundu -- but how will that trio react in one of the sport's most hallowed venues? Bill Self's team bounced back well from their loss against San Diego State with a good win at Oklahoma and looks like it is heading in the right direction moving forward.
Iowa at Ohio State, Sunday, 1:30 PM ET (CBS)
Something tells me the Hawkeyes are due for a big win. Why haven't I sold my Iowa stock just yet? Because this team is really good. Iowa has lost three games against opponents (Villanova, Iowa State, Wisconsin) that have a combined record of 44-1. They're also incredibly deep and that could pose some problems for Ohio State. This game will be a great contrast in styles. The Hawkeyes want to create possessions and play fast. The Buckeyes do not.
Xavier at Creighton, 3 PM ET (CBS Sports Network)
A big showdown in the Big East matches up two teams that have yet to lose a game in conference play. The Musketeers have been a forgotten team nationally considering their 13-3 start, but like everyone else, they're going to be highly challenged when they travel to Creighton. Xavier uses two traditional post players in its starting five with Isaiah Philmore and Matt Stainbrook, but those two big men may not be able to play together defensively against the Bluejays because of the outside shooting ability of Creighton's front court duo of Doug McDermott and Ethan Wragge. This will be a big time chess match in Omaha.
Creighton AD Bruce Rasmussen answers questions about some of the committee's grouping metr...

Guy, the leading scorer for the No. 1 Cavaliers, had a big weekend even though UVA didn't...

The stigma of being the first men's Division I team to vacate a title will be difficult to...
The Quicken Loans Confidence Builder focuses on Syracuse, Butler and Florida

Rhode Island can clinch a share of the A-10 regular season title with a win on Tuesday

20 programs have had their national championships taken away by the NCAA