Observations: Gonzaga backcourt will come at you in waves
Mark Few may have the deepest backcourt in college basketball in 2014-15, and keep an eye on Xavier Rathan-Mayes at Florida State.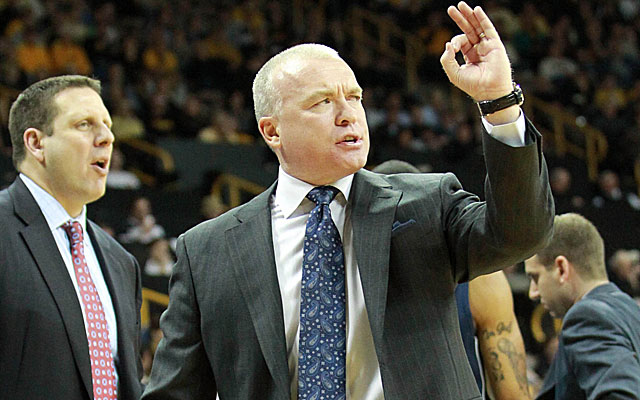 Latest in hoops: Latest News | Coaching Changes | Recruiting
1. Gonzaga Bulldogs 's backcourt could go seven deep next season.
Kevin Pangos and Gary Bell are known commodities for the Bulldogs, but coach Mark Few's squad is going to have several other perimeter pieces at its disposal in 2014-15.
USC transfer Byron Wesley (6-foot-5, 210 pounds) will add a physical presence on the wing that Gonzaga has been lacking the past few years and Kyle Dranginnis is a seasoned guard who is coming off a year in which he averaged 6.1 points, 3.9 rebounds and 2.6 assists. Freshman point guard Josh Perkins will provide insurance behind Pangos while fellow first-year addition Silas Melson is an explosive scorer at 6-3 who can add offense in reserve. Toss in Vanderbilt Commodores transfer Eric McClellan who will be eligible starting at the beginning of the second semester and you've got a perimeter that's going to be as deep as just about any team in America.
That type of depth is a good thing considering Gonzaga's non-conference schedule. The Bulldogs host Memphis Tigers and SMU in Spokane, visit Arizona Wildcats as well as UCLA Bruins , and are also one of the four host schools in the Preseason NIT along with Minnesota Golden Gophers , St. John's Red Storm and Georgia Bulldogs .
2. Xavier Rathan-Mayes is a forgotten freshman for Florida State Seminoles State" data-canon="Florida Gators" data-type="SPORTS_OBJECT_TEAM" id="shortcode0">.
This tends to happen when a player doesn't immediately qualify out of high school. He gets forgotten quickly. If he's not playing, someone else is and that's who lands on people's radar. It's part of the reason why no one has talked about Rathan-Mayes much over the past year.
Rathan-Mayes, a 6-3 guard, was a Top 50 recruit in the Class of 2013 but didn't qualify academically to play at Florida State last season as a freshman. Now he's slated to play this season and he'll instantly be a major piece to the Seminoles' puzzle. A gifted scorer with an accurate touch from behind the three-point arc, look for Rathan-Mayes and veteran wing Aaron Thomas (14.5 points) to potentially give Florida State one of the more explosive backcourts in the ACC.
3. Providence Friars could play more zone defense.
The Friars' freshmen class features three players -- Paschal Chukwu (7-1), Ben Bentil (6-8) and Jalen Lindsey (6-7) -- who will join a returning nucleus of veterans that is both tall and long.
Tyler Harris (6-9), LaDontae Henton (6-6) and Carson DeRosiers (7-0) look like this team's starting frontcourt and Providence only has three guards on its roster in Kris Dunn, Cleveland State Vikings transfer Junior Lomomba and freshman Kyron Cartwright.
The 6-4 Dunn was a highly touted prospect out of high school two years ago but has yet to stay healthy for an entire season. With a surplus of talent on the baseline, coach Ed Cooley could potentially use different zone defenses to get into passing lanes in an attempt to force turnovers with regularity and create opportunities in transition. If Dunn can stay healthy, the Friars could regularly put five players on the floor standing 6-4 or taller.
Another name to remember for Providence? Rodney Bullock. The 6-7 wing was suspended for all of last season but the Friars' staff loves his bounce, upside, and ability to have a major role in this program over the next few seasons.
4. Penn State Nittany Lions is ahead of the curve in the Class of 2015.
The Nittany Lions aren't expected to compete for the Big Ten title, but that doesn't mean they're not capable of landing elite prospects. Penn State has secured commitments from two Top 100 recruits in the Class of 2015 in shooting guard Josh Reaves (Fairfax, Va.) and 6-8 big man Mike Watkins (Philadelphia).
Landing Reaves out of the DC area is a significant coup for Pat Chambers and is also a tangible sign that hiring former Villanova Wildcats guard Dwayne Anderson last summer as an assistant was a move that the program needed to make. Anderson is a Maryland Terrapins native and was brought to State College to penetrate the Baltimore/DC area in recruiting. With Reaves now in tow, look for the Nittany Lions to continue to attempt to spread their recruiting reach beyond Philadelphia and down I-95 into the Mid-Atlantic Region on a more regular basis.
5. One of the best rules the NCAA has ever passed is allowing coaches to work with their players during the summer.
Was there really a time where coaches couldn't be on the floor with their players during June, July and August? I know, I can't believe it either. The NCAA's decision to allow two hours of practice time during the so-called offseason gives coaching staffs an enhanced feel of their teams at an earlier time and also allows them to continue to monitor player development and skill work.
For years, coaches wouldn't be allowed to be on the floor with their players during the summer and it made absolutely zero sense. The NCAA still has plenty of things to amend, but this is one rule that they nailed. Summer practice is a win-win for all parties involved.
This and that
• Rick Pitino said the biggest surprise thus far in Louisville Cardinals 's offseason workouts has been the progress made by 6-8 big man Akoy Agau. Agau only played a total of 95 minutes last season as a freshman but now could find himself as a key piece off the bench behind starters Montrezl Harrell and Mangok Mathiang.
• Kansas Jayhawks transfer Andrew White said he's visiting Florida State this weekend. White has already visited both Nebraska Cornhuskers and Notre Dame Fighting Irish . The 6-6 guard averaged 2.4 points last season in 6.3 minutes.
• Nebraska's Leslee Smith is out indefinitely after suffering a left ACL tear. The 6-8, 255-pound big man averaged 5.4 points and 4.8 rebounds in 16.8 minutes last season and was a key part of the Cornhuskers' rotation. Tim Miles' squad returns three of its top four scorers and should be picked among the top third of the Big Ten.
• New Mexico Lobos 's Craig Neal said his son Cullen is up 10-12 pounds since the end of the regular season. The younger Neal had a terrific freshman year (7.1 points, 42 made three-point shots) and should be in position to have a breakout year as a sophomore. The Lobos are in transitional mode after the departures of Kendall Williams, Cameron Bairstow and Alex Kirk but return a solid perimeter nucleus of Neal, veteran point guard Hugh Greenwood (6.2 points, 5.1 rebounds, 3.4 assists), and 6-5 wing Deshawn Delaney (5.3 points, 4.0 rebounds).
• Former Providence and Oregon Ducks wing Brandon Austin will resurface at Hutchinson Community College. The 6-6 Austin was a Top 50 recruit nationally in the Class of 2013 but has already been dismissed from two college programs due to multiple accusations of sexual assault.
After a close game against Michigan, Air Force is playing San Diego State with some moment...

Quickley played for John Calipari this summer with USA Basketball

A revamped Erwin Center is part of a $4.25 million upgrade to the Longhorns' hoops facilit...
Nov. 10 will be here before you know it so here's what you need to know

The league would be wise to treat that series like the ACC treats Duke-North Carolina

Pacific is penalized after the NCAA found academic rules were broken