Observations: Iowa St. has a keeper in Hoiberg; underrated frosh at Pitt
Among my observations: It's time Iowa State makes a serious commitment to coach Fred Hoiberg, who has the Cyclones in the Big 12 title game and teams should hope they don't see George Washington in their NCAA bracket.
• 4 min read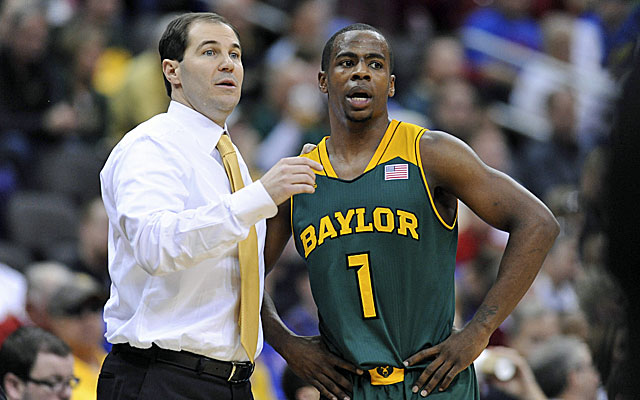 Latest in hoops: Bracketology | Bubble Watch | Latest news & notes
Check out below for five observations from these conference tournaments as well as games I'll be watching this weekend.
1. Iowa State needs to consider giving Fred Hoiberg a life-time contract.
Is it really that crazy of a proposition? Hoiberg is 87-46 in four seasons as head coach at his alma mater and has the Cyclones in the Big 12 title game tonight against Baylor. "The Mayor" has already turned down multiple NBA jobs and will have the option of going to the pros every year if Iowa State doesn't give him the type of commitment he deserves. Hoiberg received a 10-year contract extension after last season but with the way the Cyclones' brand has exploded in the past few years, he deserves to have the right to be Iowa State's head coach as long as he wants. The Cyclones are on the verge of their third consecutive NCAA Tournament and are now competing with the top teams in their conference on a regular basis. Another thing to consider? No one will ever be more suited to be an ambassador for Iowa State than Hoiberg. He grew up in Ames, starred there in college, and has now made Hilton Coliseum one of the premiere venues in college basketball. This is his show and he should be able to run it for however long he wants.
2. Stephan Van Treese is quietly having a major impact for Louisville.
The Cardinals are playing as well as any team in the country and Van Treese is a major reason why. The 6-9 bruiser isn't going to be the first thought on an opponent's scouting report, but he's clearly embracing his role and flourishing on the backboards. Van Treese has 33 rebounds in his last three games and is excelling in an "enforcer" role next to Montrezl Harrell in up front. Championship teams need to have great role players and that's exactly what Van Treese has become for Louisville. Remember his name in the NCAA Tournament.
3. Baylor's role allocation has been off the charts recently.
The Bears have won six straight games and 10 of their last 11. Defining roles is one of the things that teams need to do to have success and that's one of the biggest reasons why Baylor is all of a sudden one of the hottest teams in college basketball. Kenny Chery has played the point guard position at an extremely high level recently and Royce O'Neale is thriving as a "blend" player, tallying double-figure rebounds in four of his past five games. Cory Jefferson and Isaiah Austin are two big men with NBA ready bodies who have the ability to protect the front of the rim on a nightly basis while Brady Heslip is one of the more lethal marksmen in the sport and has made 102 three-point shots heading into tonight's Big 12 title game against Iowa State. The Bears entered the Big 12 tournament as a seven seed. They may leave it as a team on a complete upward trajectory heading into the field of 68.
4. Pitt's freshman class is incredibly underrated.
The Panthers' first-year trio of Josh Newkirk, Mike Young, and Jamell Artis is like a Honda Accord that runs for 100,000 miles. It doesn't look as nice or have as much flash as a brand new BMW when you drive it off the lot, but it simply gets the job done on a regular basis. Newkirk (19 points, seven assists in two ACC tournament games) is a jet quick point guard that has made great strides in the past few weeks and has given Jamie Dixon another ball handling guard to play alongside James Robinson in Pitt's back court. Young and Artis meanwhile are two highly skilled big men that have both had major roles in their first seasons of college basketball. You won't hear these players mentioned among the top first-year players in the ACC, but they'll be typical four-year guys that will thrive in the Panthers' program. Pitt is 25-8 after yesterday's win over North Carolina and will play Virginia today in the ACC tournament semifinals.
5. Teams should hope they don't see George Washington in their NCAA bracket.
Why is this team so dangerous? They have size (Kevin Larsen and Isaiah Armwood), two capable wings (Maurice Creek and Patricio Garino) and a high-IQ point guard in Joe McDonald that simply doesn't make mistakes. Another reason to fear the Colonials? Mike Lonergan. The guy has won everywhere he's been (Catholic University, Vermont) and knows how to devise strategies to frustrate opponents in a one game situation. Remember, George Washington beat Creighton on a neutral floor earlier this year and held Doug McDermott to seven points. Lonergan can coach and he's got more than enough pieces to beat somebody in the NCAA Tournament. The Colonials are 24-7 and will play VCU today in the semifinals of the Atlantic 10 tournament. Tip off is at approximately 4 PM ET on CBS Sports Network.
The NCAA formally notified MSU of its investigation into Nassar on Tuesday

The Sooners' freshman, pilloried for his recent performances, showed a different side Tues...

Young is leading the NCAA in both scoring and assists per game
Our advanced computer model simulated Tuesday's UNLV vs. Fresno State game 10,000 times

Our advanced computer model simulated Tuesday's Kansas-Oklahoma game 10,000 times

Our advanced computer model simulated Tuesday's Virginia vs. Clemson game 10,000 times